Buckhorn Exchange
Introduction
Established in 1893 by one of the members of Buffalo Bill's gang, the Buckhorn Exchange is Denver's oldest restaurant. Located in Downtown Denver, the restaurant continues to serve a very different kind of clientele than those that frequented it in the Old West of the late nineteenth century. It became a designated historic landmark in 1972.
Images
Buckhorn Exchange Today (http://honestcooking.com/)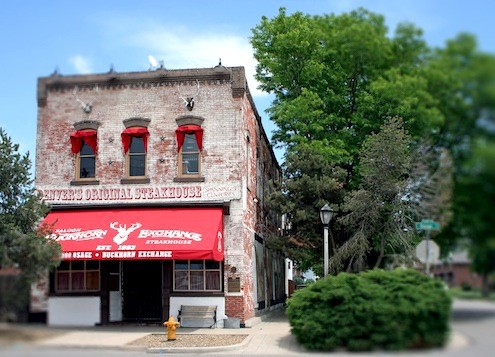 Buckhorn Exchange Interior (musicpostcards.it)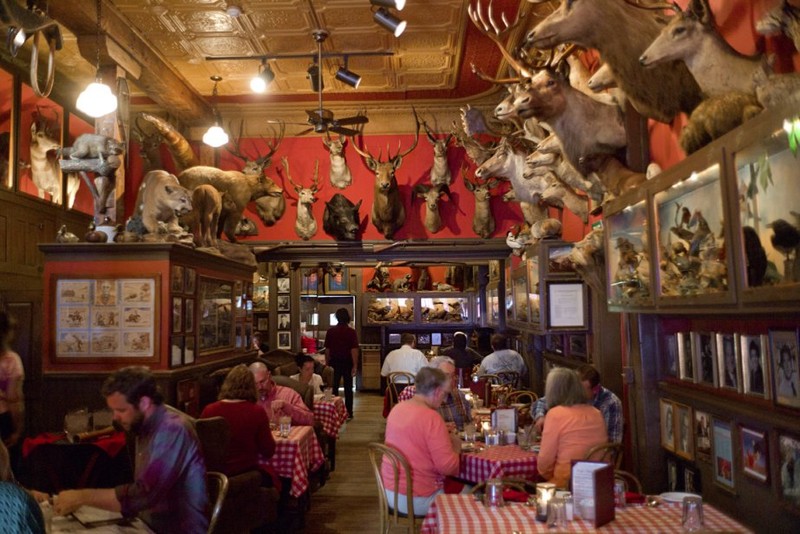 Backstory and Context
The Buckhorn Exchange was founded on November 17th, 1893, by Henry H. Zietz. Known to his friends and colleagues as "Shorty Scout", Henry Zietz was a cowboy and scout that worked alongside Col. William F. Cody (better known as Buffalo Bill), during which time he received his nickname from Chief Sitting Bull. He later served as a bodyguard for Horace Austin Warner Tabor, the so-called "Bonanza King of Leadville" who had made his millions as a silver prospector in Colorado. Zietz passed away in July 1949 as the last surviving member of Buffalo Bill's gang.
The building was extremely popular amongst the laborers of the nearby Rio Grande Railroad yards, who would cross the street each evening to give their paychecks to Henry Zietz in exchange for gold and a free lunch and beer (a tradition that gave the restaurant its name). These were not its only patrons, and during its time the restaurant served clients of many different social situations and backgrounds, from cattlemen to miners, railroad laborers to Native American chiefs, dock workers to gamblers. Five U.S. Presidents have visited the Buckhorn; Zietz even served as a hunting guide for President Theodore Roosevelt, who visited the restaurant in 1905 by a private train that arrived along the Rio Grande Railroad.
The restaurant has a fascinating biography. In December 1900 the restaurant was the setting of most exciting afternoon, when the patrons were held up by a masked robber wielding a .45, who collected all of their money and valuables before attempting to ride away. However, the quick-thinking customers of the Buckthorn rode after him, and gunned him down in a nearby meadow with their rifles. A close friend of Chief Sitting Bull, in 1938 Henry Zietz found the Buckhorn surrounded by a band of Sioux and Blackfoot horsemen led by Chief Red Cloud (nephew of Sitting Bull). The Native American leader handed over the sword of General George Custer that had been taken by his uncle at the Battle of Little Big Horn (1876). During Prohibition, which started in Colorado in 1916, the Buckhorn building was used as a grocery store. It was reopened as Zietz's Buckhorn Restaurant and Bar and issued with the first liquor license in the state after the Prohibition was repealed in September 1933.
The distinctive two-story redbrick building is simple in architectural style; the brickwork laid in a stretcher bond, a flat roof that slopes to the rear, with access via a double-leaf door topped by a striking red awning. The first floor is decorated with murals purportedly made by visiting Native Americans. These are found only on the northern and eastern sides of the building, and depict landscape settings, animals including an elk and bear, and a Native American chief. Inside, the Buckhorn features a bar counter and back-bar of white oak that was imported by the Zietz family from Essen, Germany, in 1857. The interior ceiling is made of decorative metalwork, and the floor is made of hardwood planks.
Having operated for well over a century, the Buckhorn Exchange continues to serve food and drink in an immaculately preserved environment, filled with memorabilia of its long and exciting history. Of particular note are the walls covered in more than five hundred items of taxidermy, including deer, moose, buffalo, fowl, and even a jackalope! It also exhibits a collection of one hundred and twenty five historic guns, including a particularly fine palm pistol made by the Minneapolis Firearm Co. in 1891. The building left the Zietz family in 1978, when it was sold to the local Buckhorn Associates. The structure was subject to some renovations that year, during which time a heated roof garden was installed, but it remains in excellent condition to this day.
Sources
"History." Buckhorn Exchange (http://www.buckhorn.com/history.php) Last Visited July 2016 Lindberg, Eric. Colorado Off the Beaten Path: A Guide to Unique Places. Denver: Globe Pequot, 2013. Snyder, Kathleen. "Zeitz Buckhorn Exchange/-Buckhorn"Exdyange." National Register of Historic Places Inventory. July 28, 1982
Additional Information