Pilot Knob-Historical Marker
Introduction
Eight miles south of Central Austin, Pilot Knob is four hills that make up what was an extinct volcano's core area. It is two miles in diameter. The hills are made of trap rock, a mafic volcanic rock. Mafic rock is silicate mineral on rock that is magnesium and iron rich. It is usually dark in color and often includes the minerals olivine, pyroxene, amphibole, and biotite.
Images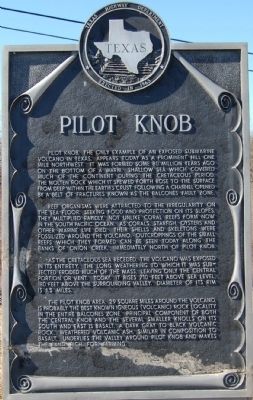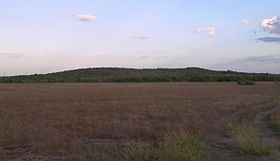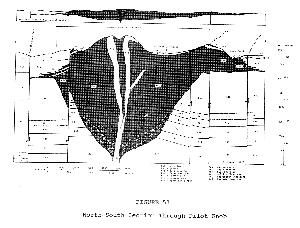 Backstory and Context
During the late Cretaceous Period, which lasted 79 million years and was about 145-66 million years ago, Central Texas was underneath the ocean. The volcano formed when magma came to the surface and interacted with unsettled sediments. The water left over from this encounter vaporized into steam which resulted in an explosion that found a crater. Eruption continued and eventually an ash cone built up over the initial explosion crater.
Two different methods have been used by geologists to date the volcanic activity at Pilot Knob. One method uses the fossils contained in the stratigraphy of the rocks at Pilot Knob and surrounding areas. Stratigraphy refers to the layers of rock formation. The other method uses isotopic dating of the igneous rock. This method uses the decay of the radioactive isotope of potassium (potassium 40) to argon 40. Scientists can determine the age of rocks by measuring the concentration of potassium in a given rock and the amount of argon gas produced by radioactive decay. This is because the decay rate of potassium 40 to argon 40 is already known from previous experimental work.
Once the volcanic activity in the area began to slow, beaches began to develop surrounding the volcano. One such beach, now lithified, appears along Onion Creek and makes up both Upper and Lower McKinney Falls. Lithification is the process in which sediments and other materials turn to stone.
Sources
"Cretaceous." Wikipedia. Accessed October 4, 2015. https://en.wikipedia.org/wiki/Cretaceous https://en.wikipedia.org/wiki/Mafic. "Pilot Knob." The Historical Marker Database. Accessed October 4, 2015. http://www.hmdb.org/marker.asp?marker=69231. "Pilot Knob (Austin, Texas)." Wikipedia. Accessed October 4, 2015. https://en.wikipedia.org/wiki/Pilot_Knob_(Austin,_Texas). Parker, D.L. "Chapter 4: Pilot Knob - a Cretaceous Volcano near Austin." Guidebook to the Geology of Travis County, via University of Texas Libraries. https://www.lib.utexas.edu/geo/ggtc/ch4.html. "Stratigraphy." Wikipedia. Accessed October 4, 2015. https://en.wikipedia.org/wiki/Stratigraphy.
Additional Information