Elisabet Ney Museum
Introduction
This museum honors the life and work of its namesake, Elisabet Ney (1833-1907), a sculptor of world renown who lived and worked in Texas for thirty-five years. Born in Muenster, Westphalia, Germany, She began working with stone at an early age; her father was a stonecutter and she helped him growing up. At the age of nineteen, she began studying at the Academy of the Arts in Munich, where she was the first female sculpture student. She was an accomplished artist before the age of thirty, having already created statues of German royalty and European statesmen. Ney bought the property in 1892 and built the studio shortly thereafter. Her friends established the museum after she passed away in 1907. The studio was added to the National Register of Historic Places in 1972.
Images
Elisabet Ney Historical Marker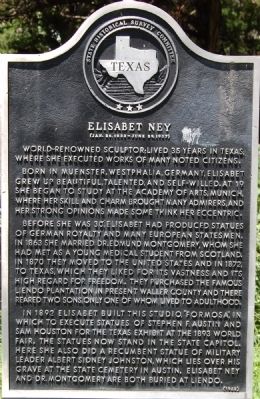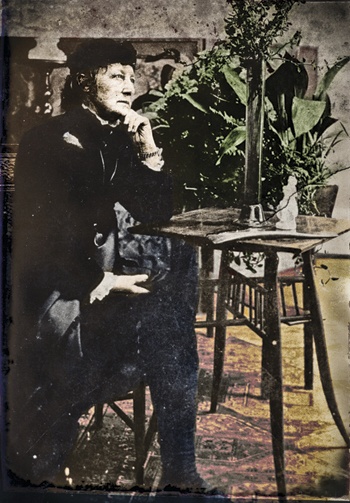 Ney's art studio, Formosa, and now the Elisabet Ney Museum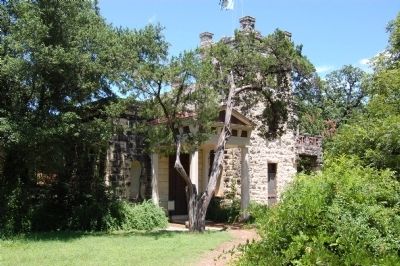 Backstory and Context
Elisabet and her husband, Dr. Edmund Montgomery, moved to Texas in 1872. They were drawn to the state because they perceived it as highly valuing freedom. The couple purchased Liendo Plantation, one of the earliest cotton plantations in Texas, in 1873 and made it their home. Ney built a studio in Austin, which she called Formosa, in order to create the statues of Stephen F. Austin and Sam Houston that she was commissioned to do for the Chicago World's Fair in 1893. Today, the Elisabet Ney Museum is housed there.
She married Dr. Montgomery on November 7, 1863. Montgomery was a Scottish medical student, scientist, and philosopher. They met in Heidelberg, Germany in 1853. They kept in touch for the years to come; however, Ney did not want to get married due to her views on marriage as a fundamentally unequal contract in which women are subjugated. Although she did eventually marry, Ney still advocated for equality for women and kept her maiden name. She once said, "Women are fools to be bothered with housework. Look at me; I sleep in a hammock, which requires no making up. I break an egg and sip it raw. I make lemonade in a glass, and then sip it, and my housework is done for the day."
Sources
"Elisabet Ney Historical." The Historical Marker Database. Accessed February 24, 2016. http://www.hmdb.org/marker.asp?marker=26164.

"Elisabet Ney: A Texas Original: Sculptor's genius never fit the conventional mold." Texas Co-op Power Magazine. Accessed February 24, 2016. http://www.texascooppower.com/texas-stories/history/elisabet-ney-a-texas-original.
Additional Information