Statue of Babe Ruth, "Babe's Dream"
Introduction
"Babe's Dream" is a bronze statue of Babe Ruth, by Susan Luery. Located at West Camden Street and South Eutaw Street, this statue stands outside Oriole Park at Camden Yards, in Baltimore, Maryland. This statue was completed in 1994 and erected in 1995 to celebrate Ruth's 100th birthday. It is owned by the Maryland Stadium Authority.
Images
Frontal view of "Babe's Dream," by Susan Luery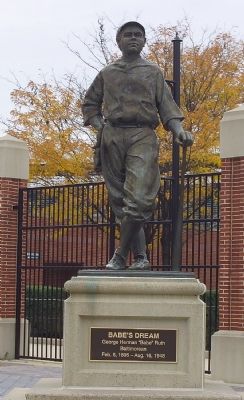 Backstory and Context
Perhaps the greatest slugger in the history of baseball, George Herman "Babe" Ruth learned the game of baseball at the nearby St. Mary's Industrial School for Boys. This statue pays tribute both to career of "Baseball's Greatest Player Ever," as well as to the missed opportunity for the Baltimore Orioles, who signed Ruth to play minor-league ball in 1914 but soon sold Ruth's contract to the rival Boston Red Sox. The Red Sox in turn traded him to the New York Yankees.

The bronze statue was designed by Susan Luery, a native to Baltimore, Maryland. She studied at the Maryland Institute College of Art and conducted extensive research on Ruth, both by reading books and by talking with baseball fans. The model was a Babe Ruth look-alike. Along with the ten-foot main statue, Luery created limited-edition 28" versions to be sold to collectors.

Although relatively unfamiliar with baseball before beginning her work, she discovered Ruth's appeal over the course of her research. As she explained to the Baltimore Sun: "What I found was a spirit that embodied the American Dream. He re-energized the whole spirit of America through baseball. And I'm not sure he knew he was doing it. But he had such joie de vivre, the drinking, the eating, the smoking, the staying out all night. I saw this unbridled spirit emerge."

Luery describes the finished piece as "a man looking at his destiny. His poise was in the sense of determination that he was a great player. He's facing out - he had everything in front of him. Ruth's career rose pretty much straight into the record books from there." Reflected in this piece is Ruth's longing for the big leagues, and his desire to escape a difficult childhood.

Despite the extensive research, "Babe's Dream" does contain an error. Ruth threw left-handed, but the sculpture depicts him with a right-handed fielder's glove for wear on the left hand.

Also located nearby is the Babe Ruth Museum, at the site of his birthplace in Baltimore.

Sources
"Babe Ruth." Baseball Reference. Accessed February 10, 2017. http://www.baseball-reference.com/players/r/ruthba01.shtml.

"Babe's Dream (sculpture)." Art Inventories Catalog: Smithsonian American Art Museum. Accessed February 10, 2017. http://siris-artinventories.si.edu/ipac20/ipac.jsp?uri=full=3100001~!414236~!0#focus.

"Biography: Susan Luery." Accessed February 10, 2017. http://susanluery.com/Biography/biography.htm.

"Circa 1995 'Babe's Dream' Sculpture by Susan Luery." Heritage Auctions. Accessed February 10, 2017. https://sports.ha.com/itm/baseball-collectibles/others/circa-1995-babe-s-dream-sculpture-by-susan-lu....

Fuchs, Tom. "Babe's Dream." Historical Marker Database. November 22, 2006. Accessed February 10, 2017. http://www.hmdb.org/marker.asp?marker=708.

Morgan, Jon. "The Wrong Glove on the Right Man." Baltimore Sun, June 12, 1995. http://articles.baltimoresun.com/1995-06-12/news/1995163079_1_glove-babe-ruth-catcher-mitt.

Olesker, Michael. "'Unharnessed Energy' of Ruth Grips Sculptor." Baltimore Sun, January 12, 1995. http://articles.baltimoresun.com/1995-01-12/news/1995012002_1_babe-ruth-playing-baseball-luery.

Steadman, John. "Babe Ruth Statue Is a Fitting Tribute." Baltimore Sun, May 17, 1995. http://articles.baltimoresun.com/1995-05-17/sports/1995137194_1_babe-ruth-george-herman-babe-ruth-mu....

Williams, David. "Sculptor's Model Fine Tunes His Pitch Being the Babe." Baltimore Sun, June 03, 1994. http://articles.baltimoresun.com/1994-06-03/features/1994154014_1_babe-ruth-carter-luery.


Additional Information