Godey Lime Kilns
Introduction
Also known as the Washington Lime Kilns, the Godey Lime Kilns are a historic ruin located in the neighborhood of Foggy Bottom. Built in 1864, the kilns produced calcium oxide, "quicklime," until their closure in 1908. Quicklime is a key ingredient in cement, and is also used an a variety of other ways. This Georgetown area complex included four ovens as well as a variety of associated buildings.
Images
Historic American Buildings Survey, photographer unknown, c. 1938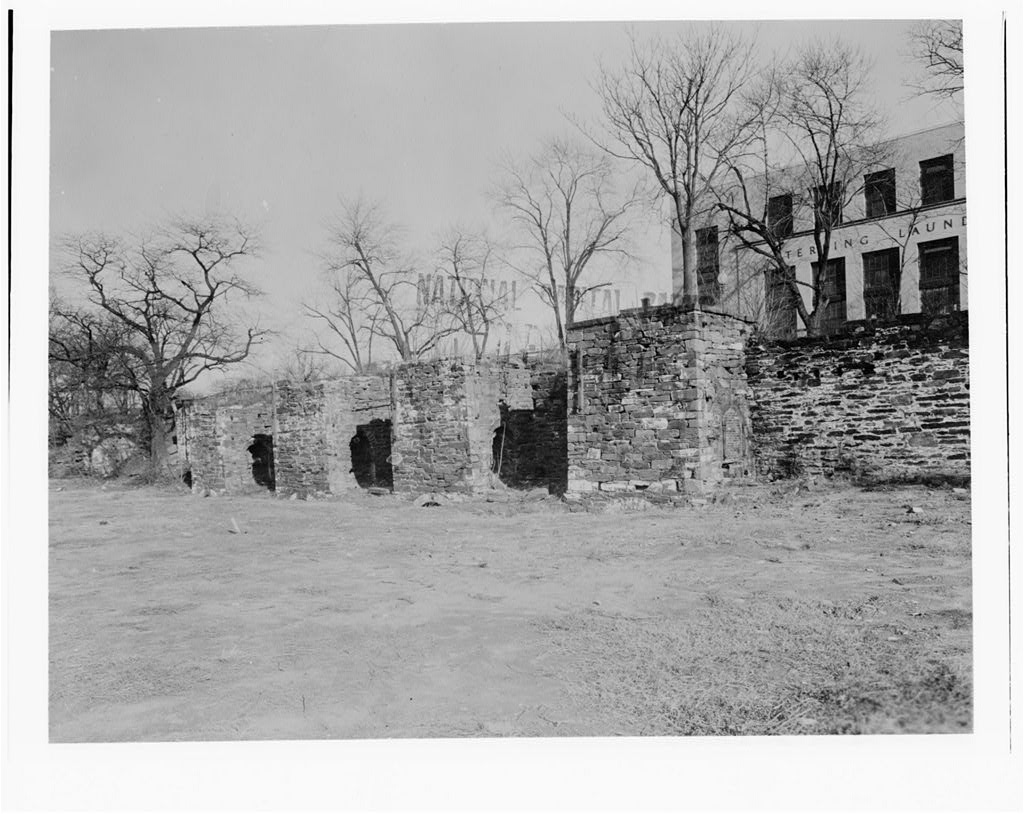 View of the kilns from the waterfront in the 1930s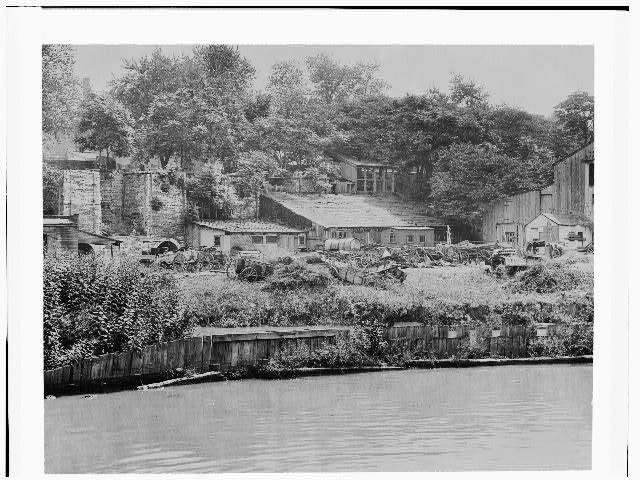 Backstory and Context
The Godey Lime Kilns, located beside Rock Creek Parkway in Northwest Washington, D.C. were built in 1864 by William H. Godey. This site was chosen owing to its proximity to the Chesapeake and Ohio Canal. Godey's business closed in 1908, and the kilns fell into disrepair.

The Kilns are stone and mortar structures, 10x10 ft at their bases and 15 ft high. The fireplaces are lined with fire brick, and the openings through which the fires were tended are also of this material. They are believed to be wood-burning, intermittent lime kilns.

This site is an example of commercial activity in Georgetown during the mid-19th century; the lime industry itself in the area dates back to at least 1830s. At its peak, the Godey Lime Kilns housed four ovens, in addition to other structures, such as wooden sheds. These wooden structures are not preserved, and two of the ovens were demolished to allow for the construction of highway ramps going from Rock Creek and Potomac Parkway to Whitehurst Freeway.

A partial restoration of the site was conducted from 1965 to 1966, and the ruins added to the National Register of Historic Places on May 22, 1973.

Sources
"Godey Lime Kilns." Wikipedia, the Free Encyclopedia. Accessed August 20, 2016. https://en.wikipedia.org/wiki/Godey_Lime_Kilns. "Historic American Buildings Survey: Godey Lime Kilns." Accessed August 20, 2016. http://cdn.loc.gov/master/pnp/habshaer/dc/dc0300/dc0327/data/dc0327data.pdf.
Additional Information