Mount Moriah Missionary Baptist Church
Introduction
The Mount Moriah Missionary Baptist Church, founded in 1886, was the first Black Baptist church organized in Winter Park, Florida. This church provided local residents with a place to worship, socialize, and hold activities without facing discrimination. The current building dates to the 1930s. Today, the site continues to function as a Baptist church and holds weekly services, youth group, Bible study, and prayer meetings.
Images
Exterior view of the Mount Moriah Missionary Baptist Church, photo from the official website.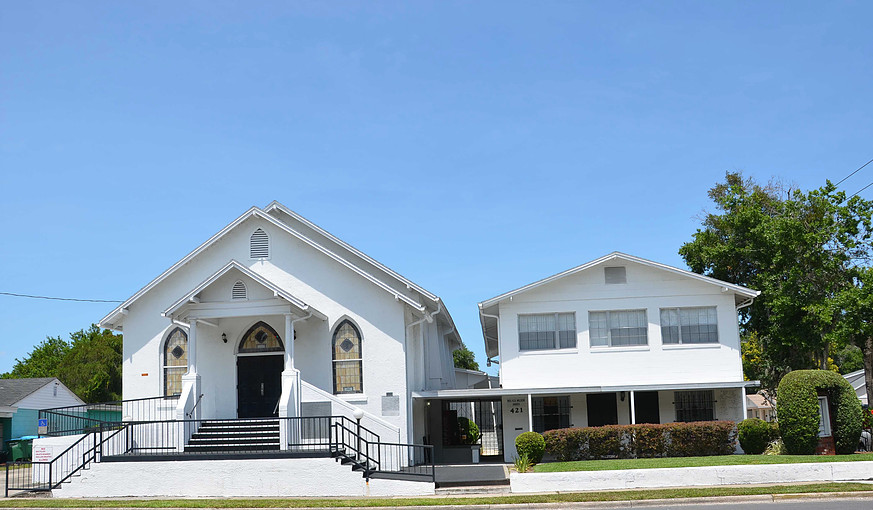 Backstory and Context
The Mount Moriah Missionary Baptist Church was originally located at the residence of Reverend Charles and Mrs. Missouri Ambrose on Pennsylvania Avenue. Their residence was in the predominantly African American Westside area of Winter Park, reflecting the city's socioeconomic division at the time.

The church provided the Black community with a safe venue in which to worship, socialize, and engage. Reverend Charles Johnson Smith arrived at Mount Moriah in 1887 and became the first minister for the congregation. In 1910, the church was granted membership in the First Florida Missionary Baptist Association, in part owing to Reverend Smith's work.

Owing to the growth in membership, by 1935 the original site could no longer house the number of attendees. Instead, services were held every other week at the Winter Park Town Hall. Mount Moriah owned several lots, purchased from the Winter Park Company and Charles and Helen Morse, on which several structures now stand. In 1935, work began on a new sanctuary. The estate of William A. Coursen provided the funds for "to all the churches of Winter Park irrespective of creed, color or denomination any church home, the House of God."1 Mount Messiah was one of the churches which received a donation. Reverend Nimmons oversaw the building project, and the construction was performed by the African-American Ford Construction Company of Orlando, a firm that employed many local residents.

The church began conducting mass every Sunday in 1941, and added several new programs over the subsequent years. It organized the Young Adult Choir in 1959 and, in 1971, created the Junior Women Missionary Society.

Today, the church still functions as a house of worship, with weekly services, youth group, Bible study, and prayer meetings. The stated mission of the church is "to proclaim the gospel and to promote the brotherhood of man to God the Father, God the Son and God the Holy Spirit."2 It is affiliated with the First South Florida Missionary Baptist District Association, Progressive Missionary & Education State Convention and the National Baptist Convention of America.

Sources
1. "Mount Moriah Missionary Baptist Church." Wikipedia, the Free Encyclopedia. Accessed August 21, 2016. https://en.wikipedia.org/wiki/Mount_Moriah_Missionary_Baptist_Church. 2. "About Mt. Moriah." MT. MORIAH MBC. Accessed August 21, 2016. http://www.mtmoriahmissionarybaptistchurch.com/#!page2/cjg9.
Additional Information