Zilker Botanical Garden
Introduction
Zilker Botanical Garden is situated in downtown Austin, TX along the bank of the Colorado River. The garden was developed inside Zilker Park in 1955 as part of a collaboration effort between The City of Austin Parks & Recreation Department (PARD) and the Austin Area Garden Council (AAGC). Zilker Botanical Garden is composed of several independently maintained gardens, each with a particular focus. The gardens draw nearly 100,000 visitors to Zilker Park per annum.
Images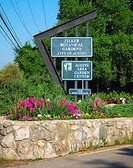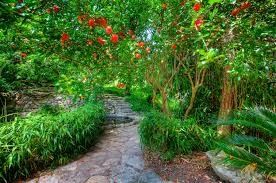 Hartman Prehistoric Garden, Zilker Botanical Garden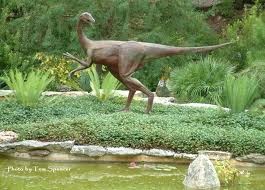 Backstory and Context
Additional Information
One of the most interesting areas inside Zilker Botanical Garden is the Hartman Prehistoric Garden. The site was established in 1992 following the discovery of dinosaur tracks and the remains of an ancient turtle within the botanical garden. Nearly 100 tracks were discovered and are believed to have been left behind by six or seven prehistoric creatures. The tracks were mapped, cast, and re-buried to protect them from the elements.

Funds were hastily raised and a number of volunteers joined together to develop a two-acre cretaceous habitat around the site. A life-size replica of an Ornithomimus, the species of dinosaur that likely laid the tracks, was situated at the center of the garden. Developers chose over 100 plant species that likely existed when the Ornithomimus roamed the earth. These included: horsetails, cycads, ferns, liverworts, palms, conifers, magnolias, and ginkgos.1

Sources
1) "Hartman Prehistoric Garden." Wikipedia. Accessed September 9, 2014. http://en.wikipedia.org/wiki/Hartman_Prehistoric_Garden. 2) "ZGB Today." Zilker Garden. Accessed September 9, 2014. http://www.zilkergarden.org/about/index.html.
Additional Information