Barbara Jordan's Grave, Texas State Cemetery
Introduction
Denoting the final resting place of Congresswoman Barbara Jordan, this grave marker includes the word "Patriot" - a tribute to a teacher, lawyer, and civil rights leader. Barbara Johns's political career began in 1966, when she became the first Black female to serve in the Texas Senate. In 1979 she retired from politics and taught at the University of Texas at Austin Lyndon B. Johnson School of Public Affairs. Jordan died from multiple sclerosis on January 17, 1996 at the age of 59.
Images
Thomas J. O'Halloran, U.S. News & World Report Magazine - U.S. Library of Congress, U.S. News & World Report Collection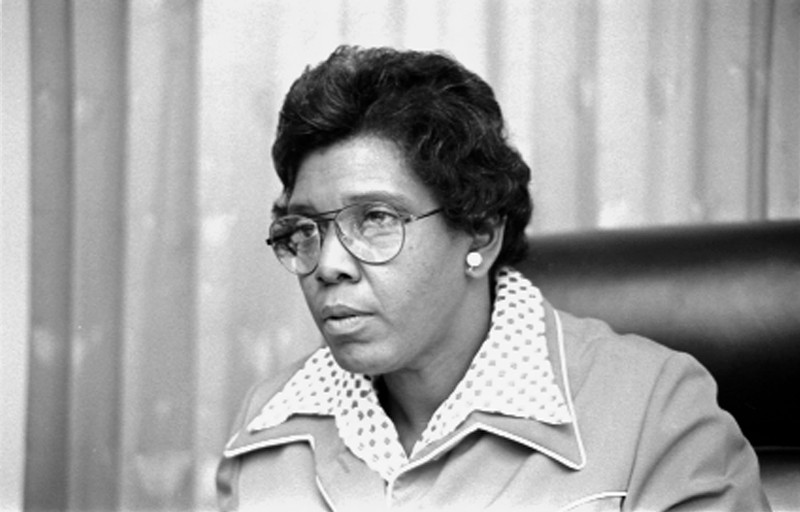 Barbara Jordan speaking at a meeting with civil rights leaders at the White House, February 13, 1967. Left to right: Andy Biemillier, Jordan, John Doar. Photo C4510-16: Yoichi Okamoto. Courtesy LBJ Library Photo Archive.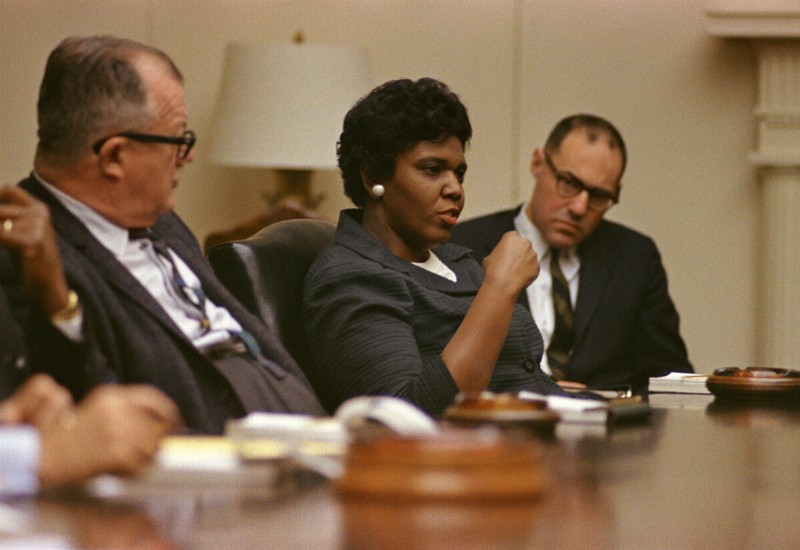 Barbara Jordan, October 18, 1976. Photo B6015-20: Frank Wolfe. Courtesy LBJ Library Photo Archive.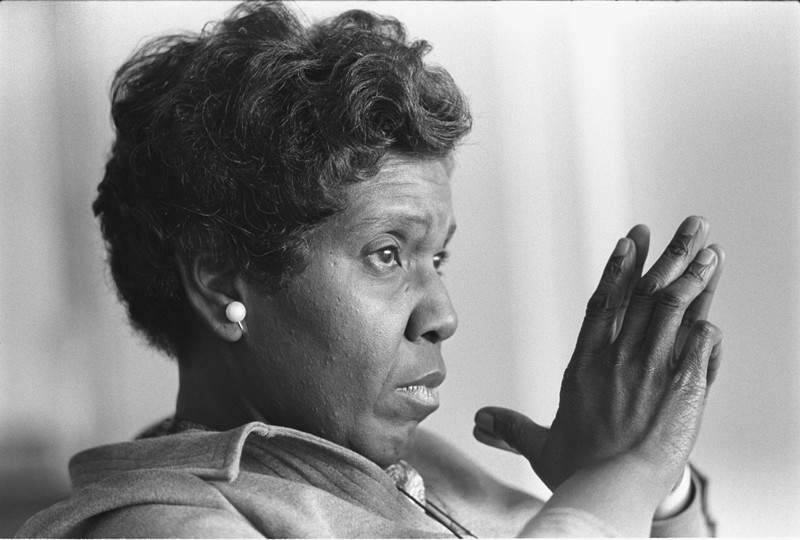 Barbara Jordan's gravesite can be found in the Republic Hill section 1 on Row N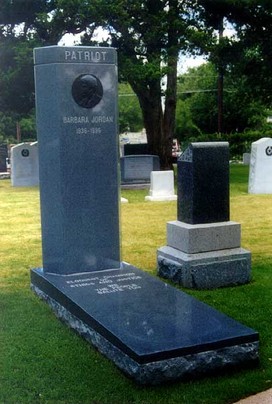 Backstory and Context
Barbara Jordan was born in Houston, Texas on the 21st of February 1936. She and the rest of her siblings were raised by their parents to be a Christian Baptist. They were also taught by their father to "believe in the principles of Booker T. Washington, and [he] taught his daughters that discipline, dignity, and education were the keys to success"[1]. As a child of the Great Depression, Jordan and her family experienced financial hardship. In addition to that, as a young African American girl in the pre-civil rights south she had to attend all segregated schools. "While many of her classmates aspired to be school teachers, she determined that there were higher aspirations for women and for Blacks, and she refused to settle for the traditional path her peers chose to accept."[2] Jordan worked very hard and showed early signs of intelligence and a flair for politics, persuasions, and logical reasoning, becoming "a champion debater in high school and at Texas Southern University, where she graduated magna cum laude in 1956,"[3]. She was an incredible public speaker and used it to her advantage. She returned to the Lone Star State to open her own law firm after graduating from Boston University Law School. She was one of only two Black females in her graduating class. After just a short while back in Texas, Jordan decided to pursue a career in politics.
Starting out small, Jordan got her first job as a politician trying to encourage registered voters to vote in the 1960 election. Although she struggled at the beginning of her journey into the world of the American political system, she was eventually very successful. Her first few attempts to be elected into office failed, but in 1966 she become not only the first African American to be elected to the Texas senate in 83 years, but the first woman in history to be elected to such a position[4]. The Texas senate was a hard place for an African American woman to work, but Jordan simply did her best to avoid confrontation with difficult colleagues[5].
Jordan's involvement with politics in Texas and generally in the South helped African Americans hold a position and a voice in power. This later allowed decisions on African American growth and programs to be made on priority and to be discussed in Congress such as her approval of the Voting Rights Act of 1965 Jordan sponsored legislation that broadened the provisions of the act to include Hispanics, Native Americans, and Asian Americans. Jordan was extremely active in immigration reforms and strongly felt that it should be of national interest to people. In 1972, Barbara Jordan was elected into the House of Representatives, the first Black women to ever be elected from the south. Her experience in federal politics were more welcoming than those in the state senate, and "she received a warm welcome from her fellow House members from Texas, and was clearly a rising political star."[6] Thanks to her friendship with Lyndon B. Johnson, she was able to be placed in the House Judiciary Committee. In 1974, she gained national recognition from the broadcasted impeachment trials of Nixon, for which she was heavily involved. Each member of the House Judiciary Committee was allowed a certain amount of time to talk during the hearing, and Jordan's speech on her views of the importance of the constitution was so incredible that "her brief remarks affected millions of viewers who watched her on television, and her office received thousands of letters thanking her for her clear explanation of what was at stake"[7]. In fact, she was such an amazing speaker that she gave the keynote address at the Democratic Nation Convention. She was the first African American woman in history to give this address[8]. "Republican Barry Goldwater, a presidential candidate in the 1964 election, remarked that if he had had a keynote speaker like Jordan, he would have won the election."[9] Based solely on her incredible speech, there were campaigns that insisted she become Jimmy Carter's running mate for the presidential election. Jordan did not think she should be considered to be a running mate just because of one speech, so she declined. She also declined a spot in Carter's cabinet, because she wanted to be Attorney General and she was not given that role.
Jordan suffered from multiple sclerosis, although she very much wanted to keep her health private. It was probably one of the reasons that she did not choose to run for re-election in 1978, and instead "accepted a post at the Lyndon B. Johnson School of Public Affairs at the University of Texas in Austin, Texas, stating that she wanted to help train future leaders of the nation and to bring the government back to the people."[10] Although "Jordan had never taught before, but she was excited at the prospect of influencing students who might enter government. Students flocked to her class."[11] Even as she taught, she remained active in politics. She died from multiple sclerosis on January 17, 1996.
Sources
Hively, Todd. "Barbara Jordan." Our States: Texas (September 2015): 1. MasterFILE Premier, EBSCOhost. (Accessed April 22, 2016)

"In Memory of Barbara Jordan." In Memory of Barbara Jordan. February 09, 2007. (Accessed April 29, 2016)

"Jordan, Barbara (Charline)." Funk & Wagnalls New World Encyclopedia (2016): 1p. 1. Funk & Wagnalls New World Encyclopedia, EBSCOhost. (Accessed April 23, 2016)

"Jordan, Barbara Charline | US House of Representatives: History, Art & Archives." Jordan, Barbara Charline. (Accessed April 29, 2016)

Kammer, Jerry. "Remembering Barbara Jordan and Her Immigration Legacy." Center for Immigration Studies. January 2016. (Accessed April 29, 2016)

Oliver, Bonnie J. 2006 The life and times of Barbara Jordan: a twentieth-century Baptist and political pioneer: the world was a different place for women in 1962 when Barbara Charline Jordan lost her first race for the Texas House of Representatives. The FreeLibrary (June, 22), EBSCOhost (Accessed April 23, 2016).

"UT Feature Story -- A Voice That Could Not Be Stilled: Barbara Jordan's Legacy of Equality and Justice." UT Feature Story -- A Voice That Could Not Be Stilled: Barbara Jordan's Legacy of Equality and Justice. (Accessed April 29, 2016.)