Washtenaw County Historical Society & The Museum on Main Street
Introduction
The Washtenaw County Historical Society was formed in 1857. The society acquired its first permanent home in 1990, with the donation of the Kellogg-Warden house. Built in the 1830s by pioneers from New York State, the Kellogg-Warden home still has many unique architectural features of the era, including roughly hewn accordion lathe, extra wide wooden floor boards, and bricks set into a wooden frame. The home was moved to its currently location from across the Huron River in Lower Town and converted into the Museum on Main Street. The museum hosts exhibits, programs, and events about Washtenaw County history.
Images
The Museum on Main Street, home to the Washtenaw County Historical Society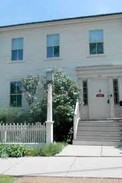 The Museum on Main Street is in an historic 1830s home built by the Kellogg-Warden family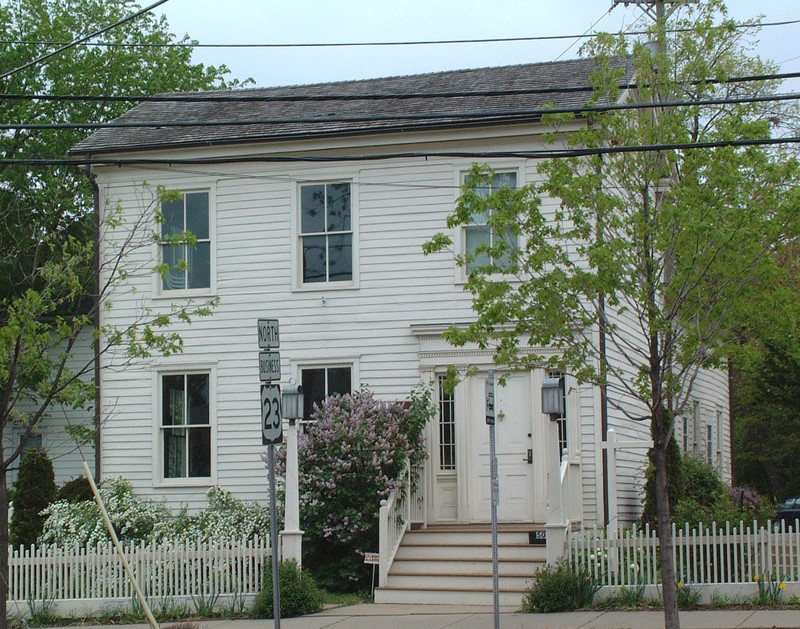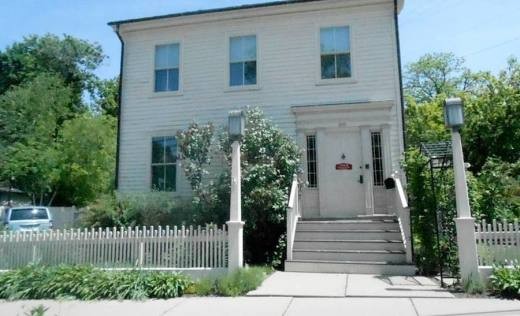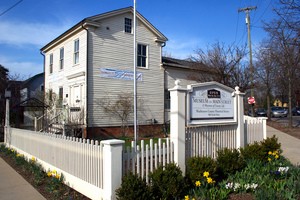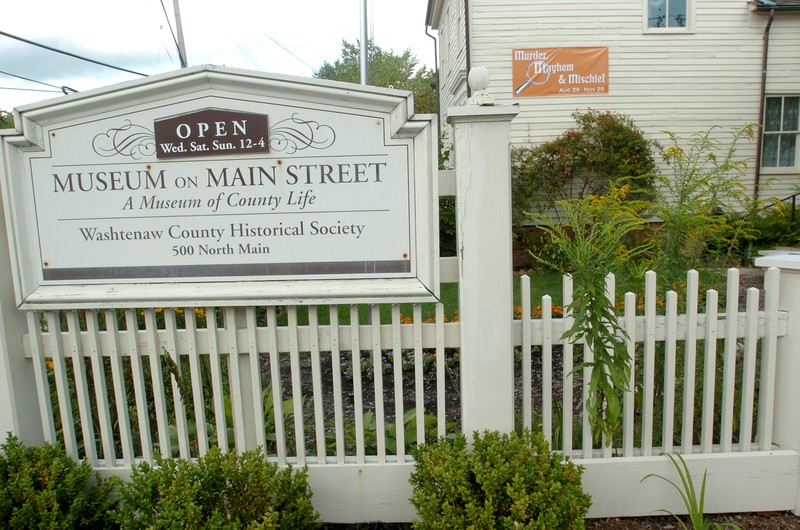 The 2009 exhibit "Murder, Mayhem, and Mischief Come to Washtenaw County"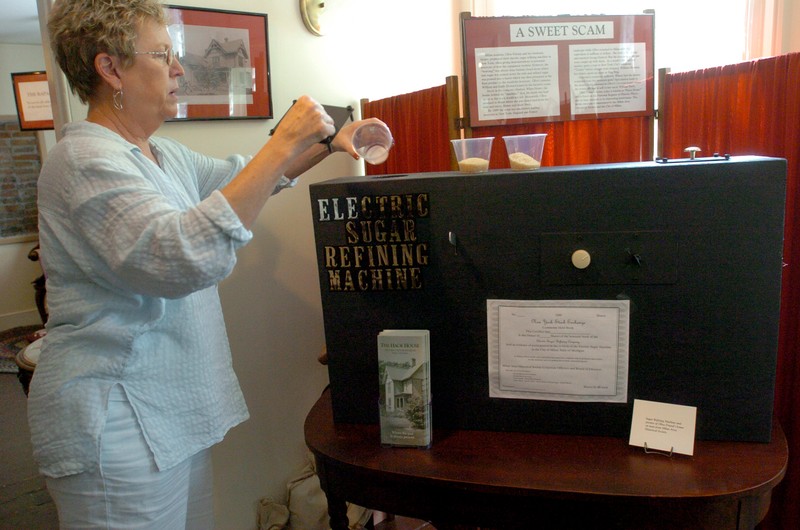 The 2008 exhibit "Tying the Knot"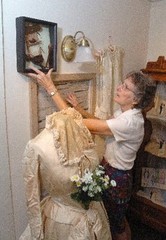 An exhibit on football at the University of Michigan

A historical photo of the Kellogg-Warden house when it was in Lower Town, with the Greiner family standing in front. The Greiners owned the home for 100 years.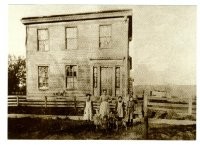 Backstory and Context
On December 17, 1857, a group of Washtenaw County residents met to form a historical society. The mission of the organization was "to collect and preserve the history of the first settlement and growth of Washtenaw County, and to publish the same from time to time as shall be deemed advisable." The society was reactivated in 1873 as the Pioneer Society of Washtenaw County. Members had to be a resident in the county for more than 20 years, be at least 40 years old, and pay 25 cents a year in dues. By 1929, the age and residency requirements were dropped as there were fewer and fewer pioneers, and the name was changed to Washtenaw Historical Society. Meetings had been held at various locations throughout the decades, but the society never had a permanent home until June 10, 1990, when it acquired the Kellogg-Warden House. 1

The Kellogg-Warden House was constructed in phases: the back section in 1835, the front section in 1839, and a side addition in the 1840s. The Kellogg and Warden families were related by marriage and arrived in Ann Arbor as pioneers from New York State. They were millers, merchants, and real estate speculators, but their businesses did not thrive in Ann Arbor as they had hoped. All but one member of the family moved back to New York after patriarch Charles Kellogg's death in 1843. In 1853, the home was purchased by another pioneer, Samual Ruthruff, whose family owned the home until 1889. The following year the home was purchased by Charles Greiner, a professional gardener, whose family owned the home for the next 100 years. In the 1980s, members of the Washtenaw County Historical Society stepped up to save the home from demolition by the University of Michigan. It was moved from its original location at 1015 Wall Street across the Huron River to 500 N. Main Street. Some of the original architectural aspects of the home can still be seen today, including wide wooden floor boards, accordion lathe of hewed wood, and brick "nogging," an early form of insulation and fire prevention in which bricks are used to fill the spaces between the wooden frame. The society added a new shingle roof and a basement, and made updates with new electrical and plumbing systems. 2

The home currently houses the historical society's Museum on Main Street, which opened in May 1999. There is a Victorian garden outside the home, a nod to owner Charles Greiner's occupation. From the museum's official website: "We had our first exhibit in the summer of 2000 entitled "In the Good Old Summertime." Since then we've mounted about four exhibits a year, ranging from Delivery Days to Wedding Dresses, Politics of Washtenaw County and Women's Suffrage movement, One-Room Schools, the Bridges of Washtenaw County, Northfield and Pittsfield Townships, 100 Years of Psychiatry at UM and The Sewing Arts. In addition, we have special Christmas exhibits and Open Houses every year."2




Sources
1. "Washtenaw County Historical Society Records, 1827-2014." Bentley Historical Library Website. Accessed August 20, 2016. http://quod.lib.umich.edu/b/bhlead/umich-bhl-86315?view=text 2. Wineberg, Susan. "The Museum on Main Street: A Museum of County Life." Washtenaw County Historical Society Official Website. Published Summer 2007. Accessed August 20, 2016. http://washtenawhistory.org/index.php?section=sites&content=history_of_the_museum
Additional Information