French Legation Museum
Introduction
This house was built in 1841 to be home of Alphonse Dubois de Saligny, the French Charge de'Affaires (a diplomatic representative of lower status than an ambassador) to the Republic of Texas. The house was never used for its intended purpose because the capital moved from Austin to Houston the same year. In 1848 the estate was purchased by Dr. Joseph W. Robertson, and served as his family private residence for about 90 years. It is the oldest extant frame structure in Austin. It opened as a museum in 1956.
Images
The French Legation Museum is situated in the oldest lumber house in Austin built in 1841.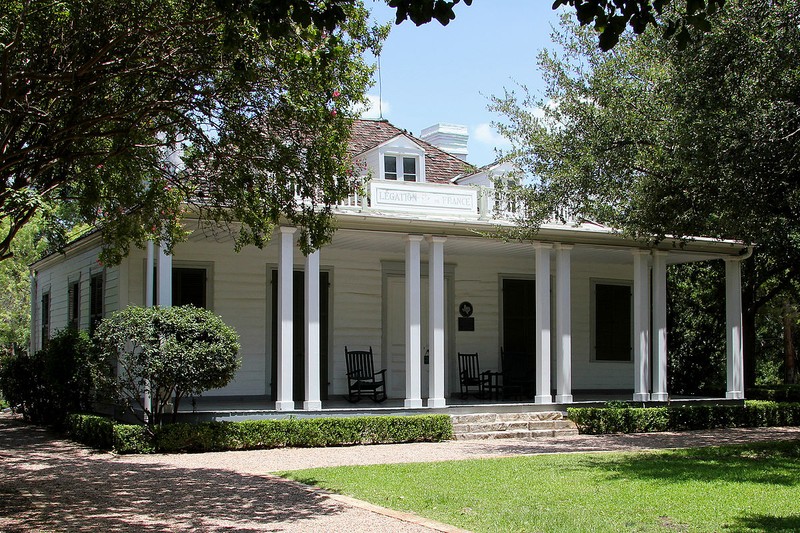 Backstory and Context
Alphonse Dubois de Saligny was sent to Austin to gather more information about the newly established Republic of Texas and ascertain whether the French government ought to recognize it, which it eventually did. However, the capital moved from Austin to Houston and consequently the legation was no longer needed. Saligny sold it before it was completed to a Catholic Bishop who then sold it again to a man named Moseley Baker.

Baker then sold it to Dr. Joseph W. Robertson in 1848. The Robertson family (his wife and 11 children - 5 girls and 6 boys) and their descendants lived in the house for about a century. Robertson's last remaining daughters, Miss Lillie Robertson, who died in 1939, and Miss Sarah Robertson, who died in 1940, in their later years opened the house to the public calling it "Old French Embassy". Both of them were very interested in the preservation of the house, and allowed in 1934 the house to be surveyed for the Historic American Building Survey (HABS). Following their deaths, the house was sold to the state of Texas in 1950 which then appointed the Daughters of the Republic of Texas (DRT) as the property's custodian. As state above, the DRT opened the French Legation Museum to the public in 1956. Today, the Museum is devoted to sharing the site's past and rich cultural history of Texas with the public.
The building was added as a Recorded Texas Landmark in 1967, listed in the National Register of Historic Places in 1969 and in 1974 designated as a State Historical Landmark. In 1981, the site was designated as a Texas State Archaeological Landmark.
Sources
"French Legation." Handbook of Texas Online. Accessed March 19, 2015. https://www.tshaonline.org/handbook/online/articles/ccf03.

"History." French Legation Museum. Accessed March 19, 2015. http://frenchlegationmuseum.org/?page_id=355.
Additional Information