African Americans in the Texas Revolution Historical Marker
Introduction
This historical marker commemorates the contributions of African Americans, both slave and free, who supported the movement for Texas independence from Mexico between 1835 and 1836. Among those recorded as having participated in the war are Hendrick Arnold and William E. (Bill) Goyens. Arnold was a guide and soldier in Ben Milam's Texas Army at the Siege of Bexar and the Battle of San Jacinto. Goyens served as an interpreter and liaison for Sam Houston in regards to the Cherokee Native Americans and helped negotiate a treaty.
Images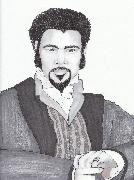 The historical marker commemorating the participation of African Americans in the Civil War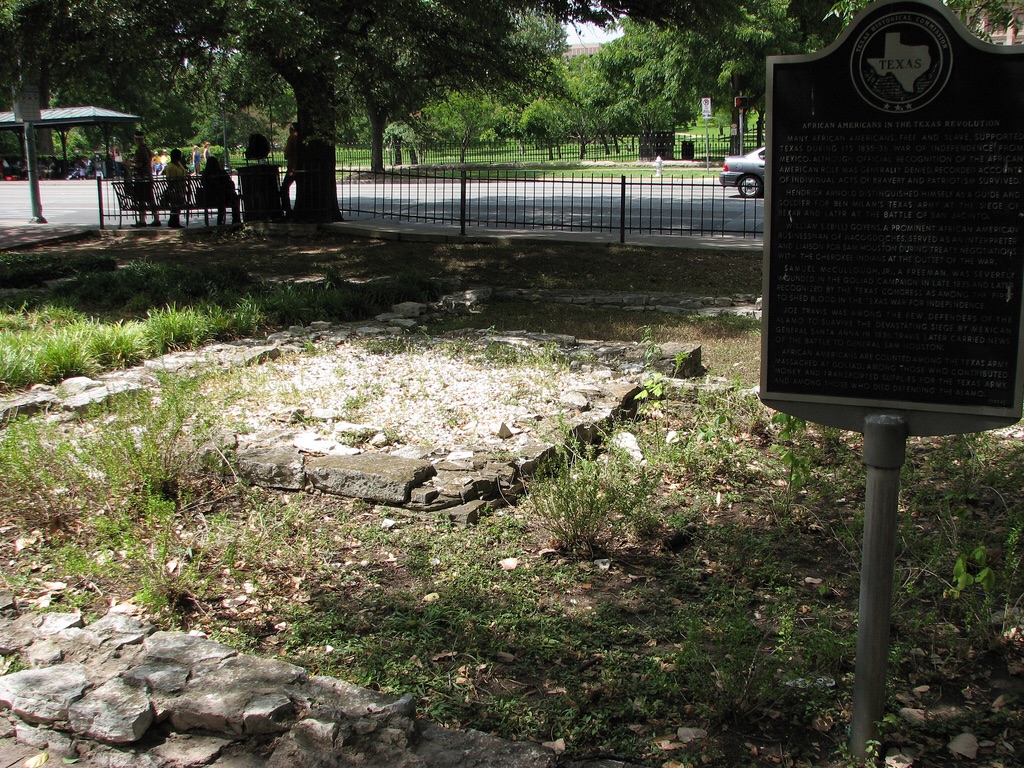 Goyens in conference with a Native American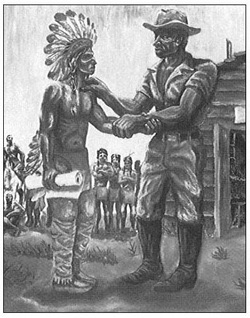 Backstory and Context
Goyens was born in 1794 in Moore County, N. Carolina to a free mulatto and a white woman. It is believed that Goyens arrived in Nacogdoches, TX in the early 1820s. During his time in East Texas, he became a successful businessman. As well as being a Blacksmith and a wagon maker, he was involved with hauling freight from Natchitoches, Louisiana. On an 1826 trip to Louisiana, William English attempted to sell Goyens into slavery. In order to gain his freedom, English demanded that Goyens turn over his own slave woman and work off his debt, somewhat like an indentured servant. Goyens could still participate in trade himself within this agreement. Upon returning to Nacogdoches, Goyens successfully sought legal negation of this agreement.


Goyens had Cherokee ancestry, which likely was instrumental to his success as a mediator and interpreter for Sam Houston. In 1832, Goyens married his wife Mary, a white widower from Georgia. Although interracial marriages would have been unusual at the time, Goyens possessed a light complexion that is believed afforded him greater social mobility. After the revolution was over, Goyens purchased an estate outside of Nacogdoches that later became known as Goyens' Hill. Despite efforts by his white neighbors to challenge and take his wealth, Goyens acquired great deals of wealth in real estate during his later life.
Sources
"African Americans in the Texas Revolution." The Historical Marker Database. Accessed September 12, 2015. http://www.hmdb.org/marker.asp?marker=25746.

"Goyens, William." Handbook of Texas Online. Accessed September 12, 2015. https://tshaonline.org/handbook/online/articles/fgo24.

Kubiak, Leonard. "Biographical Sketch of William Goyens, Jr., Early Day Texian and First Black Millionaire in Texas." Accessed September 12, 2015. http://www.forttumbleweed.net/goyens.html.

Texas Black History Preservation Project. http://www.tbhpp.org/goyens.html. "William Goyens, (1794 – 1856): Successful businessman, peacekeeper." Accessed September 12, 2015. https://www.flickr.com/photos/0ccam/3666806282.

"William Goyens." Bee Coalition. Accessed September 12, 2015. http://beecoalition.org/Black-heros.html
Additional Information