Moonlight Towers
Introduction
This is one of seventeen still-functioning light towers in Austin that were part of the thirty-one moonlight towers erected in 1895. These towers in Austin are the only known surviving carbon arc lamps street light towers from the 19th century in the world. The towers were named moonlight because of their height of approximately 165 feet, and the "artificial moonlight" they used to produce. Each of the towers was crowned with a circle of six carbon arc lamps which produced the light. In the 1800s, several major cities had tall arc towers, including New York, Los Angeles, San Jose, Baltimore, Detroit etc. Austin purchased 31 already used moon towers from the city of Detroit, which in the 1890s had the largest tower lighting system in the country. Today, the 17 remaining Moonlight Towers in Austin, stand as a reminder of an era when the moonlight tower lighting system was common in U.S. cities. They are now designated as official state archaeological landmarks (1970), and are listed in the National Register of Historic Places (July 12, 1976).
Images
Placed on the National Historic Register on July 12, 1976, the 17 towers are still in use today.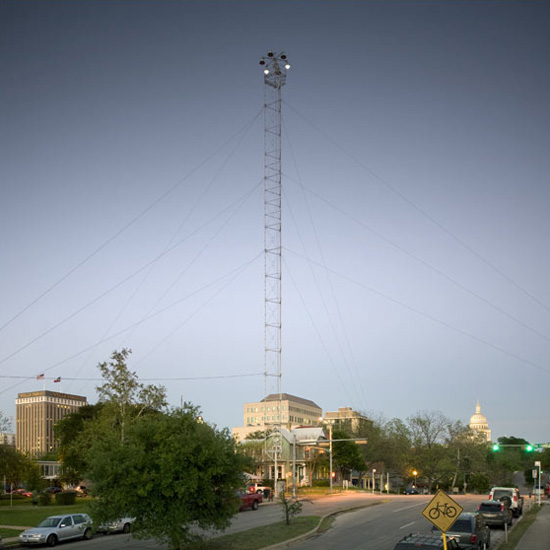 The towers include this brief historic marker.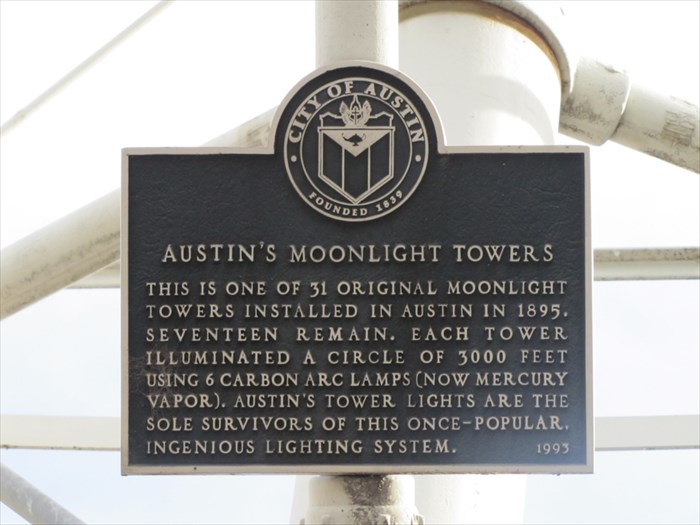 Backstory and Context
The lights at the top of the tower—six carbon arc lamps—had to be lighted by hand every night at the very top for many years. A worker didn't climb up but actually rode an elevator to the top. Incandescent lamps and mercury vapor lamps were eventually installed in the 1920s and 1930s. Finally, in the 1940s a switch was installed enabling workers to turn the lights off rather than having to go to the top of the tower.
When the towers were first erected they used six carbon arc lamps and were lightened every night by a worker who rode an elevator to the top of the framework. In the 1920s, incandescent lamps replaced the carbon arc and in 1936, mercury vapor lamps were installed. In the 1940s, a central switch was installed in the moonlight tower system, allowing Austin workers to shut off all of the towers with a single action.
Sources
Erwin, Will. "Moon Towers and Mysteries." Texas State Cemetery. Accessed March 19, 2015. http://www.cemetery.state.tx.us/news.asp?newsid=9286. "Moonlight Towers (Austin, Texas)." "Moonlight Towers Restoration." Tnemec Company Inc. Accessed March 19, 2015. http://www.tnemec.com/resources/project/261/Moonlight_Towers.pdf
Additional Information