Saint Mary's Cathedral
Introduction
Built between 1872-1884, Saint Mary's Cathedral is a historic church and one of Austin's many landmarks in downtown. The first church, a small stone structure named St. Patrick's was located on the corner of 9th and Brazos streets. The Catholic community grew and eventually wanted a larger building; they also decided to change the name to St. Mary's in 1866. The present church is an excellent example of High Victorian Gothic architecture. The church, which became a cathedral of the newly formed Diocese of Austin in 1984, was added to the National Register of Historic Places in 1973.
Images
Saint Mary's Cathedral, Austin, Texas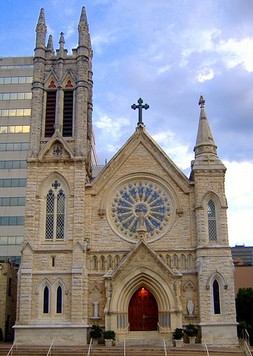 Saint Mary's Cathedral interior view.
Backstory and Context
In the early 1850's when Austin, then called Waterloo, had about 600 inhabitants, the Catholics among them constructed St. Patrick's. The church was not located in the city hub, but was more anonymously situated at the front of the city, on a small hill overlooking the downtown area. Laid out in 1839, Austin started growing up exponentially when the railway arrived in 1871. New citizens and materials for building were arriving, so the parish decided to build a new church with masonry construction. In 1872 right after Austin was made the permanent capital of the state, the parish laid the cornerstone for a new church, choosing a location one block north of the first building.
Architect Nicholas Clayton designed the church on the basilica-shaped foundation which the parish started. The church was built in High Victorian Gothic architectural style. The Barckhof organ from the famed German American organ builder, installed in the 1890's was twice renovated by the renowned organ builder Otto Hoffmann.
Originally this parish belonged to the diocese of Galveston. The new Diocese of Austin was formed in 1984. The church became a cathedral of the newly formed diocese from which the new bishop would preside. Right after these events the church was remodeled, many of its Gothic decorations were removed, altars and altar rail were replaced with marble, and the baldachino with its cactus and bluebonnets, evocative of central Texas.
Sources
"History." Saint Mary's Cathedral. Accessed March 17, 2015. http://smcaustin.org/history-2.
Additional Information