Vulcan Gas Company, 1967-1970
Introduction
Located in the historic W.B. Smith Building at a time when Austin became the southern mecca for America's counterculture of the 1960s and the Vulcan Gas Company (1967-1970) was both a music venue and hangout that epitomized the values of the counterculture: peace, experimentation, independence, and authenticity. The founding of the Vulcan Gas Company by a few nomadic adolescents in 1967 attracted like-minded souls and the venue became one of the first commercially-successful music venues to feature psychedelic rock-n-roll. Of course, as the venue had no liquor license and could only made money at the door that was seldom closed to those without funds, the venue was never very profitable. The venue contributed to the growth of a national counterculture and began the process of changing national perceptions of Austin even if it was only open for a few years.
Images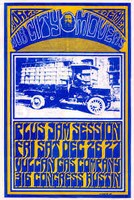 Backstory and Context
All across America, adolescents were running away from college and their suburban homes to protest the system of economic and political constraint they had witnessed their parents conform to their whole lives. In San Francisco, young people found a place in the Haight Ashbury, but for a long time there was no similar place in the southern part of the United States. In the late 1960s, Austin was characterized as a college town with an odd relationship with the state as a more liberal capital within the conservative state of Texas. Austin was a fresh town where traveling students could start anew and build a community of their own.
These Austinites created the concept of cooperative housing known today as "co-ops" which still exists today in West Campus just on the other side of the University of Texas. These co-ops arose when large numbers of people began showing up from surrounding Texas cities to join the free lifestyle of living but lacked money and housing. Thus, they banded together to build large multi-bedroom homes with community-sized kitchens, all of which would be rent-free as long as they did their required "labor hours" to keep the place going.
Amongst the co-ops lived some of the greatest musical minds of the 1960s. psychedelic era. Among them were Don Hyde, Houston White, and Sandy Lockett, who opened Vulcan Gas Company in the fall of 1967 with a vision of the first successful psychedelic music venue in Austin, Texas. Vulcan had a rustic feel adorned with homemade benches, murals, and church pews. Home to local legends like The 13th Floor Elevators, Shiva's Headband and The Conqueroo, the Vulcan Gas Company became an establishment for all the Folk and Blues musicians to rub together and take the form of psychedelic rock.
Innovative sound production and over-the-top light shows attracted crowds into the club off Congress Avenue. Unlike other bars in town that shied away from new music, Vulcan utilized multiple slide projectors combined with liquid projection which "converted the stage… into a living canvas." Over the years as the genre of rock solidified so did Vulcan, as it became the venue for not only the local Austin youth, but folk fanbases from parts of Texas like Amarillo and eventually contributed to the population and economic growth that took hold of Austin in the late 1960s.
Supporting the music were iconic artists who designed state-of-the-art flyers for each and every event at Vulcan Gas Company. Prolific artists like Guy Juke, Kerry Awn, Danny Garrett, and Jim Franklin produced over 46 posters in three years for Vulcan which "reflected Austin's transformation from a sleepy university town into a veritable oasis of underground artistic and cultural activity." Jim Franklin perfected this style of "free form" lettering and "split-fountain" printing which became the visual element seen around the country and copied in popular culture throughout the 1970's.
With names like Bruce Springsteen, Willie Nelson, and Frank Zappa, Vulcan's popularity grew quickly and with it, the noise, loitering, and unadulterated disturbance in downtown Austin. As a result, Don Hyde and the other Vulcan managers were pressed by their landlord with tremendous increases in rent and threats of removal, leading to the eventual demise of the venue in the summer of 1970, just three years after its opening,
Overcrowding on Congress Avenue was one factor of their closing. Admission to each show was $1.50, but many pedestrians opted to stand outside in crowds to listen. Drug exchanges on the streets and rowdy youth became falsely associated with Vulcan. Their only source of revenue came from ticket sales due to doubts that the city would approve a liquor license after White had been accused of selling LSD. As owner Eddie Wilson put it in an interview with Joe Frolik at the Austin American Statesman, the Vulcan Gas Company became the "epitome of everything Middle America was opposed to."
Vulcan Gas Company's life was short but explosive. Its operators and attendees were more than rebels, runaways, or hippies; they were seeking freedom from conformity. For many youth in the 1960s in the region, Austin and the Vulcan Gas Company were symbols of this freedom. Though many felt its loss at the time, its spirit would continue in the form of The Armadillo World Headquarters and a new image for its host city.

Sources
Harvey, Marti G. "The Evolution Of The Rag: An Analysis Of The Social, Political And Technological Influences On The Birth Of One Underground Newspaper In The 1960s." (2010). "The Complete Illustrated List of Vulcan Gas Company Posters and Handbills," accessed April 22, 2016. http://people.missouristate.edu/DennisHickey/vulcan.htm.

Jan Reid, Shawn Sahm. Texas Tornado: The Times and Music of Doug Sahm. University of Texas Press, Feb 1, 2010. p. 73 Shank, Barry. Dissonant identities: The rock'n'roll scene in Austin, Texas. Wesleyan University Press, 2011. "Homegrown", accessed April 22, 2016. http://utpress.utexas.edu/index.php/books/schaefer-homegrown.

Dolph Briscoe Center for American History." Briscoe Center Digitizes Extraordinary Texas Poster Art Collection - Dolph Briscoe Center for American History. Accessed April 8, 2016.

Long, Joshua. Weird city: Sense of place and creative resistance in Austin, Texas. University of Texas Press, 2010. p. 27. "History of the Vulcan Gas Company," accessed April 22, 2016, http://people.missouristate.edu/DennisHickey/vulcan.htm.
Additional Information