Statue of William "Bill" Pickett
Introduction
William "Bill" Pickett (1870-1932) was the first African American cowboy to be inducted into the Cowboy Hall of Fame. Pickett was born in 1870 and became a ranch hand after completing the fifth grade. He noticed that herder dogs controlled steers by biting their noses and he originated a technique to replicate this, wrapping his arm around a steer and pinching its nose. He became a rodeo star and eventually a film star by wrestling steer in this manner, a technique now called "bulldogging."
Images
The statue of Bill Pickett "bulldogging" a steer.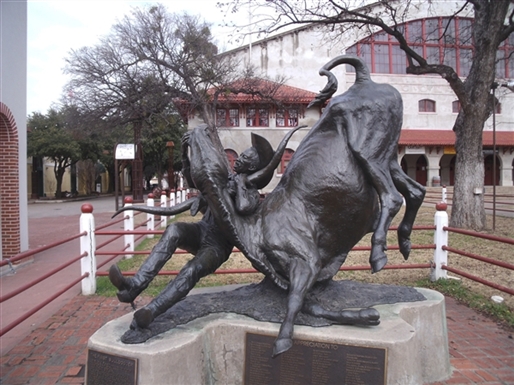 Backstory and Context
Pickett was one of thirteen children and his parents were former slaves. He had both African and Native American (Comanche) ancestry. Not surprisingly, his African background often prevented him from participating in rodeo shows. However, he was able to mitigate this somewhat by claiming he was fully Comanche. Eventually he became part of the Buffalo Bill's Wild West Show and traveled all over the US and even as far away as England. Pickett performed several other tricks at shows. Perhaps his most famous performance occurred at the Cheyenne Frontier Days in 1904.
Sources
"Bill Pickett." Famous Texans. Accessed August 18, 2016. http://www.famoustexans.com/billpickett.htm. "Bill Pickett." Wikipedia. Accessed August 2, 2014. https://en.wikipedia.org/wiki/Bill_Pickett. "Sculpture of Bill Pickett in the Fort Worth Stockyards." University of North Texas: The Portal to Texas History. Accessed August 18, 2016. https://texashistory.unt.edu/ark:/67531/metapth43777.
Additional Information