Greenwood Memorial Park
Introduction
Greenwood Memorial Park is a historic cemetery in Fort Worth. It was established in 1907 and is operated by the Mount Olivet non-profit organization. The entrance to the cemetery features replicas statues of the Four Horses from St. Mark's Basilica in Venice, Italy. During World War I an airfield was established to train pilots and the cemetery has a designated special area where eleven pilots and instructor from the base are buried.
Images
The four replica horses at the entrance to the cemetery.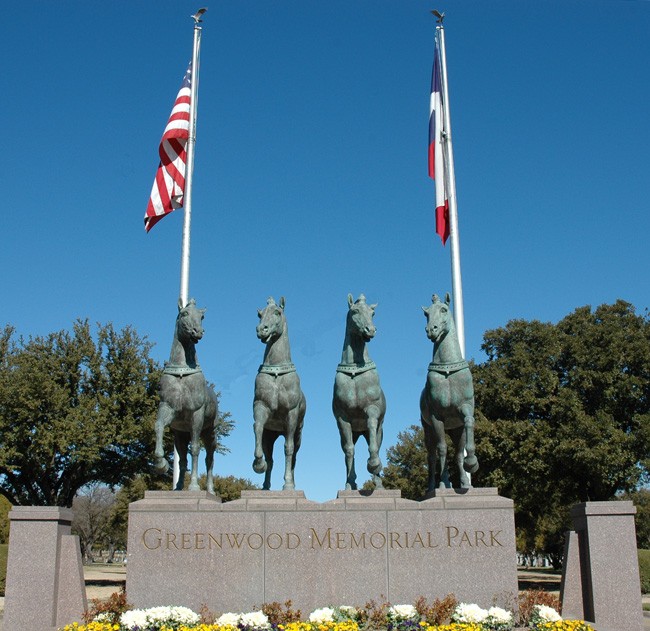 Backstory and Context
During The Great War, now known as World War I, airplanes were the new weapon used in the battle fields of Europe. To train new pilots to fly those airplanes, air field and training bases were established in areas where there was good flying weather. The area around Fort Worth, TX was one of these locations. Learning to fly in the early 1900s was a dangerous time as the aircraft were not as reliable in performance as those of the present. Young men from Canada, Great Britain, and the United States came to this area to train as pilots. During those training flights 100 to 120 Canadian and British pilots were killed in flight accidents.

Sources
Bahari, Sarah. "Those who died while training with Royal Air Force Flying Corps at three airfield in Tarrant County." Fort Worth Star-Telegram. May 25, 2015. http://www.star-telegram.com/news/local/community/fort-worth/article22190358.html. "Cemetery Details: Greenwood Memorial Park." Commonwealth War Graves Commission. Accessed June 6, 2015. http://www.cwgc.org/find-a-cemetery/cemetery/4001779/FORT%20WORTH%20(GREENWOOD)%20MEMORIAL%20PARK. "Greenwood Memorial Park (Fort Worth)." Wikipedia. Accessed June 6, 2015. https://en.wikipedia.org/wiki/Greenwood_Memorial_Park_(Fort_Worth). Jarnagin, CarolAnn. "Guide to Tarrant County Cemeteries." TXGenWeb. Accessed June 6, 2015. http://www.rootsweb.ancestry.com/~txtarran/cemetery/cemetery-guide.htm. "Our History." Greenwood Funeral Homes. Accessed June 6, 2015. http://www.greenwoodfuneralhomes.com/about-us/our-history.
Additional Information