1908 Normal Training School
Introduction
The Normal School Training School served as a regular elementary school for Cheney residents, as well as a hands-on training facility for the student-teachers of the Normal School. This ghost once stood on the west side of Showalter Hall where the parking lot is today.
Images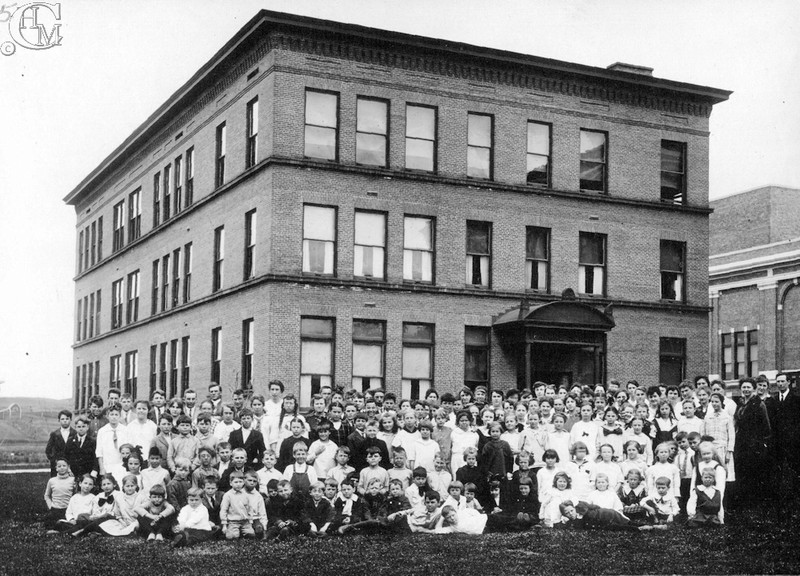 Backstory and Context
The Normal School Training School department was first organized in 1892 with Miss Nellie G. Hutchinson as its first principal. The student-teachers observed classes being conducted, then they would step in to teach themselves while being observed by their instructors. By 1907, the department had outgrown its space in the main Normal School building.

Completed during the summer of 1908, the new 3-story building allowed the training school program to expand. When the Fall quarter opened, 178 students were enrolled. By 1912, the number of students had grown to 257.

As soon as the fire alarm sounded in the early hours of April 24, 1912, the local fire department responded promptly. By hard work, they saved the Training School building even though the close-by Normal School building was destroyed.
It is an undoubted fact that the fire boys were instrumental in saving the training school, as continual streams of water were plying on this building, although the heat was so intense as to blister the window casings of the building. - Cheney Free Press

The next morning, Normal School administrators scrambled to find accommodations for staff and classes. The Training School building became the administration building, while some of the training school students were moved to the 1893 Cheney public school building and in other locations around town.

That summer, Normal School classes were held in the Training School building. The fall term opened with the Normal School holding its classes in the Training School building, and the Training School operating in the Cheney Public School building.

Once the new Normal School administration building was completed in 1915, regular class work and administration moved into that building and all training school classes returned to the Training School building.

In 1917, during World War I, students started little victory gardens in the garden area in back of the school near today's 7th Street. Each grade was assigned a plot. This was the students response to the general calls to save and be thrifty during the war.

Music students were sometimes asked to perform for events or clubs. Training School musicians were included in the Children's Musicale hosted by the Tilicum Club in December 1932.

By 1935, the school building was showing its age and the school trustees began planning for a new training school with modern facilities and equipment.

The old school was demolished by the end of 1940.

Sources
Kinnikinick September 1913, Volume 3 Number 1 Alumni Number; Page 6
Sanborn Fire Insurance Map of Cheney Washington 1916-1940
The Southwest Spokane County Historical Society photograph collection
Cheney Free Press 27 April 1912
EWU History Compiled By: Charles V. Mutschler, Ph.D.
Additional Information