Silverdale Confederate Cemetery
Introduction
This cemetery serves as the final resting place for 155 unknown Confederate soldiers. Where once their graves were marked by wooden markers, there is now a general marker for all of the soldiers as the original markers have been lost to time. Like the majority of Civil War soldiers, these 155 men did not die upon the battlefield but from wounds and disease. These troops were wounded or became ill during General Braxton Bragg's Kentucky campaign, which lasted from September to October 1862.
Images
Entry monument from the road side. (Photo by Lee Hattabaugh)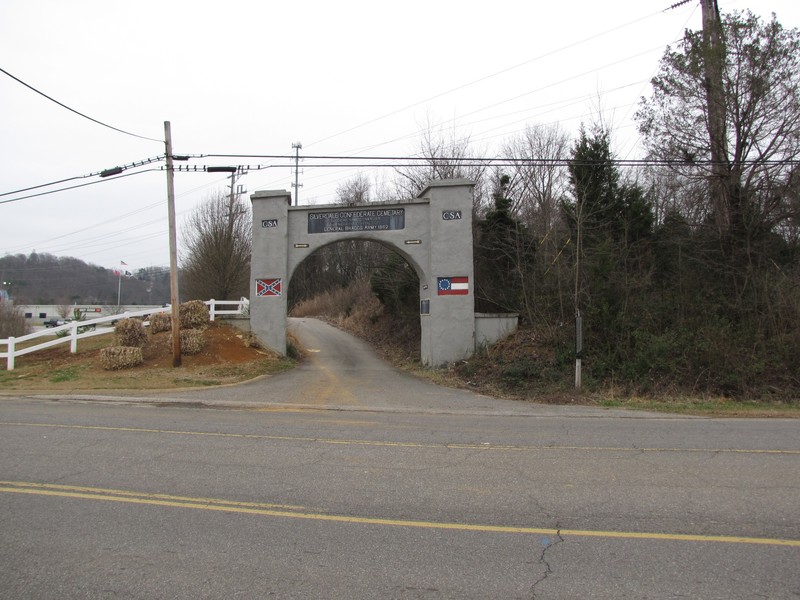 Entrance to the Cemetery. (Photo by Lee Hattabaugh)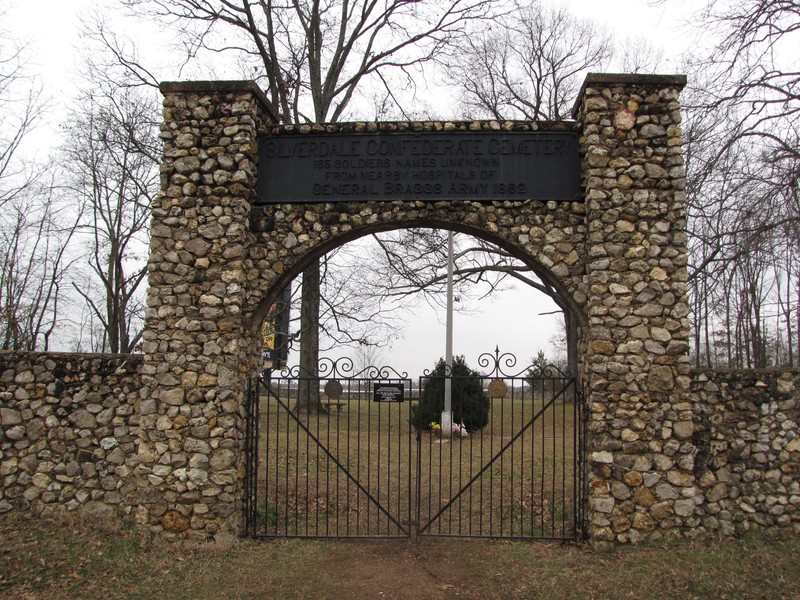 Backstory and Context
The men here died during General Bragg's ambitious, albeit unsuccessful, Kentucky Campaign. Bragg believed that Kentucky would fight for the Confederacy if only there was a stronger military presence in the Bluegrass state.

Bragg was encouraged in his efforts to recruit Kentucky men to his army by some early success. Unable to get from his position in Tupelo to Chattanooga directly due to Union control of the railroad, Bragg devised a seemingly ridiculous plan. Bragg moved his troops in an odd "V" shape southward nearly the entire length of Mississippi to Mobile, Ala. He then crossed Mobile Bay by steamboat and then traveled by rail northward through Montgomery, Atlanta and Dalton, covering 766 miles on more than half a dozen different railroads and arriving at Chattanooga by late July. Bragg was hailed at moving troops faster than anyone else in history. From here Bragg would begin his push North into Kentucky.

Braggs efforts in Kentucky would amount to little though. Throughout the entirety of the campaign Bragg only managed to defeat a couple of Union regiments made up of mostly green recruits. On his way to Louisville and with Union troops hot on his tail Bragg diverted his forces away before returning South. Kentuckians had not come to the Confederate call as had been expected and Bragg could not hope to defeat the mounting Union force sent to repel him.
Sources
Hattabaugh, Lee. "Confederate Cemetery." Historical Marker Database. March 18, 2010. Accessed August 14, 2016. http://www.hmdb.org/marker.asp?marker=28771. Van der Linden, Frank. "General Bragg's Impossible Dream: Take Kentucky." Civil War Times. December 2006. Accessed August 14, 2016. http://www.civilwar.org/battlefields/perryville/perryville-history-articles/general-braggs-impossible.html?referrer=https://www.google.com/.
Additional Information