Chickamauga and Chattanooga National Military Park
Introduction
Chickamauga and Chattanooga National Military Park, located in northern Georgia and eastern Tennessee, preserves the sites of two major conflicts of the American Civil War: the Battle of Chickamauga and the Chattanooga Campaign. Many monuments dedicated to the various military divisions of the war effort are located throughout the area. The major sites include Chickamauga Battlefield, Missionary Ridge, Lookout Mountain and Point Park. A scenic overview can be found at the top of the mountain to view the various battlefields.
Images
A distant view of the two panel markers situated just to the left of the Visitor Center's main entrance. (Photo by Dale Benington)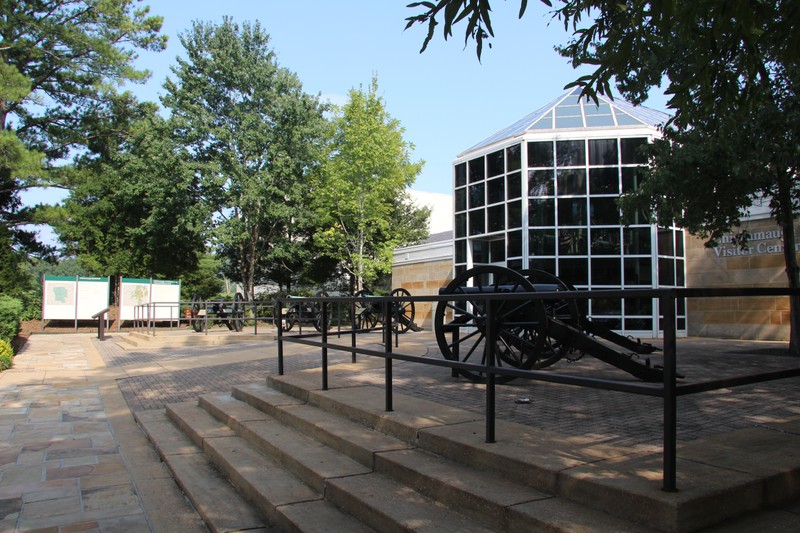 Backstory and Context
Following the battle of Murfreesboro and the subsequent Tullahoma Campaign Union General William S. Rosecrans forced Southerners under General Braxton Bragg to withdraw from Middle Tennessee to Chattanooga. Should the Confederates fail to hold Chattanooga and the surrounding areas they would surely lose all remaining occupied territories in Tennessee.


Bragg fled south to Georgia to acquire reinforcements to hold the area. Southern reinforcements swelled his battered ranks to more than 66,000 men. After twice trying to destroy segments of Rosecrans' troops Bragg decided to hunker down and force the enemy back. After a couple of minor victories Bragg was actually successful with his attempt in pushing back the advance of Union troops. Union troops were routed but were able to successfully hold back the assault until returning to entrench themselves in Chattanooga at dark. Confederate troops surrounded the town and cut off supplies to the Union Army.
Union troops would hold out though as reinforcements quickly began to gather and come to their aide. Bragg was replaced as overall commanding officer by Ulysses S. Grant in October of 1863. Following Grant's arrival the stalemate that had lasted a month finally began to shit in the Union's favor. A supply line was created to aid the entrenched soldiers as well as steady victories in battle being made to route the besieging Confederate soldiers and continue South toward Atlanta and the heart of the Confederacy.
Sources
Bennington, Dale. " Chickamauga and Chattanooga National Military Park." Historical Marker Database. June 16, 2014. Accessed on August 8, 2016. . "Chickamauga and Chattanooga: Stories." National Park Service Webpage. Accessed on August 7, 2016. .
Additional Information