Robert E. Lee Memorial
Introduction
This memorial depicts the famed general of the Confederacy, Robert Edward Lee, riding on his equally famous horse, Traveller. Behind them is another mounted Confederate figure. The memorial was revealed in 1936 at a ceremony conducted by President Franklin D. Roosevelt- a departure from the installation of most celebratory Confederate memorials that were dedicated by Southern proponents of the "Lost Cause." The President gave an address that was broadcasted across the nation by radio, in which he described General Lee as "a great leader of men... a great general" and "one of our greatest American Christians...one of our greatest American gentlemen." Although the memorial was dedicated to "the entire youth of the South to whom Lee became a great inspiration," it is important to note that such a dedication to an individual known to torture his own slaves neglects the perspective of African Americans who compose a significant proportion of the Southern population. In addition, it is important to note that hundreds of thousands of Southerners fought on behalf of the Union while millions, including Texas governor Sam Houston, opposed secession.
Images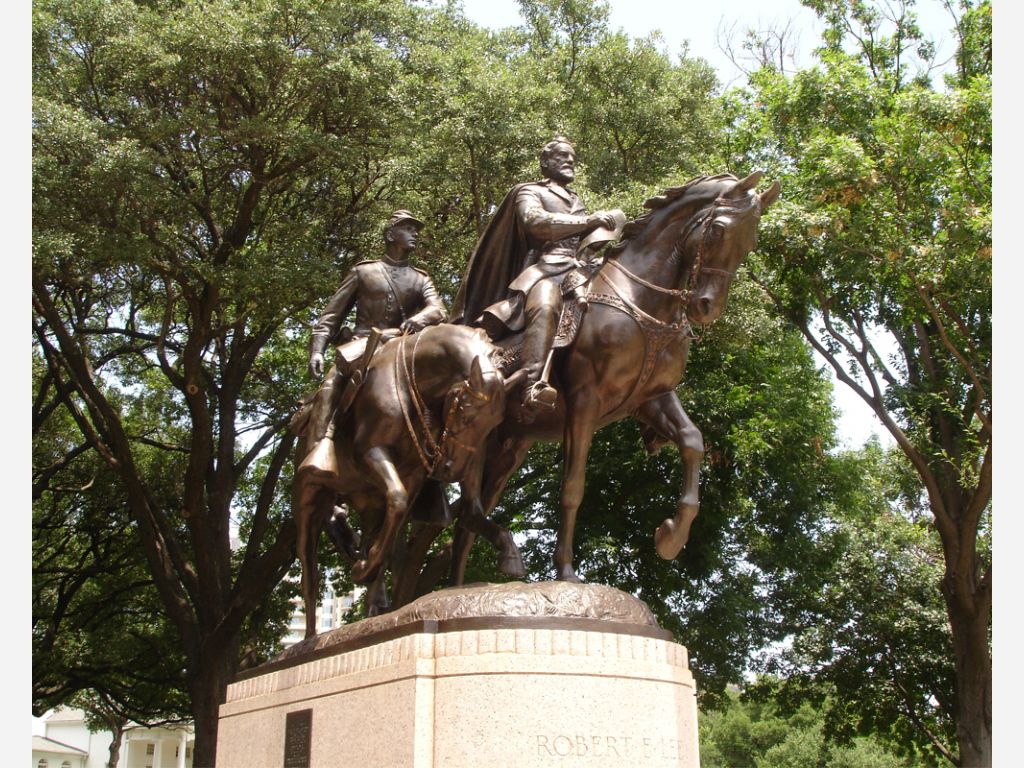 The dedication plaque on the statue's base.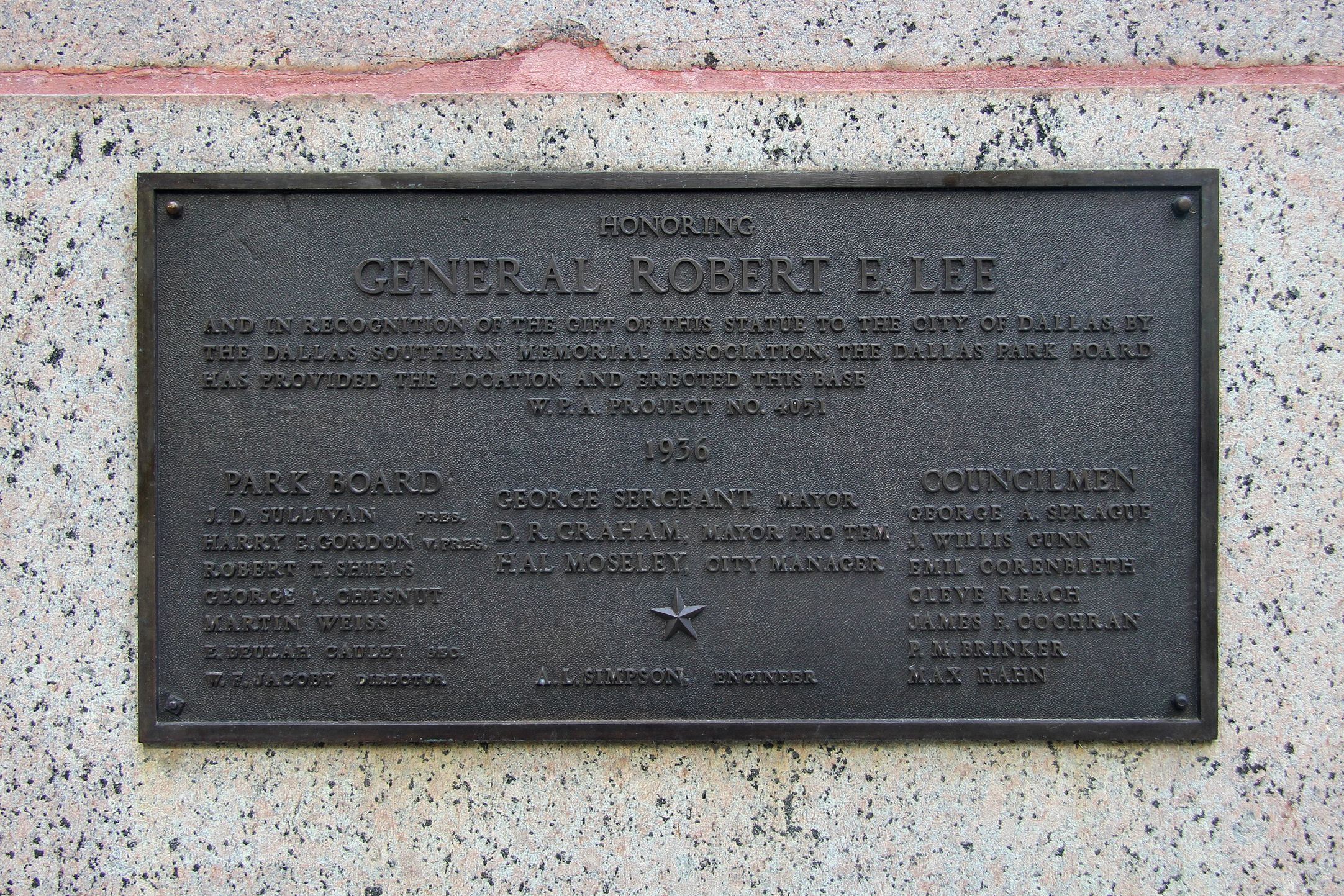 Backstory and Context
The memorial was initially planned to show the general and his aide with their heads lowered in a heavy thunderstorm. The statue would have been located in Dealey Plaza until the city changed the plan and decided to place the memorial in Oak Lawn – a park developed in 1903, now known as Lee Park.
Alexander Phimister Proctor, a sculptor renowned for his skill in depicting animals, was commissioned to make the memorial. After four years and a cost of over $50,000 the statue was completed and placed atop a plinth designed by local architect Mark Lemmon. Proctor's bronze statue is magnificent. The larger than life figures are full of character; their heads erect, the horses' muscles rippling. Proctor paid great attention to detail by basing both figures and their horses on historic photographs.
Those who are interested may also visit a nearby fountain designed by Joe E. Lambert Jr. that is dedicated to the heroes of the Confederacy. While these monuments built in the early 1900s were part of a desire to celebrate the Old South and partially erase the history of the Union's victory and the era of Reconstruction, it is important to note that many memorials were dedicated in hopes of honoring Confederate veterans who sacrificed their lives in hopes of separating their home states from the Union. These memorials are typically located in cemeteries, such as the Confederate War Memorial which is located in Pioneer Cemetery.
Sources
Butler, Steven. "Honoring the Past: Confederate Monuments in Dallas." Legacies: a History Journal for Dallas and North Central Texas 1, no. 2 (Fall 1989): 31. http://texashistory.unt.edu/ark:/67531/metapth35123/m1/33.

Franklin D. Roosevelt: "Remarks at the Unveiling of the Robert E. Lee Memorial Statue, Dallas, Texas.," June 12, 1936. Online by Gerhard Peters and John T. Woolley, The American Presidency Project. Accessed February 25, 2016. http://www.presidency.ucsb.edu/ws/?pid=15303.

Little, Carroll M. A Comprehensive Guide to Outdoor Sculpture in Texas. Austin, TX: University of Texas Press, 1996.
Additional Information