Kennedy-Warren Apartment Building
Introduction
The Kennedy-Warren Apartment Building is an art deco apartment complex between the Cleveland Park and Woodley Park neighborhoods in Washington, DC. Built in 1931, the building has undergone numerous expansions in the years since then. In 1994, the building was added to the National Register of Historic Places, considered "one of the most significant examples of the luxury apartment house type in Washington, D.C." Today, the Kennedy-Warren still rents out apartments to tenants, who have recently advocated for the building's preservation.
Images
A view of the Kennedy-Warren's grand brick and limestone facade facing Connecticut Avenue. Photo by AgnosticPreachersKid at English Wikipedia.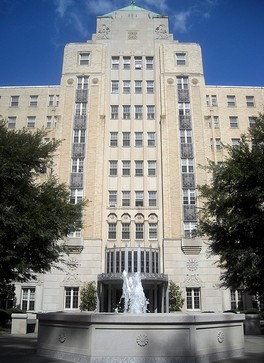 The Kennedy-Warren is often called the "Old Lady" of Washington, D.C., for its classy art deco features, such as the aluminum entryway. Photo by Carol M. Highsmith, Library of Congress.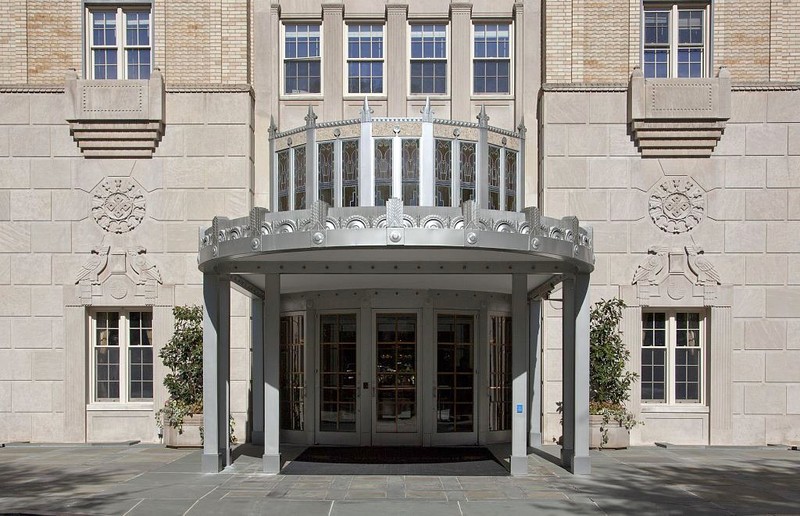 Art deco borrowed the design flairs of ancient Rome, Greece, Egypt, and Meso-America. The Kennedy-Warren displays Aztec-inspired images with geometric patterns. Photo by Carol M. Highsmith, Library of Congress.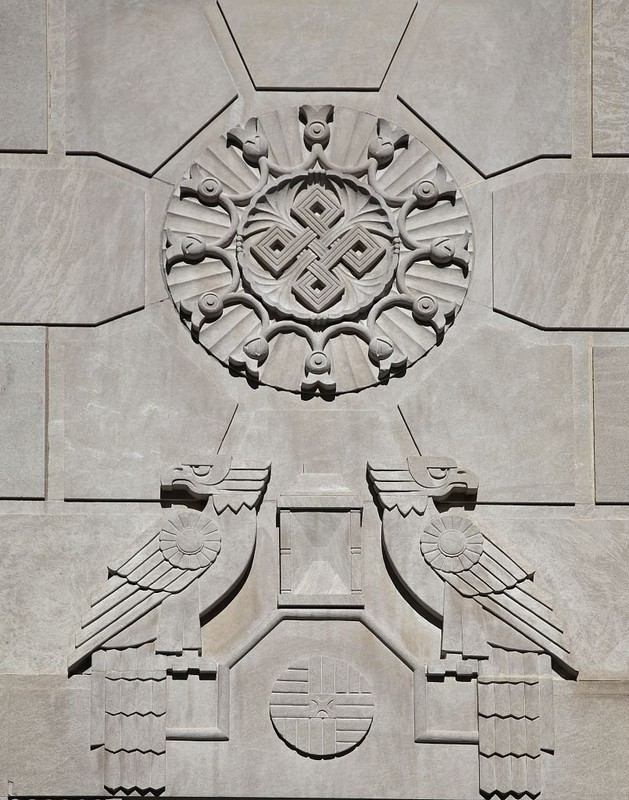 The Kennedy-Warren sits in a prime location along Connecticut Avenue and neighboring the National Zoo. Until recently, fresh air from Rock Creek Park fed the building's forced-air cooling system. Photo by Carol M. Highsmith, Library of Congress.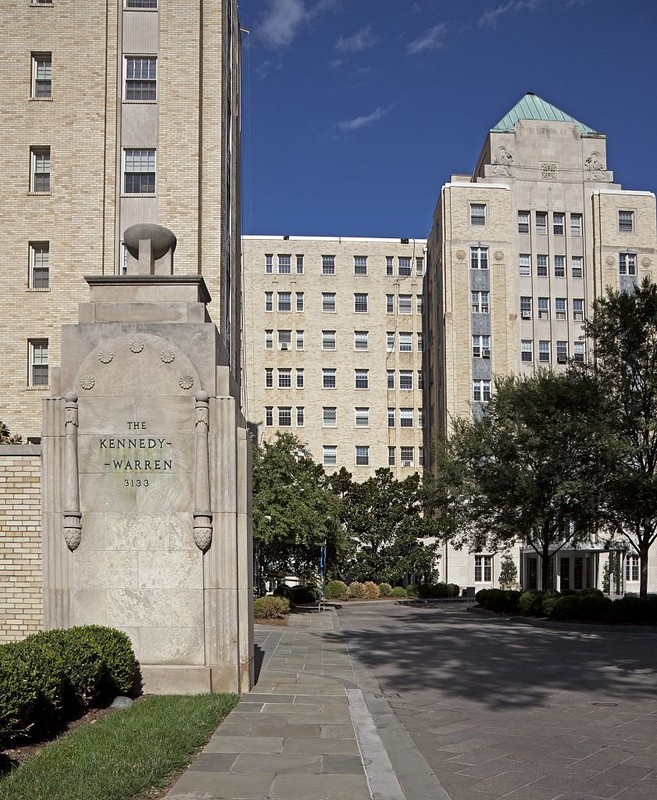 Backstory and Context
In the late 1920s, the land along Connecticut Avenue in Washington, D.C. was rapidly expanding. Fifty apartment buildings appeared along the avenue in the 1920s. In 1929, Monroe Warren, Sr., a known developer of apartment buildings in Washington, D.C., approached fellow apartment developer Edgar Kennedy about a collaborative build project for a new apartment building in Cleveland Park near Rock Creek Park and the National Zoological Park. Both men were deeply interested in the prospect and proceeded to hire architect Joseph Younger to design the apartment buildings. Once everything was in place for development, Warren and Kennedy procured funding from the B. F. Saul Company, and in 1930, construction on the building began in a prime D.C. location. They planned to have 441 apartments with a total of 2,029 rooms.
Soon into the construction process, however, Warren and Kennedy discovered that a loan that they had negotiated with the Integrity Trust Company would not come through, as the Great Depression was ravaging the American economy. Construction floundered as Warren and Kennedy struggled to find the funding that they needed to complete the building, and they ultimately filed for bankruptcy in 1932. Joseph Younger also suffered financial worries during the same year, though not necessarily related to the Kennedy-Warren, and as a result, he committed suicide in May of 1932. The B. F. Saul Company overtook the construction project and saw it through until the building was completed in 1931. Still, the completed building was only half of what Kennedy-Warren originally planned, with only 210 apartments. It was enlarged again in 1935.
Despite the financial disasters that surrounded the building's construction, the Kennedy-Warren went on to be hugely successful. It joined other luxury apartments along Connecticut Avenue such as the Cathedral Mansions and its art deco architecture reflected the new Klingle Valley Bridge just steps away from the apartments. In addition to its private residences, the building originally included a small grocery story, gymnasium, beauty salon, barber shop, lounges, a dining room, a ballroom, and office spaces. The basic apartment had one room, a bath, and a dining room with a kitchen, while others had up to five rooms, three baths, a kitchen, and a fireplace. It attracted the likes of President Franklin D. Roosevelt's personal advisor, Harry Hopkins, and Lyndon B. Johnson when he served in Congress. The Kennedy-Warren is designed in the art deco style, which reflected the contemporary taste of its architects and tenants. Its commanding brick facade features carved geometric patterns and aluminum decorations, considered the first apartment building in D.C. to incorporate aluminum so extensively. In 1994, the Kennedy-Warren was added to the National Register of Historic Places.
The B. F. Saul Company retains ownership of the Kennedy-Warren and the Klingle Corporation is the landlord. They have undertaken major building and renovation projects over the years, which have been the source of controversy among tenants and the historic preservation community. In 2002, the unfinished south wing was completed and used Joseph Younger's 1931 plans for the exterior design. Tenants, however, were subjected to surcharges and increased rents if they did not sign a voluntarily agreement securing their current rent prices, while rents in the historic wing apartments doubled under renovation. Furthermore, tenants and local preservation groups, such as the Art Deco Society of Washington, D.C., criticized the owner and landlord for undertaking renovations that would destroy the building's historic architectural integrity. Elements that rarely survive changing times were threatened, including art deco door knockers, an early forced air cooling system that took advantage of Rock Creek Park's breezes, and shafts for milkmen to deliver fresh dairy products. In response to the price increases and renovation approaches, the Kennedy-Warren tenants staged what local officials called "the first-large scale rent strike of its kind in the city" in January 2008. Ultimately, official rejected the rent hikes. Restorations of the historic building took place with guidance from the Art Deco Society. Some historic features were preserved, such as doors and hardware, while new wiring, plumbing, central air, kitchen appliances, and washers and dryers were added. These controversies raise timely and universal questions about the balance between business, modernization, and historic preservation.
Sources
Art Deco Society of Washington, D.C. "Preservation Alert: Will B.F. Saul Gut the Historic Kennedy-Warren Apartments?" Trans-Lux. Vol 26. No 1. 2008. Accessed October 2017. http://www.adsw.org/sites/default/files/Preservation%20Alert--Kennedy%20Warren.pdf
Castro, Melissa. "Kennedy-Warren tenants sue Saul, Klingle." Washington Business Journal. 2010. Accessed October 2017. https://www.bizjournals.com/washington/blog/breaking_ground/2010/01/kennedy-warren_tenants_sue.html
Goode, James M. Best Addresses: A Century of Washington's Distinguished Apartment Houses. Washington, D.C.: Smithsonian Institution Press, 1988.
Heath, Thomas. "B.F. Saul wraps up Kennedy-Warren renovation." Washington Post. June 12, 2011. Accessed October 2017. https://www.washingtonpost.com/business/capitalbusiness/bf-saul-wraps-up-kennedy-warren-renovation/2011/06/09/AGLyH0RH_story.html?utm_term=.37599d98d847#comments
National Park Service. "Cleveland Park Historic District." National Register of Historic Places Inventory-Nomination Form. Prepared by Kathleen Sinclair Wood. Washington, D.C.: National Park Service, Department of the Interior, 1990. https://npgallery.nps.gov/GetAsset/127e029c-35a2-43e0-85b5-2e264fd218c5

National Park Service. "Kennedy-Warren Apartment Buildings." National Register of Historic Places Inventory-Nomination Form. Prepared by Eve Lydia Barsoum. Washington, D.C.: National Park Service, Department of the Interior, 1994. http://focus.nps.gov/GetAsset?assetID=c8f2ac86-f8d5-4990-ac86-8370f2382915
Spinner, Jackie. "Tenants at Fabled Kennedy-Warren Stage a Rent Strike." Washington Post. January 25, 2008. Accessed October 2017. http://www.washingtonpost.com/wp-dyn/content/article/2008/01/24/AR2008012403197.html
Striner, Richard and Melissa Blair. Washington and Baltimore Art Deco: A Design History of Neighboring Cities. Baltimore: Johns Hopkins University Press, 2014.
Additional Information