John Stoddert Haw House
Introduction
The John Stoddert Haw House is a historic home located in the Georgetown neighborhood of Washington, DC. Built in 1816 by John Stoddert Haw, the nephew of United States Secretary of the Navy Benjamin Stoddert, the home would go on to pass between multiple owners over the years. On June 19th of 1973, it was added to the National Register of Historic Places. Today, the home also contributes to the Georgetown Historic District.
Images
A view of the house in 2008 ((By AgnosticPreachersKid (Own work) [CC BY-SA 3.0 (http://creativecommons.org/licenses/by-sa/3.0) or GFDL (http://www.gnu.org/copyleft/fdl.html)], via Wikimedia Commons))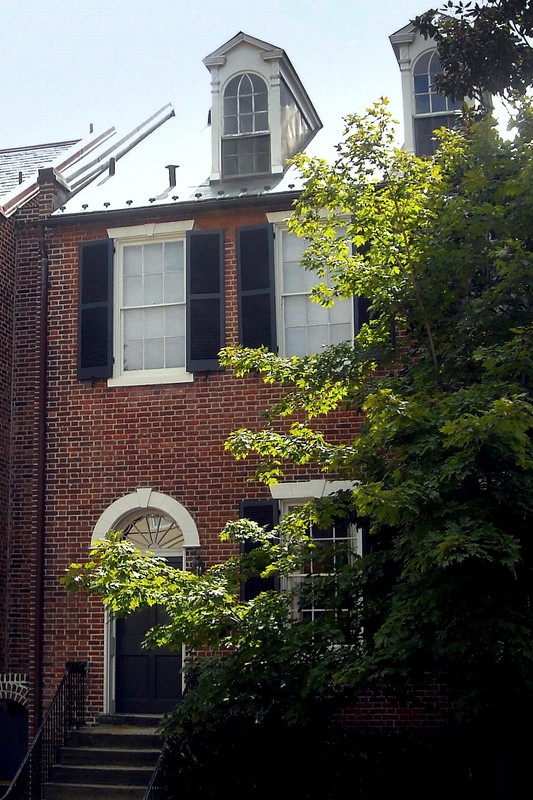 Backstory and Context
The property on which the John Stoddert Haw House stands was originally owned by Thomas Beall, who went through the process of subdividing the property for sale and ended up selling part of it to John M. Gannt in 1804. The property was sold several more times in the span of a decade, until it was purchased by John Stoddert Haw in 1815. Haw began to construct a home for himself on the property in 1816, and in 1817, it is indicated that the home was completed. John and his family lived in the house well into the 1840s, but at some point during that decade, they moved elsewhere, retaining ownership of the house all the while. From then into the 1900s, the home was rented out to various tenants, and in 1921, retired US Navy admiral Spencer Wood bought the house to serve as his own residence.
Wood was deeply invested in the community of Georgetown, and becoming a chairman of the Georgetown Citizens Association, and a short time after buying the home, he began to restore it for his own purposes, as well as for the benefit of the neighborhood. In 1941, Wood passed ownership of the home to his daughter Anne Elizabeth, married to Joseph Harsch, who was then a CBS and NBC leading commentator. The Harschs did not remain at the home long, and in the 1950s and 1960s it was host to a number of foreign diplomats from Britain and Brazil. It was purchased again in 1967 by George McGhee. Shortly after, the home was added to the National Register of Historic Places on June 19th of 1973.
Sources
National Register of Historic Places. John Stoddert Haw House. June 19, 1973. Accessed August 13, 2016. http://focus.nps.gov/pdfhost/docs/NRHP/Text/73002089.pdf
Additional Information