Grace Episcopal Church (Washington, D.C.)
Introduction
Grace Episcopal Church is a historic church located in Washington, DC's Georgetown neighborhood. Also known as the Mission Church for Canal Boatmen, the church is known for its Gothic Revival architecture. On May 6th of 1971, the church was added to the National Register of Historic Places under the name of Grace Protestant Episcopal Church. The Grace Episcopal Church is still active today.
Images
A view of the chapel in 2008 ((By AgnosticPreachersKid (Own work) [CC BY-SA 3.0 (http://creativecommons.org/licenses/by-sa/3.0) or GFDL (http://www.gnu.org/copyleft/fdl.html)], via Wikimedia Commons))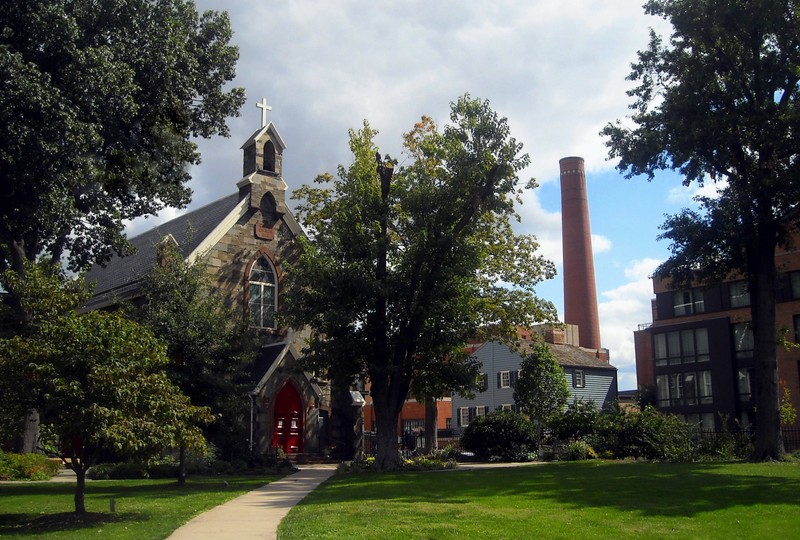 Backstory and Context
In the first half of the 1800s, when Georgetown was still largely a port town, two Episcopal Parishes were active in the area: St. John's Georgetown and Christ Church Georgetown. Though pew rentals were the custom of the day in churches, the two parishes collaborated and gave funds to form a mission church in the area to care for those in the population that could not afford to rent out pews for worship. In the 1850s, three men from the Christ Church Georgetown finally founded a chapel for the mission church, and services were held in the building with the help of volunteers from the nearby Virginia Theological Seminary. As the church grew, a member of Christ Church, H. D. Cooke, donated a significant sum and funded the construction of the Grace Episcopal Church in 1867.
The church became a force in the community, not only providing church services for the poor, but also going out into the community and giving aid to those truly in need in the area. The church continued to thrive and grow over the coming century, and by the 1960s, Grace Episcopal Church was still hugely important for its neighborhood and the community therein, and began to establish community programs for the homeless among Georgetown. On May 6th of 1971, the Grace Episcopal Church of Washington, DC was added to the National Register of Historic Places. Today, the Grace Episcopal Church is the only religious institution active in the lower part of Georgetown, and its community outreach programs are a continuing effort by the church congregation and community.
Sources
"History of Grace Church." Grace Episcopal Church. 2016. Accessed August 13, 2016. http://gracedc.org/about-grace-church/history-of-grace-church/
Additional Information