Georgetown Visitation Preparatory School
Introduction
The Georgetown Visitation Preparatory School is a private, Roman Catholic all-girls school located in Washington, DC's Georgetown area. Built in 1799, it was founded by the Visitation Sisters, also known as the Order of the Visitation of Holy Mary, at the request of Archbishop Leonard Neale's plea to found a school for young women. It was added to the National Register of Historic Places in March of 1991. Today, the school serves as a college prep school for girls.
Images
A view of the school in 2006.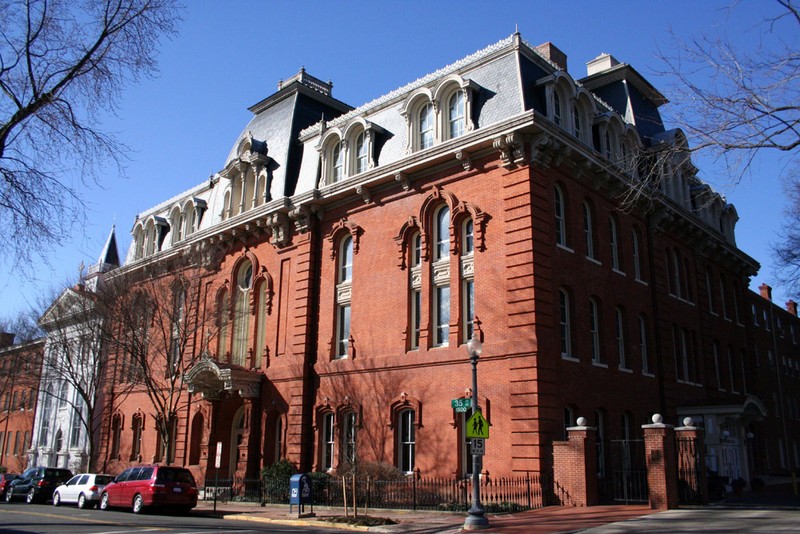 Backstory and Context
In 1799, Archbishop Leonard Neale, who was then serving as the president of Georgetown College in Washington, DC, called for the founding of a school specifically for young women. Three women were called to set about founding the school, and these three would go on to found the Order of the Visitation Monastery in the United States of America. With the help of the order which they established, the three women called upon by the archbishop opened a schoolhouse, the Georgetown Academy for Young Ladies, in 1799. In the following years of the school, enrollment increased, and the school began to place an emphasis on its students performing volunteer work. The school was also known for teaching slaves to read alongside their other pupils, even though it was illegal to do so in the early 1800s. Additionally, during the War of 1812, the school was used as an impromptu hospital for wounded soldiers.
As the years passed, the school continued to expand its programs, and in the 1900s, it saw a shift, adding college prep courses to its repertoire, as well as a wide variety of athletics to give the pupils a balance of education, spirituality, and physical education. Mon March 29th of 1991, it was added to the National Register of Historic Places. Two years later, the main building was struck with a fire that caused a severe amount of damage. By 1995, restoration was completed, and the main building was re-opened. Today, the Visitation School serves mainly as a college preparatory school for those in the Washington, DC area.
Sources
"History." Georgetown Visitation Preparatory School. 2016. Accessed August 13, 2016. http://www.visi.org/about-us/history/index.aspx
Additional Information