Christopher Columbus Slaughter Mausoleum and Memorial
Introduction
Christopher Columbus Slaughter was the first Texan cattle king, owning the country's largest herds at the beginning of the 20th century. He managed over forty thousand cattle across over a million acres of land, and for many years paid more taxes to the state than any other individual. In addition he was a soldier for the Confederacy, a banker in Dallas, and a generous philanthropist. His mausoleum and memorial are found in Greenwood Cemetery, an historic graveyard that contains many notable Confederate soldiers and Texan entrepreneurs.
Images
Christopher Columbus Slaughter. Photo: www.texashistory.unt.edu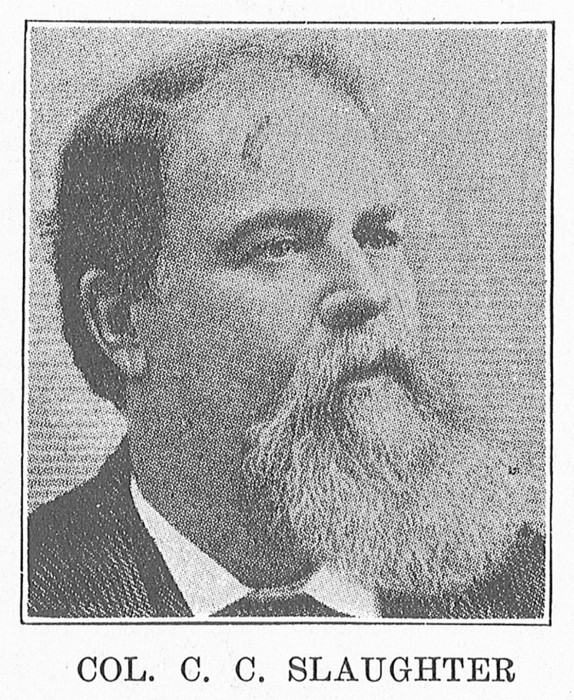 Slaughter's mausoleum. Photo: www.texasescapes.com
Backstory and Context
Slaughter was born in Sabine Country, Texas, in 1837. Growing up, he worked on his father's ranch, and by the age of twelve was helping his family drive their herd of cattle to a new ranch in Freestone County, where they settled in 1852. Five years later he made the first of his big entrepreneurial deals, yielding himself over five hundred dollars profit on a trading expedition between Anderson County and Dallas. With these profits he acquired his own herd, which he drove to Pala Pinto County. Here he traded beef with the nearby Fort Belknap and Native American tribes. However, Texas was in the midst of a series of conflicts now known as the Texas-Indian wars, and in 1859 Slaughter volunteered to join the Texas Ranger Division. The next year he took part in the Battle of Pease River against the Comanche, during which his detachment rescued the kidnapped Cynthia Ann Parker. Slaughter went on to fight in the Frontier Regiment under Capt. William Peveler until the end of the war.
Following the wars, Slaughter moved between Mexico and Oregon, and en route acquired a large heard of cattle. He then started a series of drives to Kansas City, and in 1873 using these profits organized his own cattle breeding project, C.C. Slaughter and Co. This was the beginning of his ranching empire, as Slaughter went on to purchase enormous tracts of land to be used as ranches. Two of the largest were the "Long S" and "Lazy S" ranches. He pioneered the selective pure breeding of Kentucky-bred shorthorn stock, rather than the common longhorn cattle, giving him a superior – and more profitable – herd.
In the 1870s Slaughter moved to Dallas where he founded three banks, including the American National Bank (the present-day First National Bank of Texas). In 1887 he was co-founder of the Northwest Texas Cattle Raisers' Association, which continues to provide information and security to cattle-breeders to this day as the Texas and Southwestern Cattle Raisers Association. In addition, he became president of the National Beef Producers and Butchers Association in 1888. In the Social Darwinist spirit of the times, he was an active philanthropist, in particular to Baptist schools, churches, and hospitals.
Christopher Columbus Slaughter passed away in Dallas in 1919, and is buried in a splendid mausoleum in Greenwood Cemetery. After his death his ranches and herds were divided and sold. However, his legacy was great, and in 1988 the Texas Historical Commission and Fort Worth Chapter of the DAR erected a memorial in his honor.
Sources
"Colonel C.C. Slaughter." The Historical Marker Database. Accessed February 23, 2-16. http://www.hmdb.org/marker.asp?marker=72329.

"Col Christopher Columbus 'C.C.' Slaughter, Sr." Find A Grave. Accessed February 23, 2-16. http://www.findagrave.com/cgi-bin/fg.cgi?page=gr&GRid=18064.

Perez, Joan J. Slaughter, Christopher Columbus. Handbook of Texas Online." Accessed February 23, 2-16. https://www.tshaonline.org/handbook/online/articles/fsl01.
Additional Information