Nasher Sculpture Center
Introduction
The Nasher Sculpture Center houses one of the finest collections of modern and contemporary sculptures in the world. Graced with works by Matisse, Picasso, Giacometti and many others, amenities include the Nasher Cafe and the Nasher Store. A self-guided tour and a recurring orientation film help lead you through the exhibits. The Nasher is fully ADA compliant and welcomes visitors of every kind. Guided Tours by the Museum Ambassador program are available on request.
Images
A bird's eye view of the Nasher Center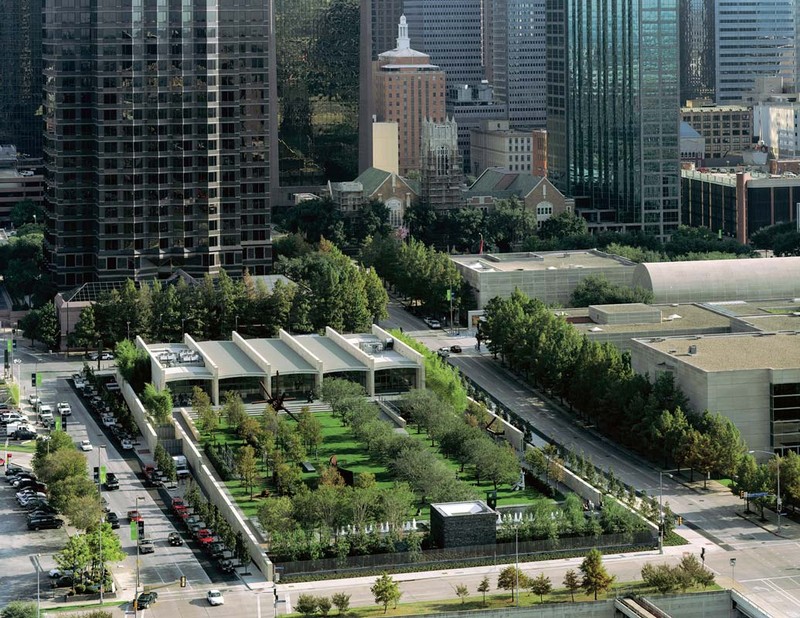 Backstory and Context
The Nasher Collection began more than 50 years ago. Raymond and Patsy Nasher traveled to Mexico in 1950, beginning what would become a considerably sized collection of ancient Latin American artifacts. They soon began to collect other ethnographic pieces, and discovered and purchased a number of American Modernist paintings and prints. According to Mr. Nasher, the early involvement with pre-Columbian and other tribal arts developed their appetite and appreciation for modern three-dimensional works.

Their fascination with sculpture blossomed as Mr. Nasher began utilizing sculpture at his real estate developments, and eventually in 1987 the Nasher Collection had gained international attention, and was one of the first exhibitions at the Dallas Museum of Art's new building downtown.

It went on to be displayed at The National Gallery of Art in New York City, and in international galleries in Spain, Italy, and Israel.
The Collection as a whole demonstrates considerable balance between modern works and art from the post-war period, indoor and outdoor presentations, and in the variety of materials used, as well as the production methods.

Programs at the Nasher include high school and teen programs, forums for teachers, support for home-scholars, Monthly kid's programming, and much more. Self-guided tour exhibit cards, printed by the guest before they come to the Nasher, gives new insight and information on the works of art in the collection, as well as possible activities. These are great conversation-starters and discussion points for families and children, educators and students. They can also be disseminated amongst a group, to stimulate networking and sharing opportunities during a visit. Other packets, such as a scavenger hunt, site map and sketching activity guide are also available downloads for preparing for your visit to the Nasher Collection.
Docent guided tours are available on Tuesday and Thursday mornings with a three-week advanced reservation required. Tours last generally an hour. As an alternative, audio equipment can be chosen instead, for any day Tuesday through Friday, with again a three-week reservation window. A link on their tour page gets you into the reservation process. NO RESERVATION is required for the Nasher Collection Target First Saturday program. See the website for additional information and requirements.
Sources
"About the Nasher Sculpture Center." Nasher Sculpture Center. March 31, 2015. http://www.nashersculpturecenter.org/pages/about-us.
Additional Information