New Bern Battlefield Park
Introduction
On March 14, 1862 the important Civil War battle of New Bern took place at this location. The location consists of 30 pristine acres of the battlefield and is preserved as the New Bern Battlefield Park. Union forces, numbering about 12,000, decisively defeated a Confederate force of 4,500 untrained and ill-equipped soldiers. The battle was part of a larger Union campaign to seize the coast of North Carolina; the campaign was the first major amphibious operation during the Civil War. The Union eventually gained control of the coast except for the Wilmington, which finally fell later in the war. The Confederate commander pleaded for more men and armament but the Confederate leadership refused; it was too focused on protection Richmond, the South's capital. The park is maintained by the New Bern Historical Society and is listed on the National Register of Historic Places.
Images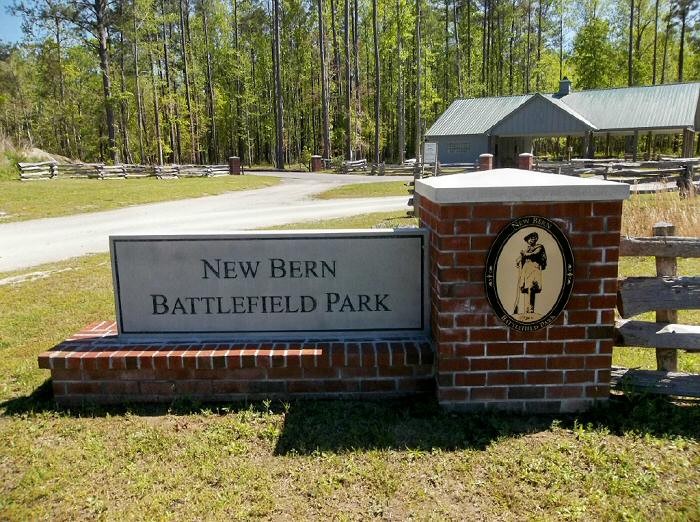 Backstory and Context
On March 14, 1862 Brig. Gen. Ambrose E. Burnside with ships from the North Atlantic supporting him, attacked near the city of New Bern, North Carolina. The Confederates commanded by Gen. Lawrence O. Branch did not have enough soldiers to protect the whole city, they decided to bring in the troops to the inner layers of defense.

Burnside attacked the weakest part of Branch's line. The 12,000 man army the Union brought had no problem overtaking the 4,000 Confederate soldiers. The Union suffered approximenty 470 causilties, and the Confederates had around 160 with 400 captured.
Sources
"Battle of New Bern, North Carolina." History.com. A&E Television Networks, n.d. Web. 12 Aug. 2016. http://www.history.com/this-day-in-history/battle-of-new-bern-north-carolina "New Bern Battlefield Park." Council on Foreign Relations. Council on Foreign Relations, n.d. Web. 12 Aug. 2016. http://www.civilwar.org/civil-war-discovery-trail/sites/new-bern.html?referrer=https%3A%2F%2Fwww.google.com%2F - https://en.wikipedia.org/wiki/New_Bern_Battlefield_Site
Additional Information