Evermay
Introduction
Also known as the Samuel Davidson House, Evermay is a historic home located in the Georgetown neighborhood of Washington, DC. Built for businessman Samuel Davidson in 1801, the building is particularly notable due to its design by Washington, DC's first surveyor, Nicholas King. In April of 1973, the building was added to the National Register of Historic Places. Today, Evermay is owned by the founders of Sucampo Pharmaceuticals as a personal home.
Images
A view of Evermay in 2008 ((By AgnosticPreachersKid (Own work) [CC BY-SA 3.0 (http://creativecommons.org/licenses/by-sa/3.0) or GFDL (http://www.gnu.org/copyleft/fdl.html)], via Wikimedia Commons))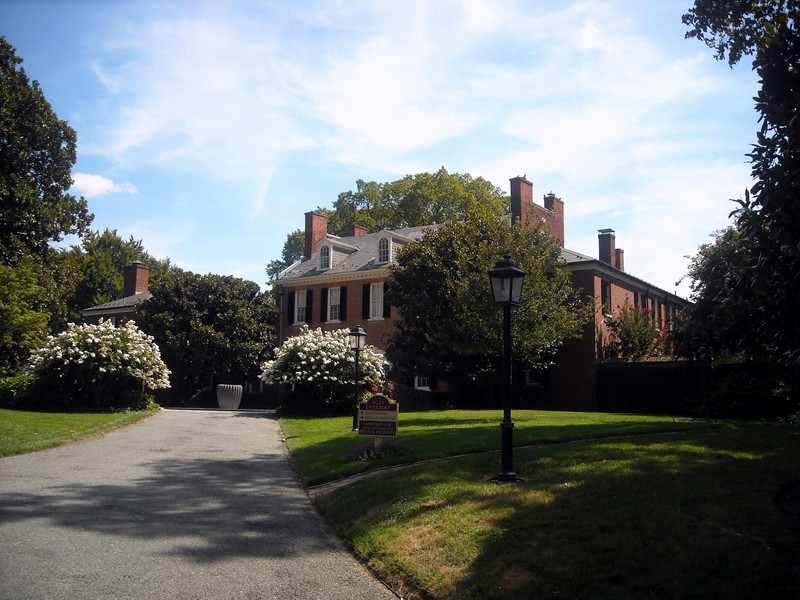 Backstory and Context
In 1794, businessman Samuel David purchased a plot of land in the Georgetown area with the profits from his land transactions. David wanted to build a house on the property, and so he assembled a small team to design and construct the home. Nicholas King, Washington, DC's first surveyor, was called on to draw up the designs for the home, and Nicholas Hedges, a Georgetown local carpenter, was tasked with the home's construction. With a Federal-era design in mind, construction of the building began in 1801 and finished the same year. Davidson lived in the home after its completion, but Evermay underwent extensive interior changes in 1818. Under different ownership, Evermay was renovated once again in 1877, but these renovations encompassed the exterior of the building as well, changing its façade to fit the Victorian architectural style that was widely popular at the time.
In the twentieth century, Evermay was purchased by F. Lammot Belin, who disagreed with the inclusion of the new Victorian façade. In 1923, Belin decided to renovate the house, and in his renovation, he removed the Victorian exterior and re-beautified the underlying Federal-era designs of the building's exterior. The home was bequeathed to Belin's son upon his death in 1961, after which Evermay stayed within the Belin family for some time. During this time, the building was added to the National Register of Historic Places on April 3rd of 1973. In 2011, Dr. Sachiko Kuno and Dr. Ryuji Ueno, the founders of Sucampo Pharmaceuticals, purchased the home for themselves.
Sources
National Register of Historic Places. Evermay. April 3, 1973. Accessed August 12, 2016. http://focus.nps.gov/pdfhost/docs/NRHP/Text/73002083.pdf The Reliable Source. "Georgetown Mansion Evermay Purchased by Biotech Entrepreneurs." Washington Post. June 25, 2011. Accessed August 12, 2016. https://www.washingtonpost.com/blogs/reliable-source/post/georgetown-mansion-evermay-purchased-by-biotech-entrepreneurs/2011/07/25/gIQAvCrWZI_blog.html.