The Avalon Theatre (Washington, D.C.)
Introduction
Formerly known as the Chevy Chase Theater, the Avalon Theatre is a historic theatre located in Washington, DC's Chevy Chase neighborhood. Built during the 1920s and the Chevy Chase Neighborhood's period of rapid growth, the Avalon Theatre was a largely influential building in the neighborhood's growth and development. In July of 1996, it was added to the National Register of Historic Places. Today, the Avalon Theatre is still open to the public, showing films of all kinds and providing classes and programs for those in the community.
Images
The theatre post-renovations in 2008 ((By AgnosticPreachersKid (Own work) [CC BY-SA 3.0 (http://creativecommons.org/licenses/by-sa/3.0) or GFDL (http://www.gnu.org/copyleft/fdl.html)], via Wikimedia Commons))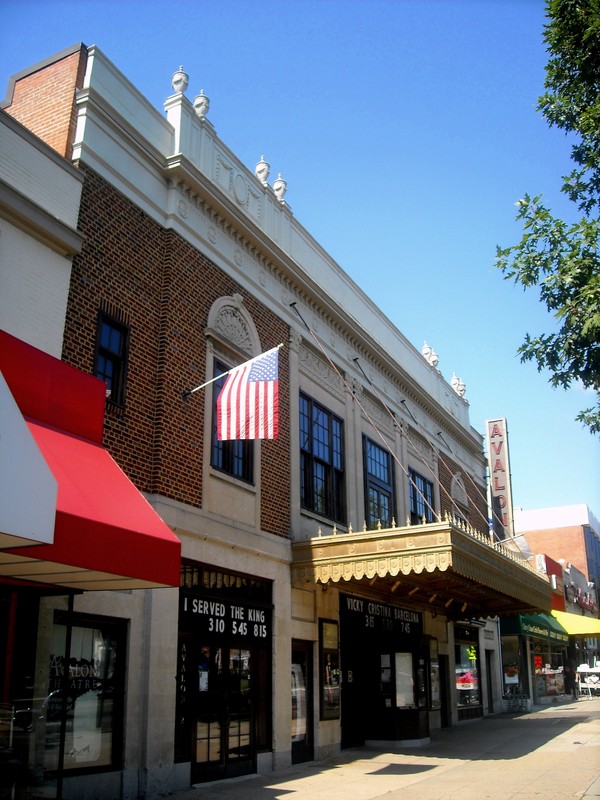 Backstory and Context
In the 1920s, the Chevy Chase neighborhood was experiencing a period of rapid growth, and in 1922, to help spur this growth along, the architectural firm of Upman and Adams was commissioned to design what was to be called the Chevy Chase Theater. Construction on the theater began and was completed in 1922, and it opened soon after, initially showing silent films. This changed quickly with the advent of talking films in 1929, and in 1929, the Warner Brothers company purchased the neighborhood and changed the name to the Avalon. Warner Brothers was not the building's main owner after that, however, as the building would go on to change hands numerous times in the following decades. During this time, it was added to the national Register of Historic Places on July 18th, 1996.
In 2001, the owners of the Avalon at that time filed for bankruptcy and gutted the theatre of all of its seats and theater equipment, leaving the building essentially as a shell. There was talk of tearing the building down or converting it into a space for a commercial business, but the neighborhood was largely in favor of preserving the building. That same year, the Avalon Theatre Project was founded, and it worked as a nonprofit to work toward restoration efforts for the Avalon. Restoration began in October of 2002, and the Avalon re-opened on April 23rd of 2003. Several years later, the Avalon Theatre Project bought the building in 2006. Today the Avalon Theatre continues to host movies and events of all kinds.
Sources
"About the Theatre." Avalon Theatre. 2016. Accessed August 12, 2016. http://www.theavalon.org/about/
Additional Information