Oriole Park at Camden Yards
Introduction
Also called "Oriole Park" or "Camden Yards," this stadium was completed in 1992 and replaced the old Memorial Stadium for the Baltimore Orioles. Architecturally inspired by the classic look of historic jewel box parks, it was the first of the "retro" major league ballparks. Located in Baltimore in the Camden Yards Sports Complex, the stadium is situated just blocks from historic sites near the Inner Harbor, including the birthplace of Babe Ruth. Its amenities include a picnic area for fans, sculptures of renowned baseball players, and a seating capacity of 45,971.
Images
View of the main entrance from Russell Street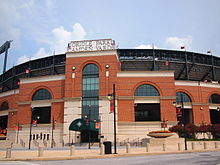 View of the field and the former B&O Warehouse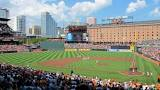 Backstory and Context
Oriole Park at Camden Yards was built on the old rail yard for the Baltimore & Ohio railroad. It was the first park since Ebbets field to have an outfield wall constructed of wall segments. The field is 16 feet below street level. Every seat in the ballpark is green, except for two. Orange seats mark the landing spot where Cal Ripkens 278th home run broke Ernie Banks' for shortstops (Section 96, Row 7, Seat 23), and where Eddie Murrays 500th career home run ball landed (Section 86, Row FF, Seat 10).1

The front entrance features a statue of Babe Ruth simply named "Babes Dream." Also in the area of Babe's statue are sculptures indicating the retired Orioles jersey numbers. Six bronze sculptures of Orioles greats are located in the walking zone of the area behind the bullpens. These are easily visible from the picnic area inside the stadium.2

George H. W. Bush threw the first ceremonial pitch on April 6th, 1992, and the first major league pitch was thrown by Rick Sutcliffe in the same game. Notable historical events at this stadium include Cal Ripken Jr.'s record-setting 2,131st consecutive game, Ripken's 278th record-breaking home run, and Eddie Murray's 500th home run. Pope John Paul II celebrated mass at this location as part of his 1995 visit to Baltimore.3

The design of Camden Yards was the first of an architectural trend in stadium-building, a design referred to as the "retro-classic" style. This style includes all the luxuries of the newer parks, but with aesthetics that recall the old jewel box parks.4 Many ballparks were influenced by Camden Yards' retro-classic architecture, including AT&T Park in San Francisco, California and Citi Field in Queens, New York.5

Sources
1 "Oriole Park at Camden Yards." Wikipedia, the Free Encyclopedia. Accessed August 12, 2016. https://en.wikipedia.org/wiki/Oriole_Park_at_Camden_Yards. 2 Ibid. 3 Ibid. 4 "Baseball Park." Wikipedia, the Free Encyclopedia. Accessed August 12, 2016. https://en.wikipedia.org/wiki/Baseball_park#Retro-classic_ballparks. 5 "Oriole Park at Camden Yards."
Additional Information