Cedar Creek Battlefield Foundation Headquarters
Introduction
The Battle of Cedar Creek began with Confederates launching a surprise attack on Union troops and ended with a Union victory that marked the turning point in the Shenandoah Valley Campaign of 1864. The battle began when the Confederates launched a surprise attack on the Union army camped at Cedar Creek. The early morning attacks by the Confederacy were answered by an evening attack made by the Union. The Confederates were never again able to threaten Washington, D.C. after this battle as the Union controlled the Valley and its farmland.
Images
A view of the center of the Cedar Creek battlefield taken from the headquarters building which offers information and sponsors annual events.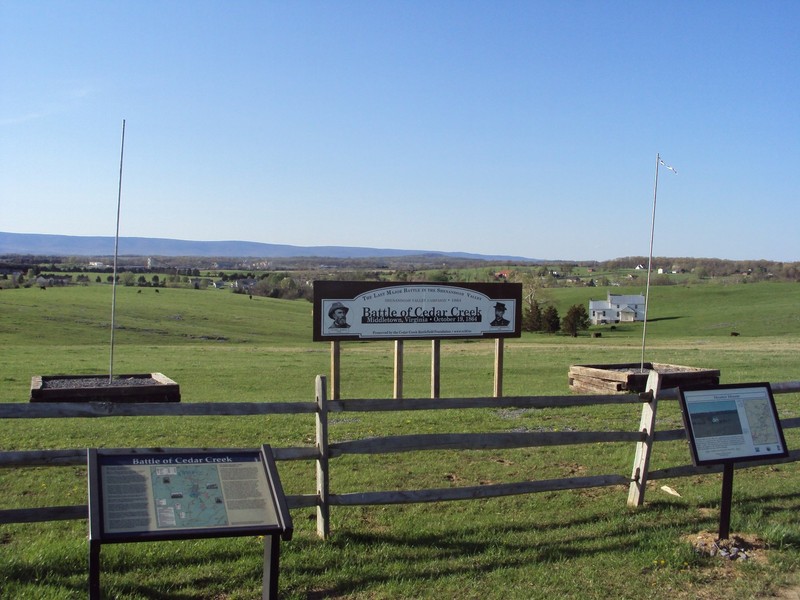 Backstory and Context
On October 19, 1864 Lt. Gen. Jubal Early with around 14,500 soldiers launched a daring early morning attack against Maj. Gen. Philip Sheridan and his 32,000 man force. Early needed a victory after losing both Third Winchester, and Fisher's Hill. The Confederates pushed the Union army back, and in the process capturing 24 Union cannons and around 1,000 prisoners in spite of being outnumbered two to one.

Sheridan in his campaign made it hard for the Confederate soldier to find basic supplies such as food, by picking clean a seventy five mile wide swath through the Shenandoah valley. Once Early's troops took over the Union camps they we disorganized by the same fog they used as cover for their attack and saw a chance to raid union supplies in the camp to fill their packs and stomachs. After fighting subsided many broke ranks to look for food and supplies, leaving the Confederate lines severely weakened. Sheridan who was based in Winchester soon received news of the fighting and immediately set out for cedar creek. Along the way Sheridan rallied men he met along the way and the main body of his army promising they will be back in their amp by nightfall.

After organizing his troops, Sheridan attacked the Confederates. Early's lines were weak because of the men searching for food and supplies. Unable to re organize the Confederate force was pushed off the ground they had taken hardly twelve hours earlier. With their counterattack the Union recaptured the lost ground and took back their lost supplies and prisoners. There was around 8,600 casualties during the battle, making it the second bloodiest battle in the Shenandoah Valley.
Sources
United States. National Park Service. "The Battle of Cedar Creek." National Parks Service. U.S. Department of the Interior, n.d. Web. 11 Aug. 2016. https://www.nps.gov/cebe/learn/historyculture/the-battle-of-cedar-creek.htm Council on Foreign Relations. Council on Foreign Relations, n.d. Web. 11 Aug. 2016. http://www.civilwar.org/battlefields/cedar-creek.html?tab=facts - http://en.wikipedia.org/wiki/Battle_of_Cedar_Creekthe battle of ceder creek. civil war trust. January 01, 2014. Accessed April 29, 2017. http://www.civilwar.org/battlefields/cedar-creek.html?tab=facts.


Additional Information