Westbeth Artists Community
Introduction
The Westbeth Artists Community is a work and housing space for art communities and artists in New York City. The Community comprises of an entire city block, allowing for living spaces that are highly affordable for artists, and it occupies what was once the buildings of the Bell Telephone Laboratories. The Laboratories were converted into the Artists Community in 1970. In December of 2009, it was added to the National Register of Historic Places, and in October of 2011, it was designated as a New York City Landmark. Today, the Community is still thriving, but it is no longer taking applications for new residential tenants as of 2014.
Images
The courtyard of the Westbeth Artists Community in 2012 ((By Muncharelli (Own work) [CC BY-SA 3.0 (http://creativecommons.org/licenses/by-sa/3.0)], via Wikimedia Commons))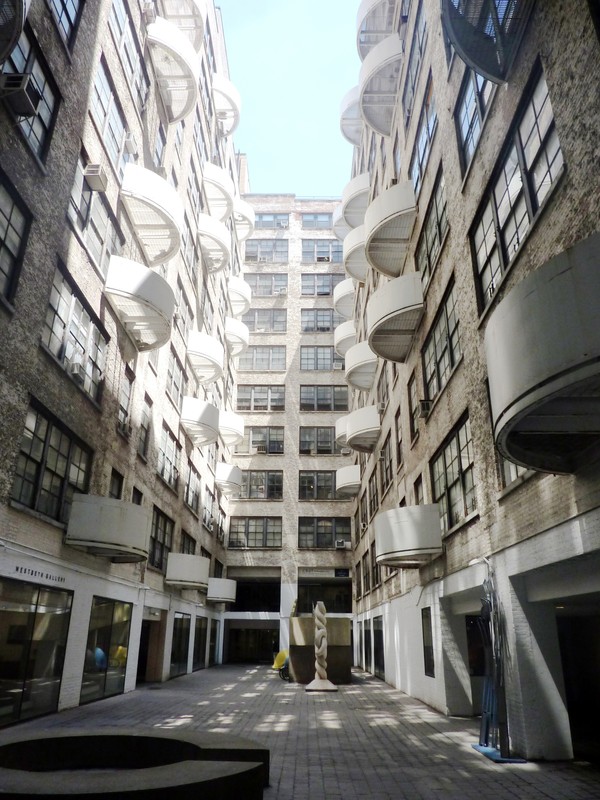 Backstory and Context
The original occupant of the space the Westbeth Artists Community now occupies was the Bell Laboratories Buildings. Bell Telephone Laboratories occupied the space from 1898 until 1966, at which point Bell Laboratories left the premises. The buildings remained vacant for four years until in 1968, developer Dixon Bain initiated a restoration effort to convert the space into housing and work space for New York City artists. Architect Richard Meier was commissioned to design the renovated space of the complex, and though renovations began in 1968 and were not completed until 1970, tenants began to move into the complex in 1969. From then on, the Westbeth Artists Community flourished, hosting a number of notable artists over the years, and providing the creative space necessary for many art groups.
Part of the complex, aside from the residential areas, were converted into performance spaces, studios, and almost any other kind of space that artists of any school might need for their work. On December 8th, 2009, the complex was added to the National Register of Historic Places, and on October 25th, 2011, it was designated as a New York City Landmark. The Westbeth Artists Community is still incredibly active, so much so that in recent years, the waiting list for residential space reached a wait of about ten years. As a response to the huge amount of time for the wait list, the Westbeth Corporation decided to stop taking requests for the wait list.
Sources
Landmarks Preservation Commission. Bell Telephone Laboratories Complex. October 25, 2011. Web. 11 Aug. 2016. http://www.nyc.gov/html/lpc/downloads/pdf/reports/2391.pdf Westbeth Corp. Accessed August 11, 2016. http://www.westbetharts.org/.
Additional Information