The Royal Peacock
Introduction
The Royal Peacock, located in Atlanta's Sweet Auburn historic district, opened in 1937 as the "Top Hat Club". The club was widely known as "Club Beautiful" and became one of the most popular clubs in the country for African Americans. The club was purchased by Carrie B. Cunningham, operator of the "Royal Hotel and Restaurant," in 1949 and renamed "The Royal Peacock." Shows scheduled on Wednesday and Saturday nights were reserved for whites only. The club is still in operation today and has hosted a number of musicians including Ray Charles, Marvin Gaye, Aretha Franklin, Dizzy Gillespie, Bessie Smith, Louis Armstrong, B.B. King, the Supremes, and Gladys Knight and the Pips.
Images
The Royal Peacock as it appeared in 1950.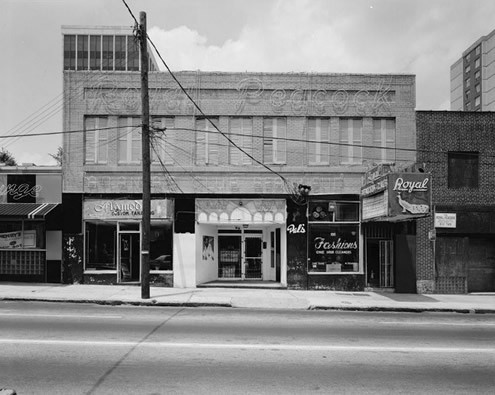 Interior view of The Top Hat/Club Beautiful (now The Royal Peacock) in 1939.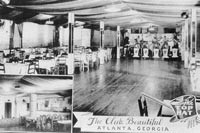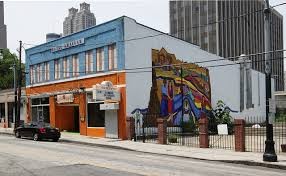 Backstory and Context
The Royal Peacock began as The Top Hat Club in 1938, but it was widely known as Club Beautiful by it's patrons. Even when it first began it was a very popular club for the city's African Americans. Like many of the businesses in the Sweet Auburn district it was also a Black-owned business from it's very beginning. In the early days the advertisements ran
"The Top Hat, Bringing Harlem to Atlanta Thursday and Friday nights," and in many ways it did just that. The cultural influence of African American musicians both on Atlanta's Black and white communities is an important part of African American history for the city. Venues like the The Royal Peacock mark a history of Black pride and increasing cultural diversity in America.

During the days of segregation in America, it was sometimes popular for white audiences to watch Black performers where Black patrons would not be accepted. There are many stories of nightclubs in Harlem where performers would be treated badly, asked to come in back entrances, and refused service at the very same venues where their white fan bases were the biggest. Most performers would endure these indignities because they needed to make a living. In the South some venues resisted the popularity of African American musicians entirely. Performers shared with each other which places they would be accepted so that they could tour the South safely. These venues became known colloquially as "The Chitlin' Circuit," and The Royal Peacock was a big name on the circuit. This venue was typically open to mixed audiences but actually saw the necessity to allow whites only on Wednesdays and Saturdays in the early 1950s.
Some of the performers to entertain at the Royal Peacock included:
Gladys Knight and the Pips (Gladys was a local born Atlantan).
The Royal Peacock also hosted such celebrities as Joe Loius, Jackie Robinson and Muhummad Ali during their time in Atlanta.
Sources
Brown, Tanya Ballard. "The Origin and Hot Stank of the Chitlin Circuit." NPR. Last modified on February 16, 2014. Accessed August 11, 2016. http://www.npr.org/blogs/codeswitch/2014/02/16/275313723/the-origin-and-hot-stank-of-the-chitlin-cir...

"The Royal Peacock: Auburn Avenue's Little Known Gem." Unveil Atlanta. Last modified on June 27, 2012. Accessed August 11, 2016. http://unveilatlanta.wordpress.com/2012/06/27/the-royal-peacock-auburn-avenues-underground-gem/

"Royal Peacock-1930s." Sweet Auburn Avenue: Triumph of the Spirit. Accessed August 11, 2016. http://sweetauburn.us/peacock.htm
Additional Information