Allen Chapel African Methodist Episcopal Church
Introduction
Fort Worth's Allen Chapel African Methodist Episcopal Church was organized in 1875. Construction of this building began in 1912 and was completed two years later. The church is representative of the Tudor Gothic Revival-style and features a bell tower and stained glass windows around the sanctuary.
Images
Photo from official church website http://www.allenchapelfw.org/sanc.htm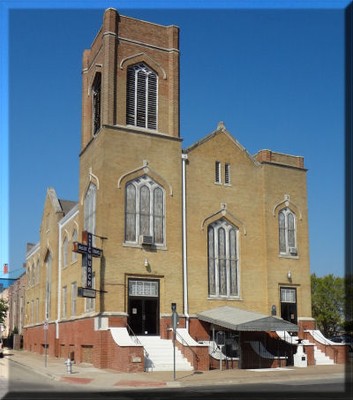 Photo from official church website http://www.allenchapelfw.org/sanc.htm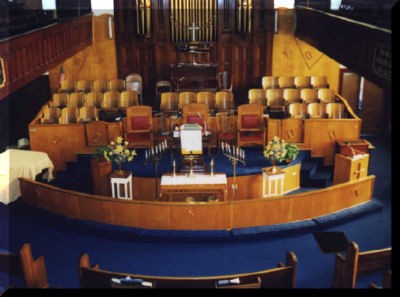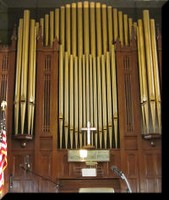 Backstory and Context
The Allen Chapel Gothic Revival church is truly a piece of Fort Worth history. Reported to be designed by Booker T. Washington's son-in-law, the church building itself has played a prominent role in the history and organization of the African-American community in the South.1 Very few works by the architect's remain standing today.

The building itself is a remarkable structure, as it is an exemplary example of the Gothic Revival style.2 Patrons and parishioners enter the building through dual vestibules at each corner of the structure. Remarkably, parishioners enter the building at the head of the congregation, something that is a marked break from traditional design. The building's interior features a pressed metal ceiling, a famed pipe organ, and a stained glass window.3

The Allen Chapel is an African Methodist Episcopal Church.4 The African Methodist movement had its own beginning in Fort Worth when Reverend Moody, a wander circuit rider, arrived in Fort Worth in 1870. At that time, services were held irregularly in the homes of members, and the church was not a musical location, but rather resided in the hearts of its members.

After several buildings, and many different ideas, the current church was built out of pressed brick from 1912-1914.5 The structure is 48ft by 100ft, and has a seating capacity of 1350. Parishioners today hear the original 1923 Estey pipe organ. The building was named after Richard Allen, who was the first bishop of the African-American Methodist Episcopal Church, as well as a former slave.

Since the Church's inception, the church has steadfastly promoted education. In fact, the church founded one of the first schools for African-Americans.
Sources
1. Roberts, John, AIA. "Allen Chapel A.M.E. Church." Architecture in Fort Worth. 2015. Accessed August 11, 2016. http://www.fortwortharchitecture.com/allen.htm. 2. Ibid. 3. Ibid. 4. "Historic Allen Chapel History." Historic Allen Chapel: African Methodist Episcopal Church. 2015. Accessed August 11, 2016. http://www.allenchapelfw.org/allenhist.htm. 5. Ibid.
Additional Information