FirstEnergy Stadium
Introduction
FirstEnergy Stadium, formerly Cleveland Browns Stadium, is home to the National Football League's Cleveland Browns. Naming rights were sold to FirstEnergy in January of 2013. The stadium was built in 1998 on the same site where Cleveland Municipal Stadium once stood. The facility also hosts college and high school football events, top-shelf concerts, social gatherings, and corporate and civic events.
Images
FirstEnergy Stadium is located along the lakefront in downtown Cleveland, Ohio and is home to the NFL's Cleveland Browns.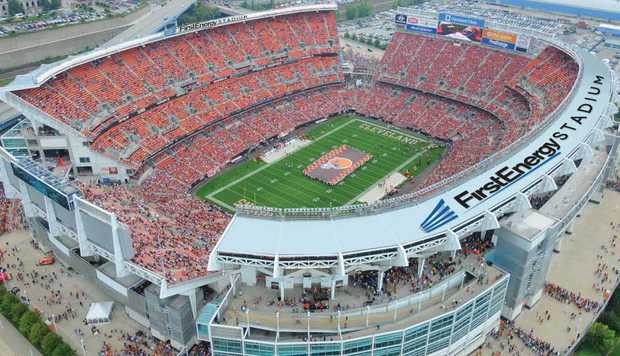 Backstory and Context
The Cleveland Browns were established in 1944 and played their first game in 1946. The Browns first played in the All-American Football League before joining the National Football Leauge in 1950. They won NFL titles in 1950, 1954, 1955 and 1964 with the legendary running back Jim Brown leading the way. Art Modell purchased the Browns in 1961, and in 1995, he stunned the city and league by moving the franchise to Baltimore for the 1996 season.
A grass-roots effort by fans and the city of Cleveland helped bring the NFL back to town in 1999. Modell agreed to give up the name, colors, and history of the team. The team is currently owned by Jimmy Haslem. A few other legendary players include Frank Gatski, Ozzie Newsome, Lou Groza and Bernie Kosar.
In 1998, Lerner purchased the franchise rights of Cleveland Browns of the National Football League paying $530 million, a record for a sports franchise at the time, outdistancing the next closest bid by $30 million. The runner-up bid was from Cablevision Systems chairman Charles Dolan and his brother and future Cleveland Indians owner Larry Dolan. Prior to that, Lerner held a 5% stake in the old Cleveland Browns franchise. In 1995, he assisted his friend at the time Art Modell, former owner of the Browns, in moving Modell's NFL franchise rights from Cleveland to Baltimore. Lerner introduced Modell to Baltimore financiers of the deal, and he sat behind on the podium at the press conference Modell announcing the team's move. However, many Browns fans were angered after word leaked that Modell's deal to move the Browns to Baltimore was signed on Lerner's private jet. The two stopped talking shortly thereafter. In 1997, Modell paid $32 million to buy out Lerner's stake in the Baltimore Ravens, which had grown to 9%
Sources
First Energy Stadium website, accessed August 10, 2016. http://www.firstenergystadium.com/
Cleveland Browns website, accessed August 10, 2016. http://www.clevelandbrowns.com
Pro Football Hall of Fame website, accessed August 10, 2016. http://www.profootballhof.com/teams/cleveland-browns/team-history/
Additional Information