El Museo Latino
Introduction
In the U.S, the Latinx/Hispanic identifying community makes up about 17% of the population nowadays, making it one of the largest growing minority groups in the country. But this population is widely diverse, folks within the community speak a variety of languages, have many historical influences and come from various countries and continents, with unique religious, social, political, historical backgrounds. With such a blend of cultures being grouped into one group, it can be preserving one's own culture when being placed in a box. However, museums such as El Museo Latino have become a place for Hispanics/Latinx folk to find their community and see representation of their own cultures within art and community events.
Images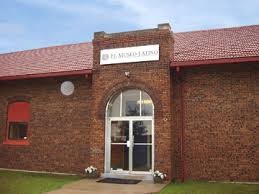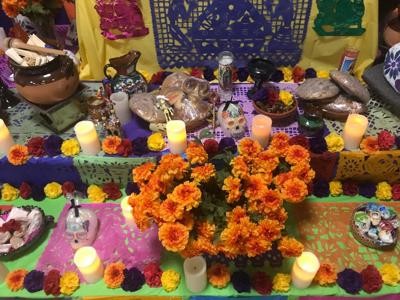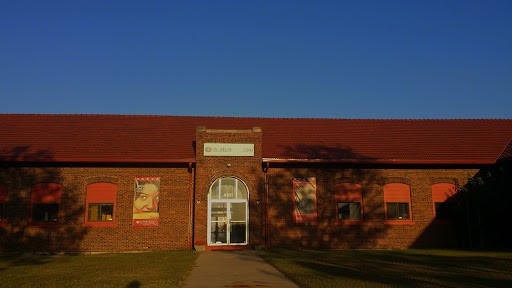 Backstory and Context
El Museo's rich history extends all the way back to 1993 as it was established by Magdalena Garcia, a Mexico City native who had moved to Omaha at the age of nine.After working for human resources for Northern Natural Gas, Garcia had changed her focus to art and museums. According to the museum's website, El Museo Latino opened its doors in the historic Livestock Exchange Building on May 5,1993 as the first Latino Art & History Museum and CulturalCenter in the Midwest. In 1997, the museum relocated to its present location in South Omaha that was originally the "Polish Home". The Polish Home was originally a street-car barn built Today, El Museo Latino is one of only fourteen Latino museums in the United States and remains the only one in the Midwest. El Museo Latino is dedicated to collecting, preserving and interpreting the visual arts of Latin America. Through the year-round exhibitions, bi-lingual educational programs and special events. El Museo Latino fosters an understanding and appreciation of the rich and diverse cultures of Latin America. Recent exhibitions that have been displayed are: Picasso's "Master in Clay" which featured more than 55 ceramic pieces and Frida Kahlo's "Garden" photograph series that highlighted the diversity of plant life of Mexico and the rich cultural history of the country. Along with showcasing works of art, El Museo Latino serves as a predominant social center by offering dancing, music, and painting lessons for children, summer camps, hosting events during Hispanic Heritage month, and hosting the community's "Dia de los Muertos" celebration. In "Dia de los Muertos", the spirits of the deceased are thought to pay a visit to their families and an altar is prepared with offerings for them (called an "ofrenda" in Spanish).The altar normally consists of a covered table, and usually a few crates or boxes are added to it and covered to create open shelves and other raised display areas with decorations such as pressed flowers, candles, and photos of the deceased. Families typically dedicate alters to their own families but it is not rare that close friends/important figures will also be honored. This is celebrated on the first of November and while its translation means Day of the Dead, it is not a somber event, but made to celebrate those who were once living and are now at peace, preserving their memory in happiness. Another community based tradition that the museum hosts is Las Posadas, which is the tradition during the evening at Christmas time, from December 16th to the 24th, where people in the Hispanic community gather to re-enact the story of Mary and Joseph searching for lodging. Posada is Spanish for "lodging", "accommodation", or "inn. Certain houses are designated to be an "inn". At each house, residents respond by singing a song and after a number of stops, Mary and Joseph are finally recognized and allowed to enter. The evening is then celebrated by gathering as a community to celebrate the coming of Jesus often full of food and singing traditional Spanish Christmas songs until very early in the morning. For a community that has grown so large in the past few decades, it is crucial for a community to have a safe space to preserve their cultural values and learn about one's heritage. From providing contemporary art exhibitions that display local Latinx artists' creations to the community to providing traditional Spanish picking guitar lessons for the youth, El Museo Latino is much more than a museum for the community in Omaha. It is a second home that celebrates the rich history of all Latinx backgrounds.
Sources
El Museo Latino official website, accessed 6/29/2018 http://www.elmuseolatino.org/about.html
https://www.omahamagazine.com/2015/05/11/303434/magdalena-garcia
https://www.omaha.com/lifestyles/get-to-know-el-museo-latino-founder-picked-passion-over/article_17fd8ded-0351-5cd5-b872-00d15c2d0c5e.html
https://planning.cityofomaha.org/images/stories/boards/LHPC/2015/Minutes/LHPC%20Minutes%202015-08-12.pdf
Image Sources
http://www.elmuseolatino.org/

http://www.elmuseolatino.org/

http://www.elmuseolatino.org/

http://www.elmuseolatino.org/

Additional Information