Huckleberry (Thomas Jones's farm)
Introduction
The "Huckleberry" farm, a home of Thomas Jones, is located near the place where John Wilkes Booth and David Herold sought passage across the Potomac River. Jones was the Confederate agent who aided the fugitives as they hid in a nearby wood for five days. Union soldiers were closing in on the injured slow-moving Booth who was wanted for assassinating President Abraham Lincoln.
Images
Marker to the Huckleberry farm, one of the homes owned by Confederate agent Thomas Jones. Jones helped conceal Lincoln's killer in a nearby Pine Thicket.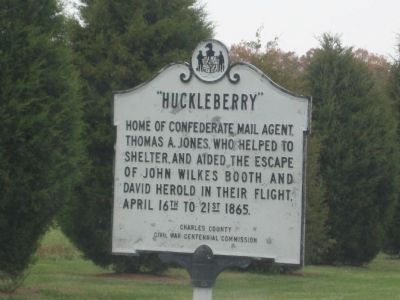 The Huckleberry farm house around the time of the Lincoln assassination. Owner Thomas Jones saw it as his honorable duty to help fellow Confederate John Wilkes Booth escape.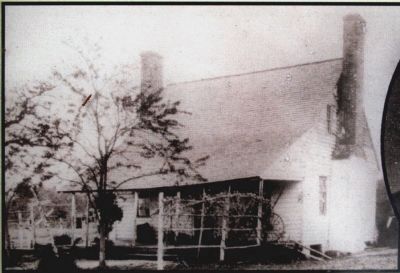 Backstory and Context
John Wilkes Booth and David Herold were part of a plan to assassinate the top three executive officials of the U.S. government for the purpose of punishing the Union for its "aggression" against the Southern States and to allow the installation of more Confederate-leaning politicians. Booth had slain President Lincoln on April 14, 1865 at Ford's Theater. Herold wounded but failed to slay Secretary of State William Seward. The two fled the nation's capitol fleeing south to southern Maryland where Confederate sympathizers were expected to greet them as heroes.
Booth's injured leg cost the two fugitives time and speed, and they were unable to gain distance on the determined Union soldiers. Word of the assassination had caught up with them. They could not travel far or long without rest and food. They were forced to hide in a Pine Thicket from April 16 to 21, 1865. During that time, Confederate agent Thomas Jones brought provisions to the hiding fugitives from his nearby farm called "Huckleberry." From his home, Jones was watching the movements of Union soldiers seeking the right time for the fugitives to leave. After five days, an opportunity arose to reach and cross the wide Potomac River. Jones took the fugitives to nearby Dent's Meadow where Jones had hidden a flat bottomed boat about twelve feet long. They carried the boat to the river's shore. Booth insisted on giving Jones money for his help, but Jones only accepted the cost of the boat—eighteen dollars—because he wasn't doing it for the money. The two men got in the boat with Booth in the stern to steer and Herold at the bow to row. Under cover of darkness, the fugitives launched for Virginia.
Jones forgot to mention the Potomac's strong flood tide and the boat was swept up river to Nanjemoy Creek on the Maryland side. There the men got little aid from the John J. Hughes home. After a day's rest, they tried crossing the Potomac again and this time landed in Virginia near the home of Elizabeth Quesenberry.
Jones was later arrested on suspicion of aiding the assassins, however he was released due to lack of evidence. Years later he told his story to author Osborn Oldroyd, saying he would never have turned Booth in for the $100,000 reward. He said that his aid was "a sacred trust" and that he still had "honor." In 1898, Jones published his recollections of his days with the conspirators in a book called "J. Wilkes Booth: An Account of His Sojourn in Southern Maryland after the Assassination of Abraham Lincoln, his Passage Across the Potomac, and his Death in Virginia."
Thomas Jones's farm still exists much as it did over a century ago. Today it serves as a Jesuit retreat, accessible only by appointment.
Sources
Robby, F. "Huckleberry." Historical Marker Database. June 16, 2016. Accessed August 9, 2016. http://www.hmdb.org/marker.asp?marker=4528. Browne, Allen C. "Crossing the Potomac: Off Into the Darkness." Historical Marker Database. June 16, 2016. Accessed August 9, 2016. http://www.hmdb.org/marker.asp?marker=4476. Jones, Thomas A. J. Wilkes Booth: An Account of His Sjourn in Southern Maryland. Chicago, IL: Laird & Lee, 1893, p109-113. November 3, 2005. Accessed August 9, 2016. https://books.google.com/books?id=DvX9muJfAQIC&printsec=frontcover&dq=Thomas Jones John Wilkes Booth&cd=1&hl=en#v=onepage&q=Thomas Jones John Wilkes Booth&f=false. Logan, Malcolm. "Manhunt: Tracing the Escape Route of John Wilkes Booth." My American Odyssey. August 24, 2012. Accessed August 9, 2016. http://myamericanodyssey.com/manhunt-tracing-the-escape-route-of-john-wilkes-booth/. "A Thomas Jones Afternoon." BoothieBarn: Discovering the Conspiracy. February 24, 2013. Accessed August 9, 2016. https://boothiebarn.com/2013/02/24/a-thomas-jones-afternoon/.