Sun Building
Introduction
The Sun Building was once the headquarters of the Baltimore Sun newspaper, located in downtown Washington, DC. Constructed in 1887, the Sun Building was remarkable as one of the earliest skyscrapers in Washington, DC, and initially using steam-powered elevators instead of hydraulic plungers. Seen during its time as a wonder of architecture in business buildings, the Sun Building was placed on the National Register of Historic Places in March of 1985.
Images
A view of the Sun Building ((By AgnosticPreachersKid (Own work) [CC BY-SA 4.0 (http://creativecommons.org/licenses/by-sa/4.0)], via Wikimedia Commons))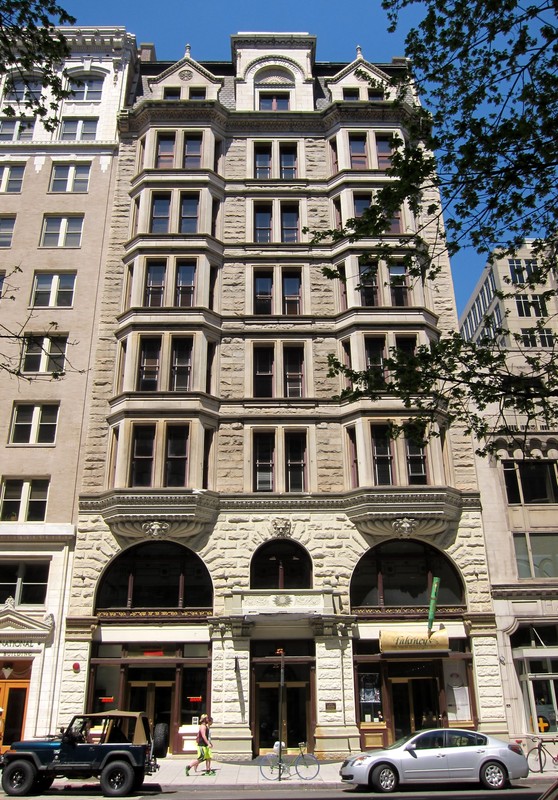 Another view of the building as it looks today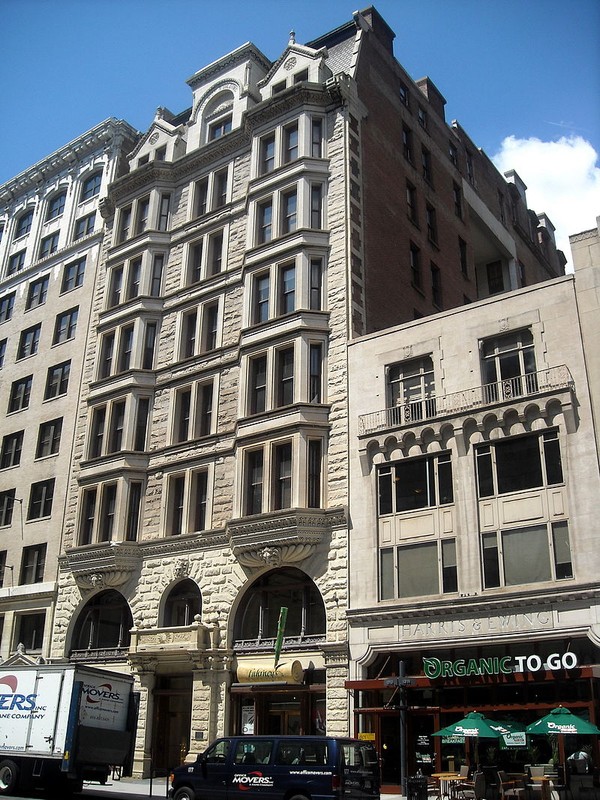 1891 rendition of the Sun Building. Courtesy o fpage 166 of King's Hand-book of the United States planned and edited by M. King. Text by M. F. Sweetser, by SWEETSER, Moses Forster. Original held and digitised by the British Library.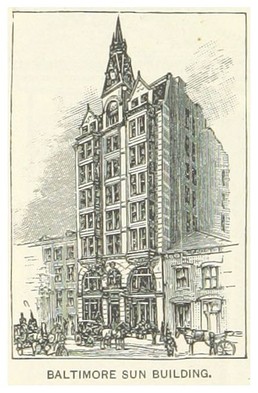 1920s-1930s photo of the building. Courtesy of the Library of Congress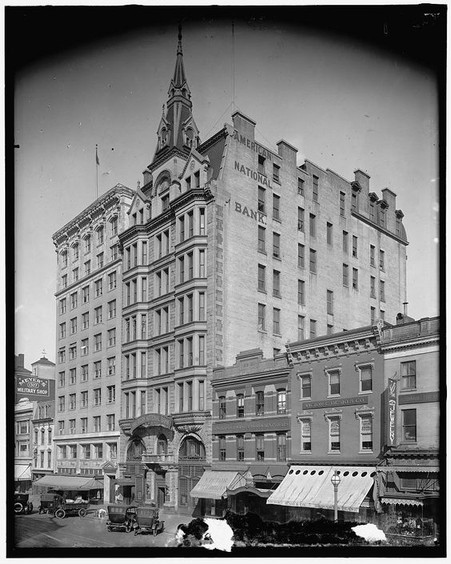 Backstory and Context
Established in 1837, The Baltimore Sun was created to be a newspaper giving everyone within the city of Baltimore, Maryland access to quality news material. This dedication to bringing news to all was reflected in the paper's name, taking the sun to be a source of illumination and insight, and the newspaper strove to keep that as a central tenant of its news reporting for years to come. Almost fifty years after The Baltimore Sun was established, it was decided that the newspaper should have a bureau in Washington, DC for news specific to the area, and famed architect Alfred Bult Mullett was chosen to be the designer of the building in 1885. Construction began soon after, and in 1887, fifty years after The Baltimore Sun printed its first newspaper, the Sun Building was completed. The Sun Building saw its use as the headquarters of the newspaper in Washington, DC for a number of years, but in 1904, it was bought from The Baltimore Sun by the American Bank, necessitating a great deal of internal remodeling. One of the most noteworthy of these changes came in the form of the addition of a ninth floor and a copper dome at the top of the building.
The American Bank remained as a resident in the Sun Building for about as long as The Baltimore Sun itself did, as in 1927, the Sun Building was sold once again and was converted largely for commercial storefront use. Several more renovations were carried out throughout the mid to late 1900s, as the Sun Building was further accommodated for commercial business use. On March 27th, 1985, the Sun Building was added to the National Register of Historic Places.
Sources
http://focus.nps.gov/pdfhost/docs/NRHP/Text/85000650.pdf http://www.baltimoresun.com/about/bal-about-sun-sunhistory-htmlstory.html Mike Livingston (October 16, 2000). "Old Sun building featured Washington's first elevators". Washington Business Journal.