James J. Hill House
Introduction
This historic mansion was built in 1891 by railroad magnate James J. Hill (1838-1916), owner of the Great Northern Railway, which built railroad tracks that ran from the Upper Midwest, through the Great Plains, and terminating in the Pacific Northwest. Given the size of the Great Northern, Hill was given the nickname "Empire Builder". To demonstrate his wealth and social standing, Hill constructed the large mansion, which is four stories tall and features 32 rooms, 18 of which are bathrooms. The house also features a billiard room, a large pipe organ, and a two-story art gallery covered by a skylight roof. The Minnesota Historical Society owns and operates the mansion and it is open to the public. Guides lead tours that help you imagine family and servant life in the Gilded Age mansion, the setting of the public and private lives of the Hill family. The mansion is listed on the National Register of Historic Places and is a National Historic Landmark.
Images
The James J. Hill House was built in 1891 and today is owned and operated by the Minnesota Historical Society.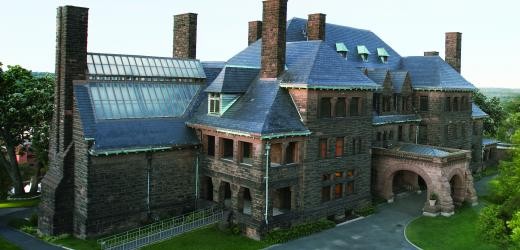 James J. Hill: Empire Builder of the Northwest-Click the link to learn more about this book.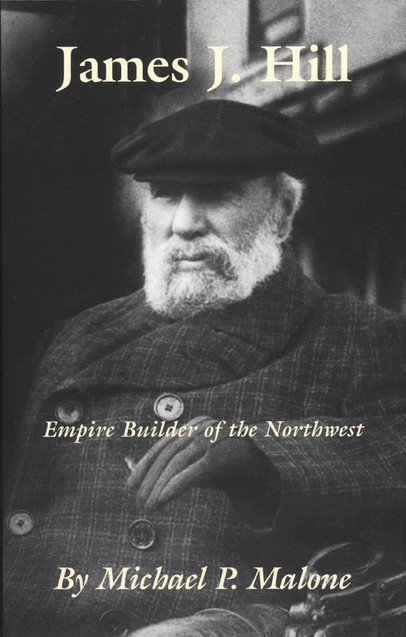 Harriman vs. Hill: Wall Street's Great Railroad War--Click the link to learn more about this book.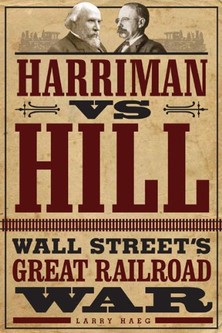 The organ. Photo: Minnesota Historical Society, via Wikimedia Commons.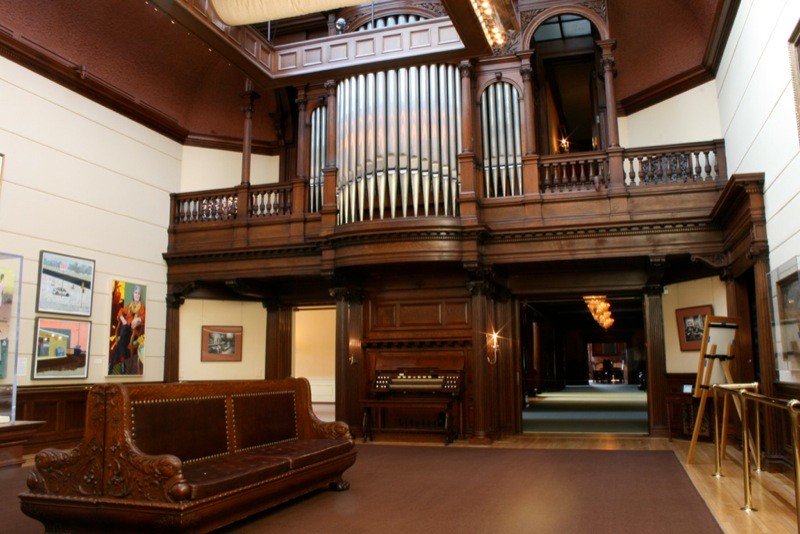 The art gallery with the skylight ceiling. Photo: Minnesota Historical Society, via Wikimedia Commons.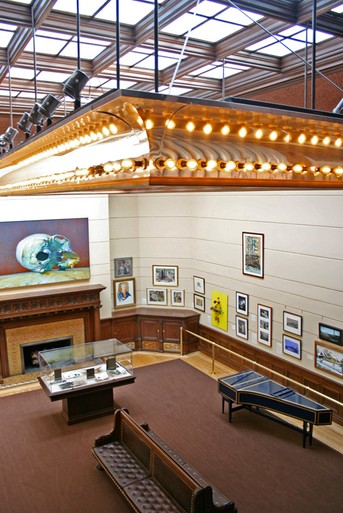 Backstory and Context
Born in Ontario, Canada, James J. Hill rose from poverty to lead the Great Northern Railway Company, one of the largest companies in the United States. After Hill's father was killed, young Hill had to drop out of school while his mother worked as an innkeeper. However, one of the leading teachers at his former school continued to teach and mentor the young Hill, who completed his homework in the evenings after completing a full shift at a local grocer. Two decades later, Hill applied these lessons as he and his partners led the St. Paul & Pacific Railroad out of bankruptcy. The company had just become solvent when Hill decided to leverage their assets and construct new track all the way to the Pacific. He earned a good reputation for his business management skills and was able to withstand the various economic downturns of the 19th and early 20th centuries. The Great Northern played an important role in the economic development of the northern portion of the country.
Sources
"History." Minnesota Historical Society. Accessed April 19, 2014. http://sites.mnhs.org/historic-sites/james-j-hill-house/history.

Lissandrello, Stephen. "James J. Hill House." National Park Service - National Register of Historic Places Nomination Form. October 15, 1966. https://npgallery.nps.gov/GetAsset/0a5fda9f-5623-46cc-8cf6-26c4b13a5614.

Additional Information