La Villita Historic Arts Village
Introduction
On the south bank of the San Antonio River, La Villita is one of the oldest neighborhoods in San Antonio. Coahuiltecan were likely the first to build small huts along the river. It later developed into a collection of huts for families of Spanish soldiers stationed at the Mission San Antonio de Valero (now better-known as the Alamo). A flood in 1819 inspired residents to begin building more permanent structures, such as brick and adobe homes. Towards the end of the 19th century, immigrants from other European countries, such as France and Germany, were settling in the growing neighborhood. They brought with them European styles and expertise in professions such as banking, teaching, and business. In 1939, Mayor Maury Maverick led a restoration effort, which ultimately transformed the neighborhood into the art village it is today. Today galleries, craft shops, and cafes line the streets of La Villita.
Images
La Villita reflects the many cultures that have impacted San Antonio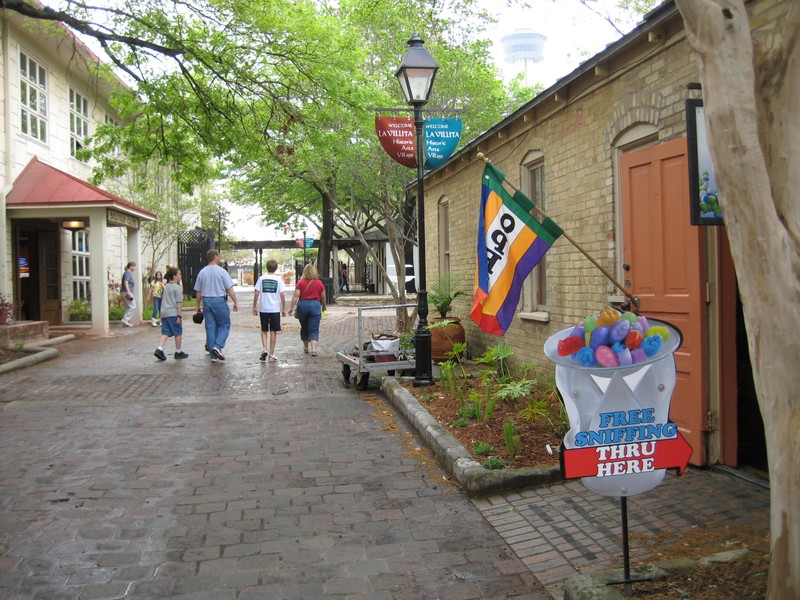 Backstory and Context
The Coahuiltecan likely founded the first huts of what today is La Villita around 1722 after Spanish soldiers moved into the area. Spanish soldiers' families (many of whom were from local populations such as the Coahuiltecan) began filling the huts, which were separated from the "more aristocratic" Canary Islanders, who lived on the other side of the river. In 1773, however, La Villita began receiving refugees from East Texas.

By 1811, there was growing discomfort with the Spanish rule. When Juan Bautista de Las Casas decided to seize power, he enlisted from the Quartel barracks of La Villita to power his coup. Under Casas direction, revolutionaries successfully arrested Gov. Salcedo and Lt. Col. Herrara and removed them from power for a total of 39 days. However, Casas did not turn out to be the most popular man, and some revolutionaries, disgruntled with his short rule, returned to the royalists, who quickly defeated him. It would take another decade for Mexicans to gain true independence from Spanish rule in 1821.

The flood in 1819 (along with the growing wealth of some Spanish soldiers) changed the architectural setting of La Villita. Fancier and more permanent homes began to exist alongside the poorer huts of other soldiers' families.

La Villita played a significant role in its later place in Texan history. In 1839, the then-president of Mexico, Antonio Lopez de Santa Anna, sent Martin Perfecto de Cos to investigate Texans near San Antonio, who refused to pay duties. Bringing 300 soldiers with him, General Cos intended to arrest many of the Texan critics of the dictator. Instead, Cos ran into the militias organized by Stephen F. Austin and Edward Burleson. Following the Seige of Bexar, Cos surrendered to the Texan troops at 515 Villita Street.

In the 1840s, German immigrants, followed later by Swiss and French immigrants, brought a European twist to the neighborhood. German, Swiss, and French cultures mixed with the original Indian, Spanish, Mexican, and Anglo cultures, creating a unique village. Unfortunately, in the early 1900s the neighborhood deteriorated significantly, as other places gained popularity in San Antonio.

On October 12, 1939, Mayor Maury Maverick led the city of San Antonio to begin a restoration project of La Villita. The National Youth Administration assisted in the restoration, with over 1,800 youths trained in various types of art and crafts through the project. Except while used as a Red Cross Center during World War II, La Villita has been utilized ever since as center to preserve the unique cultural heritage of San Antonio through art and crafts. In 1972, the twenty-seven buildings of the neighborhood were added to the National Register of Historic Places.
Sources
"La Villita Historic Arts Village." Riverwalk San Antonio. Accessed April 24, 2015. https://www.thesanantonioriverwalk.com/directory/la-villita-historic-arts-village1. Magruder, Lydia. "La Villita." Handbook of Texas Online. Accessed April 24, 2015. https://tshaonline.org/handbook/online/articles/hpl01. Martin Perfecto de Cose. Handbook of Texas Online. Accessed April 24, 2015. https://tshaonline.org/handbook/online/articles/fco76. McKeehan, Wallace. "New Spain." The Sons of DeWitt Colony Texas. Accessed April 24, 2015. http://www.tamu.edu/faculty/ccbn/dewitt/Spain2.htm.
Additional Information