Buckhorn Saloon & Museum
Introduction
The Buckhorn Saloon has a long history in San Antonio. In 1896, Albert Friedrich opened the very first Buckhorn Saloon. However, he soon discovered many of the travelers passing through San Antonio couldn't afford to pay for drinks in cash. He developed the scheme instead that travelers could either pay in cash or in horns and antlers. The plan worked! As the saloon's collection grew, so did its popularity and tourism appeal. Today that collection has grown into an exotic animal collection of more than 520 species, which can be visited along with Buckhorn Saloon and the neighboring Texas Ranger Museum.
Images
View inside Buckhorn Saloon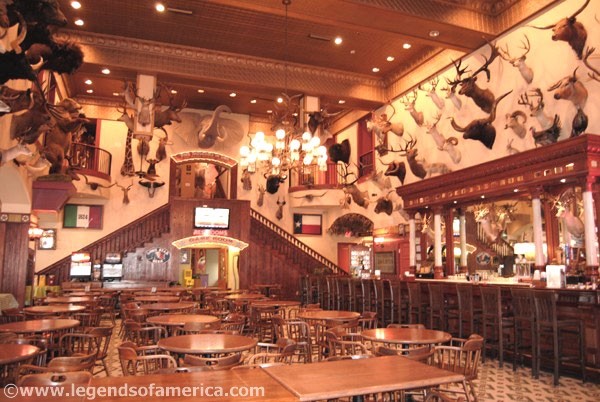 Backstory and Context
Albert Friedrich likely grew up with an appreciation of buckhorns, as his father, Wenzel Friedrich, the world-renowned cabinet-maker, expanded his art into horn furniture. Historians even question whether Wenzel was, in fact, the first horn furniture designer ever. Wenzel's diverse patrons included Queen Victoria, Otto von Bismarck, and Kaiser Wilhelm I.

The younger Friedrich, however, is first documented as purchasing his own set of buckhorns in 1890 at the age of 17. It was a "78-point buck," which he bought for $100. Today it is the prize possession of the Buckhorn Museum's collection.

In 1896, Albert Friedrich opened the first Buckhorn Saloon. When penniless travelers began showing up in his saloon, Friedrich determined that drinks could be purchased with either cash or antlers and horns. As a result, Friedrich was able to build one of the largest collections of antlers and horns in the world, thus creating the attraction that would bring in more customers.

When the Prohibition caused many saloons to shut down, Buckhorn stayed open, in part due to its unique horn collection and in part due to the creative non-alcoholic drinks and meals offered. In addition, the restaurant developed a curiosity shop that kept intrigued customers returning.

The Buckhorn has since changed hands several times. However, in 1996, when the Stroh's Brewing Company decided to divest itself of the historic collection, the future of Buckhorn was questionable. Thankfully, Mary Friedrich Rogers, granddaughter of Albert Friedrich, stepped in, purchasing the entire collection and opening the new location where Buckhorn Saloon & Museum sit today.

Today visitors can see the historic collection and visit the saloon. A sister museum, the Texas Ranger Museum, has also opened up in conjunction, which visitors can explore together on a single admissions ticket.
Sources
"History." The Buckhorn Saloon and Museum. Accessed April 4, 2015. http://www.buckhornmuseum.com/pages/buckhornmuseum.html. St. John, Richard.

"Friedrich, Wenzel." Handbook of Texas Online. Accessed April 4, 2015. https://tshaonline.org/handbook/online/articles/ffr30.
Additional Information