Bell Museum of Natural History
Introduction
The Bell Museum of Natural History is a museum located in Minneapolis, Minnesota, on the campus of the University of Minnesota. On display are numerous animal specimens from all over the world. The museum is best-known for its dioramas which show caribou, timber wolves, bobcats, deer, moose, and a variety of birds from the wetlands. The museum also offers the Touch and See Discovery Room--a place where school groups and families can explore the natural world through interactive exhibits. The museum will move to a new location at the University of Minnesota-St. Paul campus in 2018.
Images
The museum is located in this building on the University of Minnesota campus. The museum's research collections are located throughout the St. Paul campus.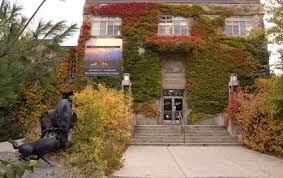 Touch and See Discovery Room

Sources
"History." Bell Museum. Accessed April 19, 2014. https://www.bellmuseum.umn.edu/about/history.
Additional Information