Owen Lovejoy Homestead
Introduction
Owen Lovejoy Homestead, was the home of abolitionist and congressman Owen Lovejoy. The home was part of the Underground Railroad. It contains a concealed compartment in which escaped slaves could be hidden.
Images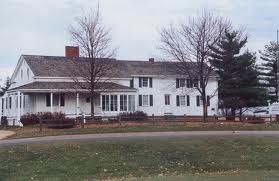 Backstory and Context
A former Underground Railroad station for slaves,the Lovejoy Homestead is located at the eastern edge of Princeton, Illinois, and was the home of the Denham and Lovejoy families for nearly 100 years. Reverend Lovejoy occupied the house from 1838 until his death in 1864. As an outspoken abolitionist, Owen Lovejoy openly proclaimed his willingness to assist fugitive slaves; his house was one of the most important stations on the Underground Railroad in Illinois. In addition, Lovejoy was significant in the founding of the of the Illinois and National Republican party, a friend and supporter of Abraham Lincoln, and both an Illinois state representative and Illinois representative to the U.S. Congress.
1
Owen Lovejoy met his brother Eligah in Alton, Illinois in 1836 where his older brother Elijah Parish Lovejoy had moved in 1836. Elijah actively engaged in anti-slavery activities, including editing the Alton Observer, an abolitionist newspaper. One year later, on November 7, 1837, an angry mob murdered Elijah while he attempted to defend the Illinois Anti-Slavery Society printing press. The murder deeply affected Owen and inspired him to co-author the Memoir of Elijah P. Lovejoy (1838) with his other brother Joseph; the American Anti-Slavery Society distributed the book widely.2 After the death of his brother, Owen Lovejoy - a pastor himself - aided the American Missionary Association (created 1846) in the creation of 115 anti-slavery Congregational churches in Illinois. 3
Although Abraham Lincoln signed into law the mandate that all fugitive slaves in Illinois be returned to their rightful owners, he -- as a 28-year-old Lawyer, denounced the mob action that killed Owen's brother, in a speech entitled, "Lyceum Address." As well, Lincoln was not truly an abolitionist for much of his political life -- instead he intended to stop the expansion of slavery. Regardless, he made it clear he was not pro-slavery, and he befriended Owen Lovejoy. 4
In 1854, Owen Lovejoy was elected to the Illinois State Legislature and worked with Lincoln to create the Republican Party. Two years later, Owen Lovejoy won a seat in the U.S. Congrest (35th) as an Illinois Republican, serving from March 4, 1857, until March, 1863.
In 1859, he made an impassioned speech on the floor of Congress to denote his passion for abolition, Meanwhile, he also served as a platform speaker in support of Lincoln in the famous debates with Stephen A. Douglas. During the Civil War when support for Lincoln declined, Lovejoy remained a faithful friend and supporter of Lincoln. And then, on April 5, 1860, Lovejoy gave a speech condemning slavery to which several Democrats responded by threatening him with physical harm and even drew pistols. Republicans came to Lovejoy's aid and vowed to defend him. Seven months later,South Carolina would leave the Union and the rest of the South would follow suit shortly thereafter.5
The Owen Lovejoy Home now belongs to the City of Princeton and was opened as a museum in 1972. The United States Secretary of the Interior declared the property a National Historic Landmark in 1997. Also located on the Lovejoy Homestead property is the one room Colton Schoolhouse. It was moved from its original location 2.5 miles east to the Homestead in 1971.
6
Sources
1 "Welcome," Owen Lovejoy Homestead, last accessed August 4, 2016, http://www.lovejoyhomestead.com/index.html 2 See, for example, William Lee Miller, Lincoln's Virtues: An Ethical Biography (New York: Vintage Books, 2003). 3 William Frederick Moore and Jane Ann Moore, eds. Owen Lovejoy: His Brother's Blood: Speeches and Writings, 1838-64 (Urbana: University of Illinois Press, 2004), xv. 4 See, for example, Eric Foner, The Fiery Trial: Abraham Lincoln and American Slavery (New York: W.W. & Norton, 2010). 5 Speech of Owen Lovejoy to the U.S. Congress House of Representatives, April 5, 1860; Frederick J. Blue, No Taint of Compromise: Crusaders in Antislavery Politics (Baton Rouge: Louisiana State University Press, 2005), 107-109. 6 "Welcome," Owen Lovejoy Homestead.
Additional Information