Confederate Prison No. 6
Introduction
The Confederate army converted numerous warehouses and city squares in war-ridden Virginia into prisoner of war camps. This former tobacco warehouse became a prison for fifteen months between December 1863 and February 1865. The prison was crammed with several thousand Union troops, a condition that led to 1,323 of those men perishing while imprisoned here. Local citizens and the Confederate troops stationed here sympathized with the terrible conditions the prisoners faced, and many took small steps to alleviate their suffering. As the South suffered increasing privations as the Union gained control of eastern Virginia, however, local citizens had fewer resources and less of an inclination to aid suffering Yankee prisoners.
Images
A closer view of the marker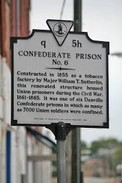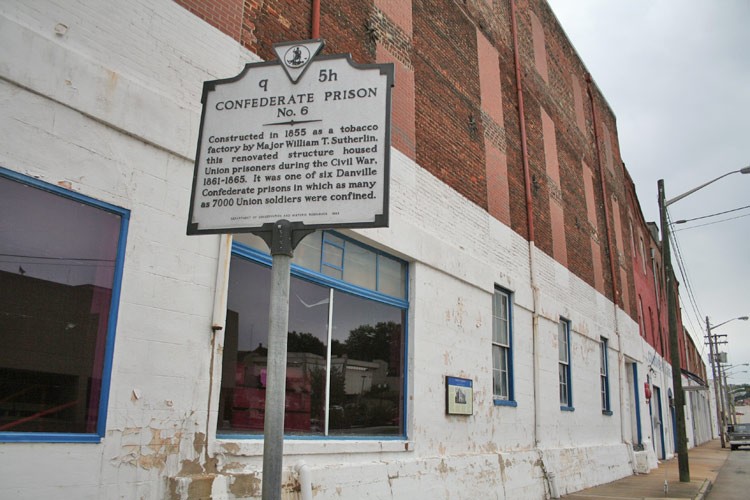 Confederate Prison No. 6 interpretive sign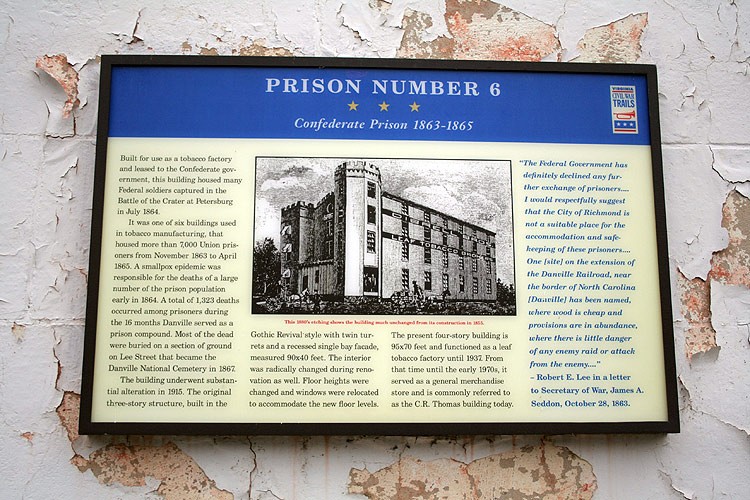 Backstory and Context
Marker Inscription - Confederate Prison No. 6 - Constructed in 1855 as a tobacco factory by Major Williams T. Sutherlin, this renovated structure housed union prisoners during the Civil War, 1861-1865. It was one of six Danville Confederate prisons in which as many as 7000 Union soldiers were confined. - Erected in 1985 by the Department of Conservation and Historic Resources.

Originally a tobacco factory, this building was transformed into a prison. The factory was built in 1855 by the mayor of the city, William T. Sutherlin. Up to 7000 prisoners of war were held in six prisons in this area from 1863 - 1865.

Disease and starvation were common in these prisons. The Confederate army allocated precious little food for the Union prisoners. Even with some help from the local population, over a thousand perished owing to malnutrition and disease. For the unfortunate soldiers located here, rats were a treasured food. Small Pox and other diseases spread throughout the prisons, causing many to become ill without any medicine or doctors to help. The winter months were the worst, with few blankets and little firewood.

The site of the former prison has been commemorated by a historical marker at the intersection of Loyal Street and Lynn Street.

Sources
"Confederate Prison Number 6." Confederate Prison Number 6. Dale Cox, 8 May 2012. Web. 10 Aug. 2016. http://www.exploresouthernhistory.com/danvilleprison.html Fisher, Bernard. "Prison Number 6 Historical Marker." Prison Number 6 Historical Marker. Historical Marker Database, 16 June 2013. Web. 10 Aug. 2016. http://www.hmdb.org/Marker.asp?Marker=66005 Mitchell, Patricia B. ""Truly Horrible" Danville Civil War Prisons." "Truly Horrible" Danville Civil War Prisons. Mitchells Publications, n.d. Web. 10 Aug. 2016. http://www.victorianvilla.com/sims-mitchell/local/articles/phsp/008/
Additional Information