National Border Patrol Museum
Introduction
The National Border Patrol Museum is the only one of its kind in the United States. Originally opened in 1985, it features exhibits that explore the history of the Border Patrol from its inception in 1924 to today. Numerous items and used equipment are on display such as seized weapons, vehicles, and uniforms. Information on the strategies and operations the patrol employs is also covered. For example, topics include tracking criminals footprints, transportation checkpoints, horse patrolling and flight operations.
Images
Museum as seen from the street.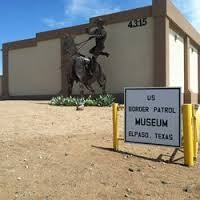 Backstory and Context
The museum is operated by the Fraternal Order of Border Patrol Agents, which, in 1978, started the process of establishing a museum. It took until 1985 for the museum to open in the basement of the Cortex building in El Paso. Unfortunately a dispute with the landlord forced the museum to close in 1992. The current museum opened in 1994 and over time it has been renovated as the museum has grown.
Sources
"The 30 Years of National Border Patrol Museum." National Border Patrol Museum. November 19, 2015. https://borderpatrolmuseum.com/the-30-years-of-national-border-patrol-museum.
Additional Information