Chamizal National Memorial
Introduction
This memorial marks the peaceful end of the longstanding dispute—from the end of the Mexican-American War in 1848 to 1964—between the U.S and Mexico regarding the border between the two countries. Though the boundary is Rio Grande River, like all rivers, the Rio Grande naturally shifts directions (in its case north and south); it has also been prone to flooding. As a result of these factors, the border between the two countries went unresolved for decades. Today the location is a park split in two, with one side in the U.S. and the other in Mexico. The American side features a visitor center, which houses a museum that explores the history of the border, and a trail from which visitors can see El Paso, the Rio Grande and, of course, Mexico.
Images
The Chamizal Memorial Visitor Center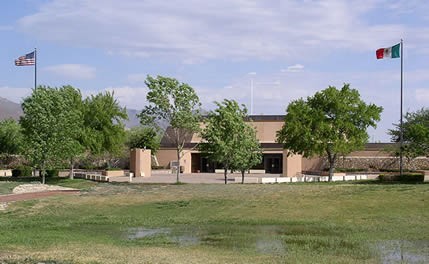 President Lyndon B. Johnson and Adolfo Lopez Mateos at the September 25, 1964 unveiling of the new boundary marker.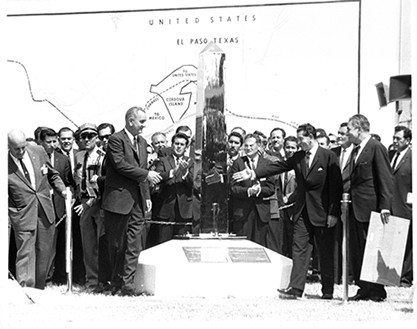 Backstory and Context
As stated above the beginning of the dispute began in 1848 with the Treaty of Guadalupe-Hidalgo, which not only ended the war between the U.S. and Mexico but also establishing the Rio Grande as the border. However, in some parts the river slowly began to move south, which benefitted the United States to the detriment of Mexicans living on the border (they lost land since the river shifted south).

One of these Mexicans was Pedro Ignacio de Garcia, who once owned the land (600 acres) that comprises the Chamizal location. He referred his loss of land to the Mexican government in 1895, which then submitted his issue to International Boundary Commission. It wasn't until 1910 that a committee was created to arbitrate Garcia's dispute. It essentially voted to divided the Chamizal property between Texas and Mexico.

However the U.S. rejected this resolution and as a result the border was not settled until 1964. The Cold War was at its height in the early 1960s and the U.S. feared that the Soviet Union would try to gain influence over Mexico so it was imperative that the border issue be resolved once and for all. President John F. Kennedy started the negotiations but sadly was assassinated before he could see the issue officially come to an end.

Sources
"Chamizal National Memorial, El Paso, Texas. National Park Service. Accessed August 3, 2016. http://www.nps.gov/nr/travel/American_Latino_Heritage/Chamizal_National_Memorial.html
Additional Information