1968 NCAA Championship Basketball Game
Introduction
The NCAA Championship Basketball game on March 19, 1968 was one of the most consequential events in American sports history. The Texas Western University men's basketball team, which featured an all-Black starting lineup, faced off against the all-white University of Kentucky team, which included future coaching great Pat Riley. This was the first time in NCAA Championship history that all of the starters on a team were African American. The Miners' starting five—Bobby Joe Hill, David Lattin, Orsten Artis, Willie Worsley, and Harry Flournoy—played a disciplined, fundamentally sound game en route to a 72-65 victory. They held their lead beginning at 16-11 and never trailed. The game was a watershed moment for coaches and players of the time, and it wasn't long until all-white teams like Kentucky's disappeared from the basketball landscape. The game and the story surrounding it were depicted in the 2006 film, Glory Road.
Images
The 1965-66 National Champion Texas Western Miners.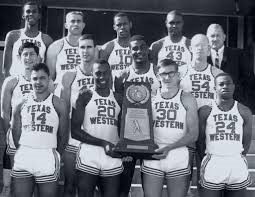 The 1965-66 National Champion Texas Western Miners receiving trophy.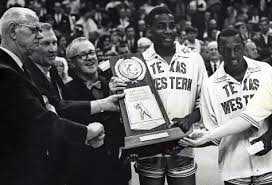 Backstory and Context
The game took place during the height of the Civil Rights Era. Two years before the game Congress passed the Civl Rights Act yet it did not, of course, resolve racial issues in the country, much less desegregate sports teams. In fact the Kentucky coach, Adolph Rupp, who won four NCAA Championships, refused to recruit Black players for a couple years after the 1966 game. Those he would eventually recruit were understandably hesitant to play for him. Nevertheless, the game did lead to the gradual desegregation of basketball teams, especially in the South. The SEC's first Black player was in 1967 and Kentucky's in 1969.
Sources
Forgrave, Reid. "50 years ago, Texas Western didn't realize what it set in motion." Fox Sports. February 5, 2016. http://www.foxsports.com/college-basketball/story/texas-western-kentucky-utep-anniversary-50-years-ncaa-championship-020516. Fitzpatrick, Frank. "Texas Western's 1966 title left lasting legacy." ESPN Classic. November 19, 2003. https://espn.go.com/classic/s/013101_texas_western_fitzpatrick.html
Additional Information