El Paso International Museum of Art
Introduction
The El Paso International Museum of Art houses a fine art collection of Southwestern, African, Asian and Mexican art. It is located in one of El Paso's finest buildings, the historic Turney Mansion, which was built in 1910 and designed by architect Henry Trost in the Classical Revival style. The building itself is named after Walter Turney (1861-1939), a successful rancher, attorney and senator who, along with his wife, played a large role in El Paso's growth. The museum's galleries are located on the first floor of the former home. The building features Greek exterior columnns and stained glass windows inside.
Images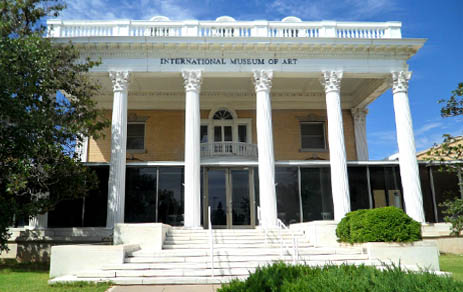 Backstory and Context
In 1925 Kate Moore Brown, then the President of the Women's Department of El Paso's Chamber of Commerce, set up a display with
books, pottery pieces, tapestries and other
items she collected. This collection grew but Kate did not have a place of her own in which to display them. In 1940 Walter Moore's wife deeded the house to the city which then leased it to a group that included Moore and others as a museum; it was called
El Paso International Museum. As this took place in the early years of WWII, the organization Bundles for Britain, which sewed clothes for soldier fighting in the war, moved into the first floor (the name changed to Bundles for America after the U.S. entered the war). After the war, the museum still did not have much structure. Finally in 1958 Samuel Kress agreed to donate his art collection to the museum. A new wing was built to display the collection in 1960 and it opened to the public in 1961.

The El Paso Museum of Art remained in the Turney House until 1998, when it moved into the remodeled former Greyhound bus building. The organization that oversaw the art museum, the
El Paso Art Museum Association, wanted the Turney House to continue to be a museum. They changed their name to the
International Association for the Visual Arts and gradually acquired the present collection.
Sources
"About the Museum." El Paso International Museum of Art. Accessed August 2, 2016. http://internationalmuseumofart.net/museum. Clark, Jesse and Torok, Dr. George D. "W.W. Turney House (International Museum of Art)." El Paso Community College. Spring 2003. http://epcc.libguides.com/content.php?pid=346448&sid=3130053.
Additional Information