Saint Mary's Hospital
Introduction
St. Mary's Hospital, located at the intersection of St. Marks Avenue and Buffalo Avenue, was completed in 1979. It replaced a previous structure that housed St. Mary's hospital since the 1870s. The hospital served many in the community who lacked insurance, supported by the Roman Catholic church. After years of losses that were offset by St. Vincent's charitable organization, the hospital closed in 2005. It quickly succumbed to vandalism and became a local eyesore, although plans to re-open the facility as a nursing home have led to the building's preservation. This was the hospital that (now deceased) the rapper Biggie Smalls was born in on May 21, 1972
Images
St. Mary's was an important community organization, providing medical care to thousands of residents who lacked health insurance.
The original St. Mary's hospital, constructed in 1879.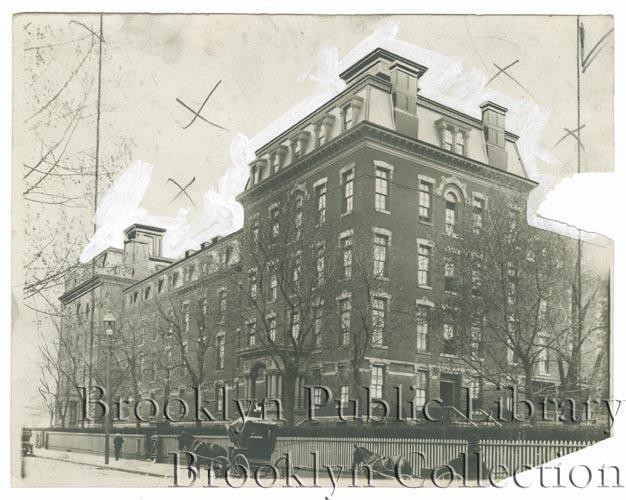 Backstory and Context
The hospital, a concrete and glass colossus emblazoned with enormous metal crosses that sits a few blocks north of Eastern Parkway, closed after over a century of service to its neighborhood. This 241-bed Roman Catholic institution laid its cornerstone in 1879.
Sources
Lore Croghan, "What ever happened to St. Mary's Hospital?" Brooklyn Daily Eagle, October 29, 2014.
Rachel Holliday Smith, "Nursing Home to Replace Former St. Mary's Hospital in Crown Heights," DNAinfo New York, February 10, 2015. https://www.dnainfo.com/new-york/20150210/crown-heights/nursing-home-replace-former-st-marys-hospita...
Additional Information