Petrillo Music Shell
Introduction
This outdoor amphitheater located in Grant Park was commissioned in 1931 by Mayor of Chicago Anton Cermak. It was originally located in the South end of the park and was relocated in 1978. It is known most commonly as the Petrillo Bandshell, but is also known as the James C. Petrillo Music Shell or the Petrillo Music Shell.
Images
Petrillo Lawn, Bandshell in upper right hand corner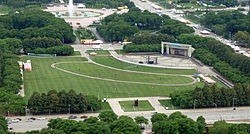 Bandshell with Chicago skyline in background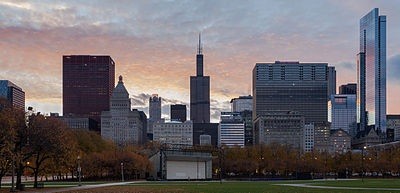 View of bandshell from seats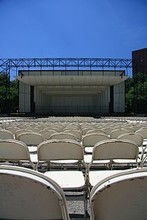 Sounds of Chicago's Lakefront, book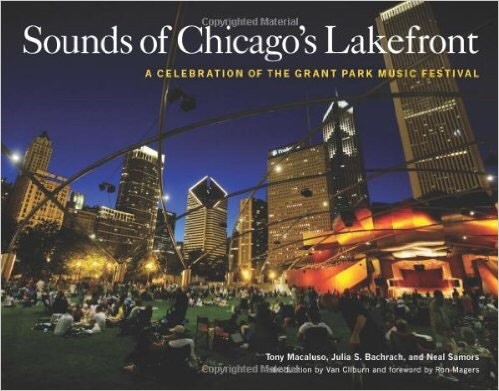 Backstory and Context
During the height of the Great Depression, the Chicago Park District under the direction of James C. Petrillo arranged for free concerts to be held in its expansive Grant Park along the city's lake shore. In 1935, The Grant Park Band Shell was built as a place to hold these concerts with the intention of improving the spirits of its citizens during a dire economic time.
1
Petrillo served as the head of the Chicago Park District from 1934 to 1945, but evidence of his love of music includes his involvement with the American Federation of Musicians. Indeed, he served as federation president from 1940 to 1958. In 1975, the city renamed the shell, Petrillo, to honor the man who brought free music to the City of Chicago.
2
Three years later, it was dismantled and moved to another side of Grant Park.
3
The expansion of the city's lakefront parks, including Millennium Park, Northerly Island, and the renovated museum campus, have lessened the usage of the older Petrillo shell. However, it still serves as the setting for an array of concerts and events. In the past, it has been the stage for the Chicago Bulls' six National Basketball Association Championship celebrations during the 1990s, Lollapalooza events, many Chicago Symphony Orchestra concerts, blues and jazz festivals, and more. As well, many historically significant events took place at the bandshell, including a July, 1942 celebration to honor the city's 10,000th US Navy recruit. The color guard was at the bandshell with a 500-sailor crew saluting them from Navy Pier.
Sources
1 Dennis H Cremin, "James C. Petrillo: The Man Behind the Petrillo Band Shell," Encyclopedia of Chicago, lass accessed July, 2016, http://www.encyclopedia.chicagohistory.org/pages/2452.html; "The History of the Festival," Official Site: The Grant Park Music Festival, last modified 2016, http://www.grantparkmusicfestival.com/about/history. 2 Cremin, James C. Petrillo. 3 "Petrillo Music Shell," Chicago Architecture Info, last accessed, July 2016, http://www.chicagoarchitecture.info/Building/1410/Petrillo-Music-Shell.php
Additional Information